The Western PA Bruins have been a staple organization within the world of grassroots basketball for nearly three decades. Founded in 1987, the Bruins have been dedicated to growing the game of girls' basketball by developing players and providing exposure opportunities. The results speak for itself as their alumnae boast of WNBA All-Stars and multiple college basketball stars. Their 2015 campaign finished successfully with 11 players committed to Division One level basketball.
Program Director
John Tate
Program Headquarters

Pittsburgh, Penn.
Official Website
Official Twitter
PeachStateBasketball.com Tournaments Attended:
#PSBTipOffClassic
#PSBRealDeal
#PSBElite32
Notable Alumnae
Charel Allen (2004) – Notre Dame
Swin Cash (1998) – UConn
Kayla McBride (2010) – Notre Dame
Shatori Walker-Kimbrough (2013) – Maryland
Shalonda Winton (2009) – Cleveland State
Alumnae Catch-up

The University of Maryland reached their second straight Final Four appearance last season largely in part to the efforts of WPA Bruin alumna Shatori Walker-Kimbrough. She was named as First Team All-Big Ten as a sophomore and earned Most Outstanding Player in the West Region of the NCAA Tournament.
Committed 2016 Players
Emily Anderson – Pennsylvania
Torrieanna Cash – Mount Saint Mary's
Mary Dunn – Youngstown State
Jade Ely – Cleveland State
Abby Gonzales – Delaware
Alayna Gribble – Pittsburgh
Madison Kerr – Indiana University of Pennsylvania
Taylor Lake – University of Chicago
Natalie Myers – Youngstown State
Dayna Rouse – Longwood
Becca Turney – Eastern Michigan
#PSBMixTape Featuring Desiree Oliver
(Starting at 2:30)
Program Vision from John Tate

The Bruins have had extended success that stretches over several decades of basketball. This type of longevity is unparalleled in comparison to other programs which rise and fall sometimes within years. Tate had this to say for their success, "Our teams are staffed with dedicated and highly qualified volunteer coaches to offer high-level instruction. Those coaches provide guidance and motivation for players who are serious about working on their game."
Tate went on to talk about the specific goals that the organization wishes to achieve. He says, "It is also our goal to provide players with the maximum opportunities to receive the kind of exposure and recognition needed to be recruited at the next level."
It is apparent that the type of dedication required to reach these goals are not for everyone. Tate mentions competition being at the heart of the program. He says, "We are a very competitive tryout-based organization. We believe that competition brings the best out in every player. Only those players who are serious about being committed to working on their game and paying the price necessary to improve need apply."
Season Highlights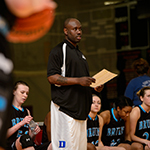 It is clear that the individuals within the program have attained success and achieved their goals of scholarship offers. This did not come at the expense of team success as the Bruins experienced success at every level. Robert Cash's group won the @NaismithTrophy bracket at the #PSBTipOffClassic. They also went undefeated at #PSBRealDeal Shootout and #PSBElite32 Sessions I and II. They also went undefeated at the Run for the Roses.
Coach Joe Falletta's group won the #EBASuper64 bracket at the #PSBTipOffClassic while also winning the Platinum Division at the USJN National Championships.
Tate is particularly excited about his group of 2019's who won titles at the Nike Midwest Showdown and at the Run for the Roses. They also finished as the runner-up in the @JLHemingwayPSB bracket at the #PSBTipOffClassic.
Next Season

The Bruins are poised for another successful campaign behind the talent of guard Desiree Oliver of Verona, Penn. The 5-7 guard has been a standout performer at #TeamEBA camps and #TeamPSB events over the past three years. She helped carried the load for coach Robert Cash this year and the Bruins expect more of the same next season.
Also watch for Johnasia Cash of McKeesport, Penn., to make a big jump in her production next year. The 6-foot-1 forward is an exceptional athlete whose best playing days are still in front of her.
Coach Tate also mentions 2017 prospects Michaela Porter, Kenzie Buschee', Justina Mascaro, Hailey Zeise, Cheyenee Trest, Taylin Tyler, Molly Bauer and Aynna Townsend as watch-list players from the organization.
Future
Coach Tate is very optimistic of the future of the program with no shortage of prospects to talk about. The class of 2019 team, which Tate coached, has already began to pick up recruiting interest. Guards such as Makenna Marissa of McMurray, Penn., Rachel Martindale of Pittsburgh Penn., and Maria Cerro of Pittsburgh, Penn., earned notes from JumpOffPlus.com evaluators at the #PSBTipOffClassic.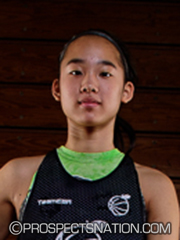 Throw in Celeste Ryman of Barnesville, Penn., who gained a positive reputation at the #EBAAllAmerican Camp in September and the Bruins have a stable full of guard prospects on deck for years to come.
Tate mentions class of 2018 prospects Alexa Williamson, Amani Johnson, Jordan Edwards and Ashley Briscoe as players to track in that class. In the class of 2020 Guards Tess Myers and Riley DeRubbo are already playing big minutes on the travel circuit. While Cierra Christian is a forward who is also poised for big things for the Bruin organization.
WPA Bruins Cash vs. Georgia Hoopstars Black on Prospects Nation TV from the #PSBSummerInvite on the @SUVtv

Jonathan Hemingway is the Assistant Director of Scouting for the JumpOffPlus.com International Scouting Report, is on the Naismith Trophy Board of Selectors and owns CoachHemi.com, the go-to source for coaches for X's and O's.  He is the floor director of #TeamEBA camps, a site director for #TeamPSB tournaments and can be reached at [email protected].