---
With over 20,000 collective followers on our team's social media outlets, we're in a unique position to assist with both creating awareness of a prospect's skill set and recent on-floor performance. From crisp recruiting updates to updated in-season stats to a potential last-minute change in schedule that needs to be conveyed socially, this package allows the player to control the information available to the public about their game.
Become an #SMPMember: Click the Logo Below

---
Program Director
Tim Marshall
Program Headquarters
Columbus, Ga.
PeachStateBasketball.com Tournaments Attended:
#PSBSpringShowdown
#PSBTipOffClassic
#PSBRealDeal
#PSBPower48
#PSBEndoftheRoad
A Look Back on 2016 from Tim Marshall
The Blazers Exposure program completed another highly competitive season. Their oldest group competed and won some of the nation's top tournaments in the past season. The centerpiece of this season's group was Alabama verbal Ariyah Copeland of Columbus, Ga. Here is what JumpOffPlus.com evaluators had to say about Copeland this year:
Copeland looked terrific in the second summer after her second knee injury. Her greatest attribute is her ability to score around the rim. She has strong hands and good court awareness. She is a rebounder in her area, but will never be a kid that can jump out of the gym. She uses her body effectively to gain positioning around the block area. – April 2016
Returning along with Copeland in the 2017 class was Tiyah and Teyah Johnson of Phenix City, Ala., who have picked up a couple of offers while playing with the Blazers. Ashlee Free is a longtime Blazers player who will return next year as a 2018 prospect.
Coach Marshall also had high praise for the new additions to the program. Timi'a Swanson is a 2017 wing who verbally committed to Alabama State. He also mentioned the 2018 newcomers, which have a lot of promise. Dai Dai Almond of Peach County will be the program's top returner next season. She is a 4-star prospect per the JumpOffPlus.com and already has raked in a number of offers. Diamond Hall and Zanautica Downs of Colquitt County also finished solid seasons with the Blazers.
Coach Marshall made special mention of Class of 2018 prospects Asia Harrison (Valdosta) Trinity Vasquez (Columbus) and Shaudai Chandler (Northside-Columbus). He also made mention of the underclassmen, which are just beginning to scratch the surface of their potential.
Brandon Clay's Take on the Blazers Exposure Program
"Tim Marshall has guided the Blazers Exposure program with a steady hand since I met him in 2004. He's built a brand based on exposure, loyalty and skill development. In the process, Marshall has developed one of the country's premier independent programs in a non-metropolitan area. The alumni list is both impressive and impactful in the community. Former players are back in the fold with college degrees ready to empower the next set of rising student-athletes. Marshall's Blazers Exposure program embodies more than just basketball players. It teaches how to make the transition into building a career once the ball stops bouncing. For that, we are extremely proud to have them as a part of the PSBFamily movement."
Highlights of the Blazers from #PSBEndoftheRoad
(Video: @LarryWRhinehart)
#PSBEndOfTheRoad#PSBFamily @BEbasketball attack the basket every chance they get. Good mix of inside scoring & 3s. pic.twitter.com/cH7rnMQbnm

— PSB Events (@PeachStateBBall) September 24, 2016
Tim Marshall on the Benefits of being a Part of the #PSBFamily 
"Blazers Exposure has been involved from the beginning. We've enjoyed the professional growth of the PSB organization and it's leader Brandon Clay. I've recommended PSB events to other travel programs and they've all been impressed. Brandon's genuine interest in our players and ready willingness to facilitate a connection with a coach speaks volumes. His honesty ,integrity, character and credibility are beyond reproach. Our program continues to benefit from our affiliation with Peach State Basketball."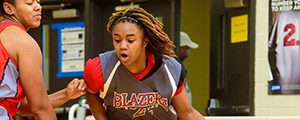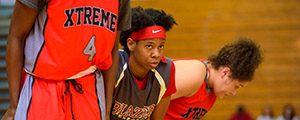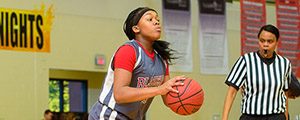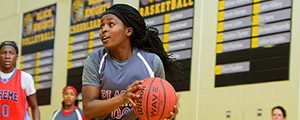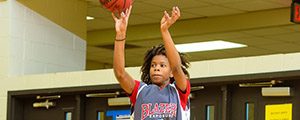 You can just see the poise and calmness of @BEbasketball. Great shot selection & tough defense. pic.twitter.com/4xpTvYpvMM

— ProspectsNation.com (@ProspectsNation) July 12, 2016
Notable Alumnae
Jaylen Snipes – Lynn University
Jaz McIntosh – Valdosta State
Kayla Lloyd – College of Coastal Georgia
Kristi Mokube – Florida State / George Mason
Zomoria Clark – Alabama State
DyTiesha Dunson – Florida Gulf Coast
Curteeona Brelove – Virginia Commonwealth
Mo Jackson – Ole Miss / UT- Martin
Kym Ellison – Ga Tech / San Diego State
Shamiya Brooks / Prairie View
Tia Faleru – Ole Miss
A'chanti Layfield – College of Coastal Georgia
Halle Bentley – Tuskegee University
Antionna Jefferson – Ft. Valley St
ShaTerrion Moffett – Alabama A&M
Shantel Wells – Middle Georgia
Kahler Fletcher – Middle Georgia
Kayla Green – Albany St
Ieshia Young – Albany St

Read the Blazers 2015 Program Review here



Jonathan Hemingway is the Assistant Director of Scouting for the JumpOffPlus.com International Scouting Report, is on the Naismith Trophy Board of Selectors and owns CoachHemi.com, the go-to source for coaches for X's and O's.  He is the floor director of #TeamEBA camps, a site director for #TeamPSB tournaments and can be reached at [email protected].