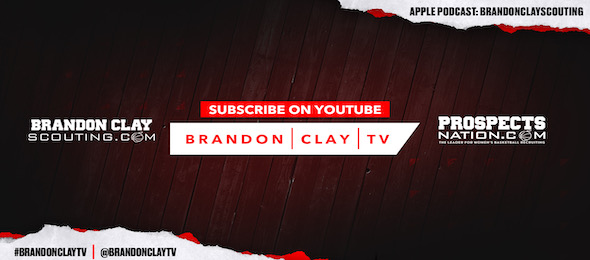 #BrandonClayTV Video Evaluation Pricing:
Contact [email protected] today to get your video started.
1) BrandonClayTV Studio Breakdown page that includes the posting of YouTube footage (available to players of all ages including college transfers): $250
***SMPMembers will have their info placed on their existing SMP page.
2) Onsite BrandonClayTraining Academy Feature Player Video: $150
– All videos will be approximately one minute in length and receive narration directly from Brandon Clay
– The videos will live on our YouTube channel forever. BrandonClayTV has over 500,000 video views.
– College coaches nationwide can view your highlight and share it amongst their staffs with the click of a single button.
The final Training Academy product is a clip similar to this one on nationally ranked Class of 2020 guard Sydney Parrish of Fishers, Ind. Parrish has attended our events since she was in middle school and has committed to continue her career at Oregon.
Another example comes in the form of Class of 2019 guard Anthony Edwards of Atlanta, Ga. He is no stranger to our events via OnTheRadarHoops playing in multiple tourneys en route to being chosen as a 2019 McDonald's All-American.