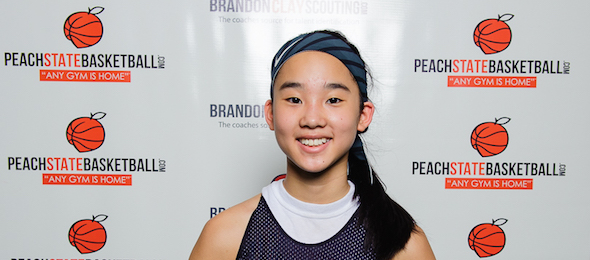 With over 40,000 collective followers on our team's social media outlets, we're in a unique position to assist with both creating awareness of a prospect's skill set and recent on-floor performance. From crisp recruiting updates to updated in-season stats to a potential last-minute change in schedule that needs to be conveyed socially, this package allows the player to control the information available to the public about their game.
Become an #SMPMember: Click the Logo Below

---
Class of 2019 point guard Celeste Ryman of West Holmes HS (Millersburg, Ohio), earned words from the ProspectsNation.com staff at both the #EBAAllAmerican Camp & #EBAFab5 Camp in September 2015.
---
Name: Celeste Ryman
Height: 5'4″
HS Grad Year: 2019
Position: PG
School / Hometown: West Holmes HS (Millersburg, Ohio)
Club Team: Team Huddle
College Choice: Clarion
---
Social Media Updates:
#SMPMember🍑 Recruiting Exposure#CommitmentCentral

'19 PG Celeste Ryman (OH) to Clarion.

HER PAGE: https://t.co/PDuTWxEakf pic.twitter.com/HKYYDmwvaC

— Brandon Clay (@BrandonClayPSB) August 23, 2017
#SMPMember Recruiting@travisponton took notice of '19 Celeste Ryman (OH) last week. Gamer at the PG spot.

PAGE: https://t.co/PDuTWxEakf pic.twitter.com/2Fk3fczddb

— Brandon Clay (@BrandonClayPSB) July 20, 2017
#SMPMember Recruiting Exposure

'19 G Celeste Ryman (OH) is back on floor & visited Ashland for camp.

HER PAGE: https://t.co/PDuTWxEakf pic.twitter.com/ZRlNEu2qxt

— Brandon Clay (@BrandonClayPSB) June 21, 2017
'19 Celeste Ryman continues to work on her comeback from an ACL injury

HERPAGE:https://t.co/QFOGAQgQsm pic.twitter.com/0Bq7dxkgOl

— Rebecca Dyer (@RebeccaDyerPSB) July 21, 2016
'19 Celeste Ryman continuing to rehab and recover from her ACL injury

PAGE:https://t.co/QFOGAQgQsm pic.twitter.com/zVhjhCd2WO

— Rebecca Dyer (@RebeccaDyerPSB) May 23, 2016
'19 Celeste Ryman is on her way back from an ACL. Working out on a daily basishttps://t.co/PDuTWxEakf pic.twitter.com/niUc5XxGfe

— Brandon Clay (@BrandonClayPSB) May 6, 2016
We'll track Celeste Ryman's (OH) injury rehab this spring. Talented '19 PG. #SMPMember: https://t.co/PDuTWxEakf pic.twitter.com/UbnxnZxcKH

— Brandon Clay (@BrandonClayPSB) January 4, 2016
'19 PG Celeste Ryman (OH) was in front of Florida St, GA Tech & more at #EBAFab5.

#SMPMember: http://t.co/PDuTWxEakf pic.twitter.com/JTPEbvat4X

— Brandon Clay (@BrandonClayPSB) October 1, 2015
@CelesteRyman: #EBAFab5: Celeste Ryman shooting the ball well along with handling it. ^^ The #SMPMember repped @WPABruinsAAU well at Camp!

— Brandon Clay (@BrandonClayPSB) September 29, 2015
#EBAFab5: Celeste Ryman (@CelesteRyman) shooting the ball well along with handling it. Hits a 3 and then comes back down to attack lane.

— ProspectsNation.com (@ProspectsNation) September 27, 2015
#EBAAllAmerican @CelesteRyman with the jumper off the downscreen. pic.twitter.com/qR6jrQWdoV

— Jonathan Hemingway (@JLHemingwayPSB) September 5, 2015
abortion research paper #EBAAllAmerican: '19 Celeste Ryman ( @CelesteRyman ) is a quick guard who can breakdown her defender & get into the paint

— ProspectsNation.com (@ProspectsNation) September 6, 2015
---

Brandon Clay is the owner of the JumpOffPlus.com International Report, Peach State Basketball, Inc., and ProspectsNation.com. The JumpOffPlus.com is picked up by more than 200 colleges and universities nationwide. In addition to serving as ProspectsNation.com WNBA Director of Scouting, Clay serves as the Executive Camp Director for the Elite Basketball Academy Camps. He is a McDonald's All-American Game Selection Committee member. Clay serves on the Naismith Trophy Men's / Women's College Player of the Year Academy and is the National Coordinator of Voting for the Boys / Girls All-American Teams. He has been involved in the community since 2001. You can reach Clay at [email protected]