The legacy of Hoosier native Skylar Diggins lives on with the young ladies in the Sky Diggs Elite program. Diggins continues to blaze new paths for female athletes on and off the court as an All-Star guard for the Tulsa Shock. Her father helps oversee relationships with female basketball players in the Hoosier State with the Sky Diggs Elite program. Here is a look at where the program is headed in 2016.
---
With over 20,000 collective followers on our team's social media outlets, we're in a unique position to assist with both creating awareness of a prospect's skill set and recent on-floor performance. From crisp recruiting updates to updated in-season stats to a potential last-minute change in schedule that needs to be conveyed socially, this package allows the player to control the information available to the public about their game.
Become an #SMPMember: Click the Logo Below

---
Program Headquarters

South Bend, IN / Westfield, IN
Program Director
Maurice Scott (Skylar Diggins Father)
Shawn Sullivan – Co-Director of Basketball Operations
Jack Roudabush – Operations Manager
PSB Tourneys Attended
#PSBTipOffClassic
#PSBRealDeal
#PSBElite32
2016 Committed Players

Maddy Grennes – Rockhurst
Emily Kmec – Lipscomb
Macie Lively – Evansville
Katelyn O'Reilly – Florida Atlantic
Haliegh Reinoehl – Akron
Rachel Titzer – St. Joseph's College
Emily Kmec is a shooter! Helped Sky Diggs get a W on @SUVtv. Invited to #EBASuper64http://t.co/W2v6z71xiB@emilykmecpic.twitter.com/c08QExRQrP

— Jonathan Hemingway (@CoachHemi) April 24, 2015
Sky Diggs Elite Program Vision

Sky Diggs Elite is a competitive program that consistently wins games and helps their players earn valuable exposure on the travel circuit. That said, director Shawn Sullivan clarifies what is at the heart of the program. "We teach the values of hard work, pursuit of perfection, teamwork, discipline, obedience and self-sacrifice for the common good."
Sullivan also mentions that they do not take for granted the name on the jersey. "We strive to develop a player that exemplifies what a player from Indiana is suppose to be. And Skylar has set that precedent for us to follow."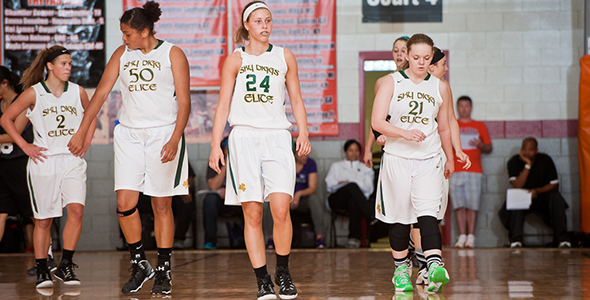 Sullivan also talks about the type of player that the Sky Diggs Elite teams usually help. "We rarely have the most athletic player or even the tallest kids. However, we have incredible basketball players who are committed to getting better every time we hit the floor. We emphasize basketball skill, IQ and the intensity it takes to play at the college level."
That formula seemed to pay big dividends for their young players. Sullivan explained, "We had our young team play up in divisions and they struggled at times. By the end of July that team rode a 22 game win streak against many of the best teams in the country."
Next Up in 2017
The 2017 team is poised for a big year on the travel circuit. Many of those players already have offers heading into the spring evaluation period. Coach Sullivan points out, "We have college coaches sitting on some of our players high school games right now."
Two of the players receiving the most attention at the moment are guard Daly Sullivan and post Maccee Williams. Here is the evaluation that Sullivan earned while competing at the Elite Basketball Academy last fall: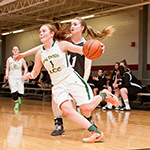 Sullivan again showed herself to be one of the top point guards at the camp with her steadiness with the ball in her hand. She did a particularly good job of keeping her head up to see gaps in the defense and to find teammates. She is a good shooter that should not be left alone, because she will punish the defense if she gets a clean look. Sullivan is a good athlete with size for the position. Her combination of the aforementioned skills and attributes keep her as a 4-star prospect in the class.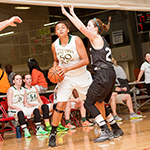 International Director of Scouting for ProspectsNation.com Keil Moore had this to say about Williams, a 6-1 post from Veedersburg, Ind.
Williams is a left handed post player that should be able to contribute at the four and the five in college. She will mix it up a bit and doesn't shy away from physical contact in the paint.
Sullivan also mentioned guards Olivia Christy and Blakely Shurig of Plainfield, Ind., who should provide important contributions for the team this year. As he says, "They are fast, offensive minded guards."
The Sky Diggs Elite program features a second 2017 team, which is coached by Tim Huffman. Point guard Ashlyn Huffman of Indianapolis, Ind., has made great impressions at PSB Tourneys and at the CoachHemi.com Showcase in years past.
On the Horizon
Sullivan talks about the talent that is lined up in the class of 2018. Guards Adossa Harris, Sophia Kreag and Megan Urbanski are skilled and tough minded ball players. Joining the team for this season is 2020 guard Keegan Sullivan, Daly's young sister. Keegan's reputation as being able to blend strength and finesse caught the eye of ProspectsNation.com evaluators last year.
Keegan Sullivan also made an impression at #EBAAllAmerican camp w/ her size and skill. https://t.co/KGTR6ScCSw pic.twitter.com/OpNbCXA1p5

— ProspectsNation.com (@ProspectsNation) October 21, 2015
Future is Now
The Sky Diggs Elite barn of talent stretches deep into the class of 2020. Coach Shawn Parrish heads up a group of girls that finished a remarkable run last year. Parrish explained the excitement from 2015, "We finished as runner's up in the AAU Showcase last summer. The amount of college coach attention that we received was incredible. Our girls have coaches in the ACC, BIG, Big East, Horizon and MAC Conferences sitting on their Middle School games."
Parrish also mentioned the individual exposure gained from camps. He says, "Several of our girls attended the EBA Super 64 Camp, EBA All-American Camp and the Coach Hemi Fall Workout last year. Those opportunities helped get our girls names on a national platform."
The 2020 Sky Diggs team will compete this spring at the PSB Tip-Off Classic in Lawrenceville, Ga. Parrish mentioned a few of the potential catalysts for their success this season. He says, "We look for wing Sydney Parrish, point guard Shelby Calhoun and forwards Jasmine McWilliams and Kendall Bostic to have big years on the travel circuit."
#EBAAllAmerican @sydney_parrish shows her versatility with the weak-hand slash & finish. pic.twitter.com/V8QAbtENx3

— Jonathan Hemingway (@JLHemingwayPSB) September 6, 2015
Social Media Promotion Member: 2016 Forward Rachel Titzer
@SUVtv Sky Diggs Grennes vs. TN Xtreme Keisha at the #PSBTipOffClassic



Jonathan Hemingway is the Assistant Director of Scouting for the JumpOffPlus.com International Scouting Report, is on the Naismith Trophy Board of Selectors and owns CoachHemi.com, the go-to source for coaches for X's and O's.  He is the floor director of #TeamEBA camps, a site director for #TeamPSB tournaments and can be reached at [email protected].