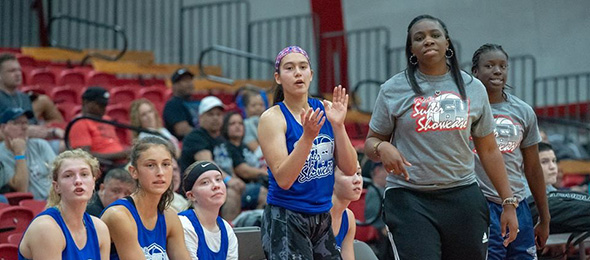 LAKELAND, Florida, – Thankfully September of 2018 did not bring another Hurricane to the state of Florida. Therefore, the BrandonClayScouting.com team was able to be on site to evaluate the Red's Super 64 Showcase for a fourth time in the past five years. The mission of the Showcase is to allow uncommitted seniors an opportunity to play in front of dozens of D-2, D-3 and NAIA coaches for a chance at a final look before high school season starts in November. Select underclassmen are invited as an opportunity to get on the national radar. In years past players such as Stephanie Paul (Georgia), Rachel Levy (Harvard) and Shania Meertens (Stetson) have used the showcase as a springboard for their recruitment. Here is a list of a few of the prospects that earned words this year.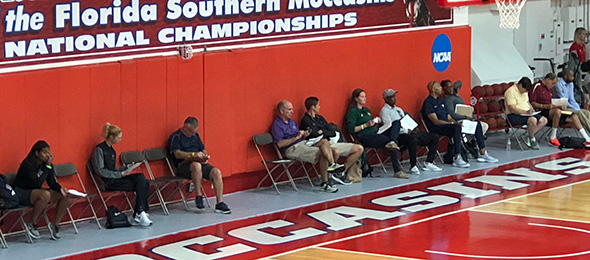 Uncommitted 2019 Alert
Ashtin Ingram (Wildwood, Florida), Wildwood HS – 2019
Ingram is a perfect fit in the modern game of basketball. She provides interior shot blocking ability yet has the ability to stretch the defense with 3-point shooting. Coaches who are forward thinking in their approach of using their post players would be wise to call on the services of the 6-foot-2 post who played for Central Florida Elite on the travel circuit.
Zahria Jenkins (Tampa, Florida), Seffner Christian Academy – 2019
Jenkins checks a lot of the boxes that coaches want at the next level from a wing. She is 6-foot with a wingspan that appears even longer than her height. She runs the court and can defend multiple positions on the court. Jenkins has the skill needed to play facing the basket with a smooth jumper and a solid handle. She proved she can move past defenders in the open court and attacking the lane. Her recruitment is wide open. She projects to be an upgrade at her position for many schools in the Southeastern region.
Taylor Race (West Palm Beach, Florida), Oxbridge Academy – 2019
Race is another wing that showed next level value. At 5-11 she has a motor that runs high consistently. She showed her transition finishing ability well in the showcase. She also proved to be a consistent spot up shooter from the perimeter. In an age where many coaches want '3 and D' wings with length, Race is a no-brainer recruit at the position.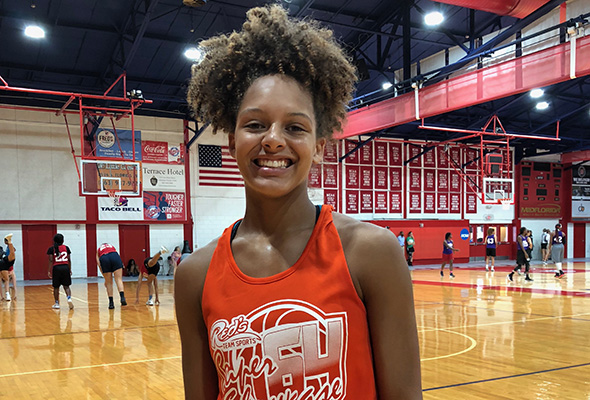 Cayln Richardson (Orlando, Florida), Colonial HS – 2019
Richardson is a player who earned a reputation as an athletic backcourt defensive option. During the showcase, however, she showed her offensive prowess. She hit 3-pointers off the dribble, in transition and off the reversal pass. Her springy legs allowed her to burst past defenders and finish in the lane. Richardson projects to be a solid two-way contributor at the next level. She has an official visit lined up with St. Francis (NY) this month, but was clear that she is still open in her recruitment at this moment.
Read more on Richardson from her SMPMember Page —> HERE
Caylin Moment (Melbourne, Florida), Florida Prep – 2019
Moment caught our eye with her ideal college-level frame and play-making skill. She is an aggressive slashing guard who exudes confidence with the ball in her hands. While being an adequate distributor, she showed her scoring abilities as well. She hit pull-up jumpers and hit spot up 3-pointers during game play.
Stephanie Torres (Orlando, Florida), Colonial HS – 2019
Torres has been on our radar for several years as a high energy perimeter option. In recent evaluations, Torres is showing that she can be a consistent shot-maker from range. She backed that assessment up again last weekend at Red's Super 64 Camp. She is poised to have a big year for Cindy Richardson at Colonial High School and should become a valued recruit for college coaches this winter.
Read Torres' evaluation from EBA Super 64 Camp —> HERE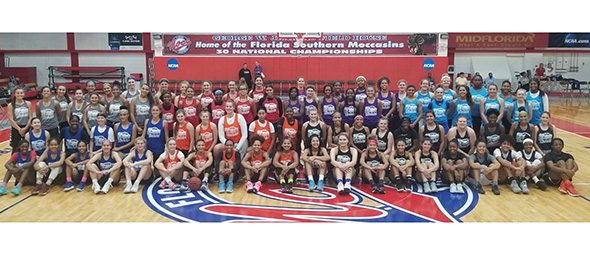 Underclassmen Watch-list 
Antonia Alexe (Melbourne, Florida), Florida Prep – 2020
Alexe is an intriguing 6-foot prospect. Her size and strength lend itself to providing interior help for her team. However, she has face-up skill that could be easily utilized in the right system. She hit several 3-pointers off the pick and pop action. Alexe is also a very adept passer on the perimeter. She did a good job of finding cutting teammates with passes on time and on target.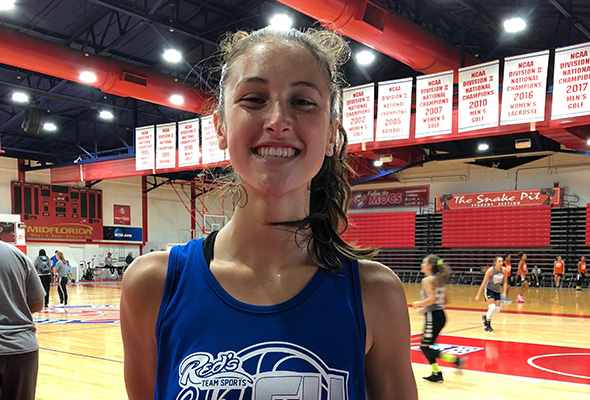 Kendal Cheesman (Tampa, Florida), Plant High School – 2021
It could be argued that the player with the highest ceiling at the showcase was Cheesman. The 6-3 forward has a frame and skill set similar to, Harvard redshirt freshman, Rachel Levy. The way she affects the game is comparable to Levy as well. She proved to be a capable scorer versus contact on the interior as well as having consistent range out beyond the arc. She uses her 6-3 length to rebound and affect shots defensively. We will keep a close eye on her in upcoming years on the circuit with the Tampa Thunder organization.
Kaci Helmick (Port Orange, Florida), Spruce Creek HS – 2020
Helmick was one of the top sharp shooters at the showcase. The 5-7 combo guard gave her verbal commitment to Wright State earlier this year. Her jumper is consistent mainly because of her high follow through. She is also a competent ball handler in the open court. Her ability to heat up for three or four consecutive jumpers in a row is a coveted next level skill.
Kassidy Jones (Lakeland, Florida), Santa Fe Catholic School – 2021
Jones, like Cheesman mentioned above, is a sophomore with a high ceiling for the next level. She is a 5-10 combo guard who uses a blend of her size, craftiness and feel for the game to create plays. She has a high follow through on her perimeter jumper while also possessing a solid handle as a lead guard. What she lacks in natural twitchy explosiveness, Jones makes up with in deception and change of pace with the ball in her hands.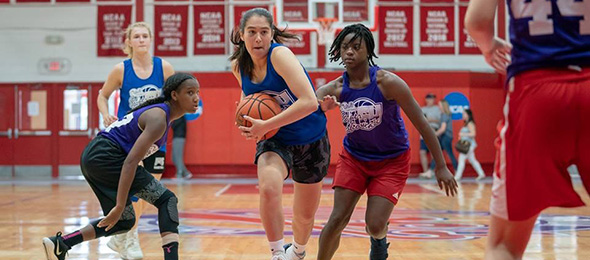 Ariel Loiter (Bradenton, Florida), IMG Academy – 2020
Loiter was the top NEW name of the day. The Singapore native showed her great combination of skill and play-making ability. While she is far from being the tallest (5-6) or most athletic in the building, her ability to make plays certainly made her one of the most impactful. She has a crafty ability to change pace with the ball and finish going either direction into the lane. Loiter hit floaters in the lane and 3-point jumpers out beyond the arc. Her quick hands also allow her to make plays on the defensive end. She will suit up for IMG Academy this season.
Andrea Torres (Miami, Florida), Ferguson HS – 2020
Torres made a name for herself as a ball handler and shot maker at the showcase. She handled defensive pressure with poise and rarely made unforced errors. She was equally as effective with her jump-shooting ability. She hit several jumpers from range while also hitting shots off the pull-up in the mid-range.