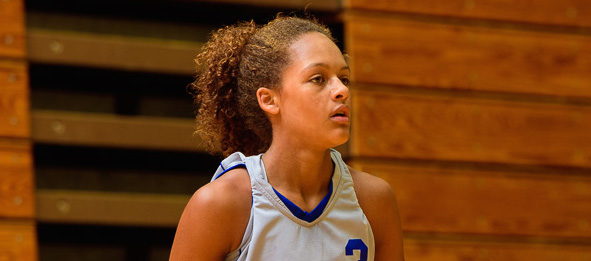 Class of 2019 guard Cayln Richardson of Orlando, Fla., is starting to emerge as a must-track prospect. Her length on the perimeter coupled with a willingness to make plays on both ends of the floor makes her a noteworthy player.
Brandon Clay's takeaway – PSBTipOffClassic (Apr. 2017): Richardson is a talented, versatile option at the off guard spot. She has improved her ball handling becoming more than just a shooting specialist in the process. Richardson's foot speed and defense have gotten better over the past twelve months as well.
Brandon Clay's takeaway – EBASuper64 Camp (June 2016):
Richardson has a nice weekend scoring the ball and playing hard. Her energy allowed her to make plays on both ends of the floor. Her specialty right now is the ability to get down hill to score at the basket. She showed some sauce with the ball to shake defenders at the top of the key. Richardson also shot the ball well from the arc in a camp game featured on SUV tv on day two. She did spotlight at the point guard position this weekend and was solid doing that. We would like to see her become even more comfortable in that role where she could be truly classified as a combo-guard.
Name: Cayln Richardson
Height: 5'9"
HS Grad Year: 2019
Position: SG
School / Hometown: Colonial HS (Orlando, Fla.)
Club Team: Florida Lightning
Social Media Updates:
#CommitmentCentral via #BrandonClayScouting🍑 Report

Family member St. Francis (NY) adds '19 G Cayln Richardson of @CFE_BASKETBALL.

FOLLOW ON 📷 IG: https://t.co/w5DQSYnzvq

COLLEGE EVALS: https://t.co/dc2OUdikQX

SHOWCASE / TOURNEY INFO: https://t.co/Jow0Z53ZU3 #SMPMember pic.twitter.com/JsIBUJ2JIU

— Brandon Clay (@BrandonClayPSB) October 17, 2018
#SMPMember🍑 Recruiting
Fueled by #BrandonClayScouting🍑

"Growing the game one offer at a time."

'19 G Cayln Richardson (FL) of CFE visited St. Francis (NY) this weekend.

PAGE: https://t.co/qZi6pNPWed

JOIN: https://t.co/8GnB3G0viZ

FOLLOW ON 📷 IG: https://t.co/FrgtOjFYMg pic.twitter.com/Mpr910rquu

— Brandon Clay (@BrandonClayPSB) October 13, 2018
#SMPMember🍑 College Recruiting
Fueled by #BrandonClayScouting🍑

'19 G Cayln Richardson (FL) of @CFE_BASKETBALL made an impression at #PSBSummerInvite.

HER PAGE: https://t.co/xYksJKVhfr

JOIN SMP: https://t.co/sNCDBr8plx

📷 IG https://t.co/sDOZ1zDH5R @curly_k10 @FL_Lightning https://t.co/huJ6O8jOlk

— ProspectsNation.com (@ProspectsNation) August 31, 2018
#SMPMember🍑 College Recruiting
Fueled by @SMPMemberPSB

Need Exposure? We're here to help.

'19 SG Cayln Richardson of @CFE_BASKETBALL drew praise from @tperkinsbball23.

Colleges: Take note!

SMP PAGE: https://t.co/qZi6pNPWed

JOIN SMP: https://t.co/8GnB3G0viZ @FL_Lightning https://t.co/6ZpMBmi4jr

— Brandon Clay (@BrandonClayPSB) May 22, 2018
#PSBTipOffClassic🍑 Coverage
Powered by @ProspectsNation

As she prepares to lead #PSBFamily Florida Lightning during the April eval weekend, '19 G Cayln Richardson's recruitment is picking up steam.

She's on the front page.

FULL STORY: https://t.co/XL8y7pVzpA #SMPMember pic.twitter.com/xoR4TEzD74

— Brandon Clay (@BrandonClayPSB) February 16, 2018
Richardson (#SMPMember) is on my "must-watch" list this spring.

A kid with a lot of athletic tools with a skill set that has blossomed recently@FL_Lightning @colonialbball @FlaLightning https://t.co/eumMNdcbHb

— Jonathan Hemingway (@JLHemingwayPSB) February 13, 2018
#SMPMember🍑 Program News
Powered by @SMPMemberPSB

'19 SG Cayln Richardson @CHS_Grenadiers has heard from Kansas, Mercer & UNF recently per @BClayScouting International Director @KeilMoorePSB.

Her #BrandonClayScouting Page: https://t.co/qZi6pNPWed @colonialbball @flalightning pic.twitter.com/ELrB3bvmZk

— Brandon Clay (@BrandonClayPSB) February 13, 2018
#SMPMember🍑 Program News
Powered by @SMPMemberPSB

'19 SG Cayln Richardson (FL) of Colonial has had UMass and UCF in recently per @BClayScouting Domestic Director @JLHemingwayPSB.

Her #BrandonClayScouting Page: https://t.co/qZi6pNPWed @colonialbball @flalightning pic.twitter.com/dDoCuFw2zE

— Brandon Clay (@BrandonClayPSB) January 7, 2018
#SMPMember Recruiting Exposure

'19 G Cayln Richardson (FL) visited North Florida for Elite Camp.

MORE INFO ON HER: https://t.co/qZi6pNPWed pic.twitter.com/7N6sCovR3m

— Brandon Clay (@BrandonClayPSB) June 19, 2017
'19 Cayln Richardson #SMPMember putting in work on both ends w/ @FlaLightning #PSBFamily pic.twitter.com/HlbwViJQHS

— Rebecca Dyer (@RebeccaDyerPSB) May 13, 2017
#CDI17#SMPMember '19 Cayln Richardson @curly_k10 doing it all for @FlaLightning #EBASuper64 invite June 3-4https://t.co/JOQvbKGs3h

— Rebecca Dyer (@RebeccaDyerPSB) May 13, 2017
#SMPMember Recruiting Exposure

'19 G Cayln Richardson (FL) has a @CoachHemi eval plus Bama, JU & UNF interest

PAGE https://t.co/qZi6pNPWed pic.twitter.com/RDJHIGu0jN

— Brandon Clay (@BrandonClayPSB) May 9, 2017
#SMPMember@BrandonClayPSB loves '19 Cayln Richardson's game

We saw why at the #CoachHemiShowcase

EVAL https://t.co/h4U8Cr6cjo pic.twitter.com/lBmw4Mm5tY

— Jonathan Hemingway (@JLHemingwayPSB) March 23, 2017
'19 Cayln Richardson led Colonial w/ 12 pts, 4 asts & 3 rebs in a W vs Boone

➡️ https://t.co/qZi6pNPWed pic.twitter.com/3o9pDx5NAz

— Brandon Clay (@BrandonClayPSB) December 14, 2016
Cayln Richardson shined at #EBASuper64 camp.

What @BrandonClayPSB had to say: https://t.co/DV5wXqRLXH pic.twitter.com/9CDFUcoD6E

— #SMPMember Program (@SMPMemberPSB) November 2, 2016
'19 Cayln Richardson (FL) consistently knocked down jumpers at #PSBEndOfTheRoad

HERPAGE:https://t.co/rTby0dOYZe pic.twitter.com/LwFClCCtUI

— Rebecca Dyer (@RebeccaDyerPSB) October 7, 2016
Cayln Richardson is a scrappy SG that you MUST get a hand up on.

HER PAGE: https://t.co/DV5wXqRLXH pic.twitter.com/zMJ8VuTCHz

— #SMPMember Program (@SMPMemberPSB) September 27, 2016
'19 G Cayln Richardson (FL) was raining 3's at #PSBElite32.

PAGE: https://t.co/DV5wXqAaz7 @RussLatoya pic.twitter.com/OGMzCNVEfr

— #SMPMember Program (@SMPMemberPSB) August 1, 2016
Love watching '19 Cayln Richardson play. Blue-collar mentality

HERPAGE:https://t.co/rTby0dxnAE pic.twitter.com/WbLWdFaOMo

— Rebecca Dyer (@RebeccaDyerPSB) July 20, 2016
Check out '19 Cayln Richardson's (FL) evaluation from #EBASuper64

EVAL:https://t.co/a1QckkV7Wf pic.twitter.com/2xYDL7ji56

— Rebecca Dyer (@RebeccaDyerPSB) June 16, 2016
#SMPMember Cayln Richardson earns an invite to #EBAAllAmerican camp Sept. 3/4

JOIN HER: https://t.co/HDjwagc7NG pic.twitter.com/gDGZevFVt1

— ProspectsNation.com (@ProspectsNation) June 14, 2016
#EBASuper64 Stars:

Courtney Baker
Mya Giusto
Cayln Richardson
Paige Shy@gkwardeberg

READ: https://t.co/va6RUD6AEt pic.twitter.com/LYy3DWbCoj

— Brandon Clay (@BrandonClayPSB) June 5, 2016
Excited to see '19 Cayln Richardson back in action at #EBASuper64

PAGE:https://t.co/rTby0dOYZe pic.twitter.com/J0vBa1vVet

— Rebecca Dyer (@RebeccaDyerPSB) May 20, 2016
'19 G Cayln Richardson (FL) is in for #EBASuper64 Camp on June 4-5.

HER PAGE: https://t.co/qZi6pNykPD pic.twitter.com/8S5eDYDQpi

— Brandon Clay (@BrandonClayPSB) May 19, 2016
'19 Cayln Richardson had a great showing at #PSBTipOffClassic!

PAGE:https://t.co/rTby0dOYZe pic.twitter.com/8G3SPBtaFb

— Rebecca Dyer (@RebeccaDyerPSB) April 27, 2016
'19 G Cayln Richardson will rep FL Lightning at #PSBTipOffClassic.

HER PAGE: https://t.co/qZi6pNykPD pic.twitter.com/eFlofKBPCD

— Brandon Clay (@BrandonClayPSB) April 21, 2016

Brandon Clay is the owner of the JumpOffPlus.com International Report, Peach State Basketball, Inc., and ProspectsNation.com. The JumpOffPlus.com is picked up by more than 200 colleges and universities nationwide. In addition to serving as ProspectsNation.com WNBA Director of Scouting, Clay serves as the Executive Camp Director for the Elite Basketball Academy Camps. He is a McDonald's All-American Game Selection Committee member. Clay serves on the Naismith Trophy Men's / Women's College Player of the Year Academy and is the National Coordinator of Voting for the Boys / Girls All-American Teams. He has been involved in the community since 2001. You can reach Clay at [email protected]