Marlene Stollings enters her first year in Lubbock, Texas, as the head coach of the Texas Tech Lady Raiders. She will use her past experience and success at the University of Minnesota to start a rebuild of the Raider program. Her and her staff are on the right track on the recruiting trail securing two guards from California. Read below for a detailed evaluations of both prospects.
Article composed by Jonathan Hemingway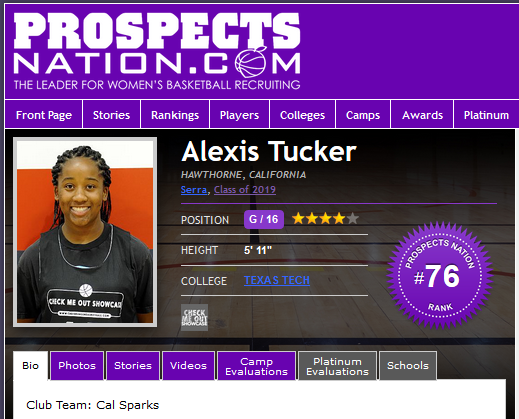 Alexis Tucker
5'11", Guard
Hawthorne, California
ProspectsNation.com Rating: 4-star
BrandonClayScouting.com Take – Tucker blends skill, finesse and strength to be able to score at multiple areas on the court. She has shown the ability to hit jumpers from the perimeter or even post up smaller guards. This versatility should be of great asset in the BIG XII Conference.
#CommitmentCentral via #BrandonClayScouting🍑 Report

Texas Tech keeps adding talent. This time, it's '19 G Nailah Dillard (CA).

FOLLOW ON 📷 IG: https://t.co/w5DQSYnzvq

COLLEGE COACH EVALS: https://t.co/dc2OUdikQX

SHOWCASE / TOURNEY INFO: https://t.co/Jow0Z53ZU3 @egrant14 pic.twitter.com/mj6FKyCGkW

— Brandon Clay (@BrandonClayPSB) November 14, 2018
Nailah Dillard
5'9″, Guard
Sacramento, California
ProspectsNation.com Rating: 3-star
BrandonClayScouting.com Take – Dillard strength and athleticism provide her upside at the next level. She sports a strong frame and has the ability to attack down hill with the drive. Defensively she displays aggression and could be used in a number of roles.