Cam Newbauer enters his second season as the Gators head coach. He has put his stamp of enthusiasm on to the program in hopes of returning the program back to the top of the SEC. Newbauer led Belmont to the NCAA national tournament and an OVC championship in consecutive years. Read what we wrote about the Belmont program during Newbauer's time in Nashville HERE.
Newbauer's coaching staff is making recruiting a priority. They have inked four 4-star prospects in the class of 2019. Two of those are ranked in the ProspectsNation.com domestic ELITE 100. And one prospect an ELITE 25 caliber prospect internationally. Read about their class of 2019 recruiting class below.
Article composed by Jonathan Hemingway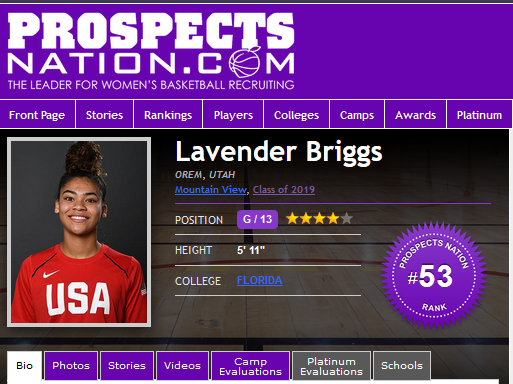 Lavender Briggs
5'11", Guard
Orem, Utah
ProspectsNation.com Rating: 4 star
Brandon Clay Scouting Take – Briggs brings size and athleticism to the back court for the Gators. Her defensive versatility should immediately translate to Southeastern Conference play. Her offensive skill set is a spot of hope as well. She is a proven slasher who also shows flashes of range from beyond the arc.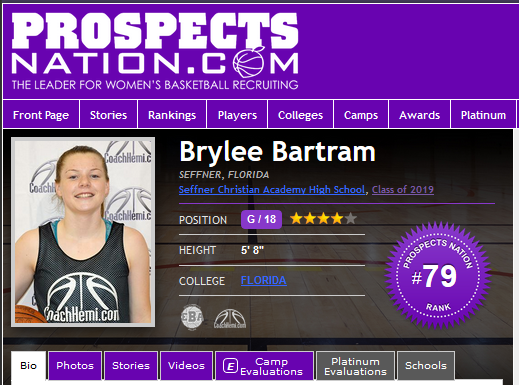 Brylee Bartram
5'8″, Guard
Seffner, Florida
ProspectsNation.com Rating: 4 star
Coach Hemi's Take – Bartram projects to be an ELITE shooting specialist in Gainesville. She has the potential to be at the top of 3-pointers made and in percentage in the SEC, similar to Hannah Cook did at the University of Alabama in years past. Given Newbauer's success at using shooters in his offense in the past, Bartram projects to be ideal fit for the Gators.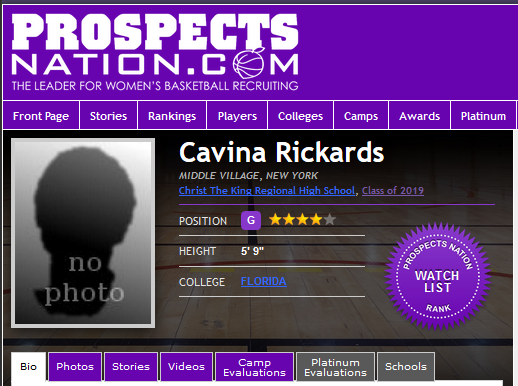 Cavina Rickards
5'9″, Guard
Middle Village, New York
ProspectsNation.com Rating: 4-star
Evaluation not currently available
#CommitmentCentral via #BrandonClayScouting🍑 Report@ProspectsNation Elite 25 caliber '19 Faith Dut (BC) chooses family member Florida.

FOLLOW 📷 IG: https://t.co/w5DQSYnzvq

COLLEGE EVALS: https://t.co/dc2OUdikQX

SHOWCASE / TOURNEY INFO: https://t.co/Jow0Z53ZU3 @kraefin pic.twitter.com/zBMAqiEi7c

— Brandon Clay (@BrandonClayPSB) October 16, 2018
Faith Dut
6'4″, Center
Surrey, British Columbia
ProspectsNation.com Rating: 4-star
Brandon Clay Scouting Take – Dut has the size needed to play at high levels in this game. Her physical tools should translate to immediate playing time. However, skill development will be essential for her to make a consistent impact.