Head coach Wes Moore enters his sixth season at North Carolina State. He enters the 2018-19 season with a 112-52 record, which includes four 20 win seasons. His success has been tied to his teams executing on the court as well as recruiting elite prospects. The Wolfpack's 2018 class included ProspectsNation.com ELITE 150 prospects Elissa Cunane (NC) and Jada Rice (GA). The 2019 class includes two more ELITE 150 prospects in Jakia Brown-Turner (MA), Jada Boyd (VA) and 4-star point guard Kendal Moore (NC).
Now we take a closer look at a class of 2020 commit, Elle Sutphin of East Surry HS / Winston-Salem Stealers.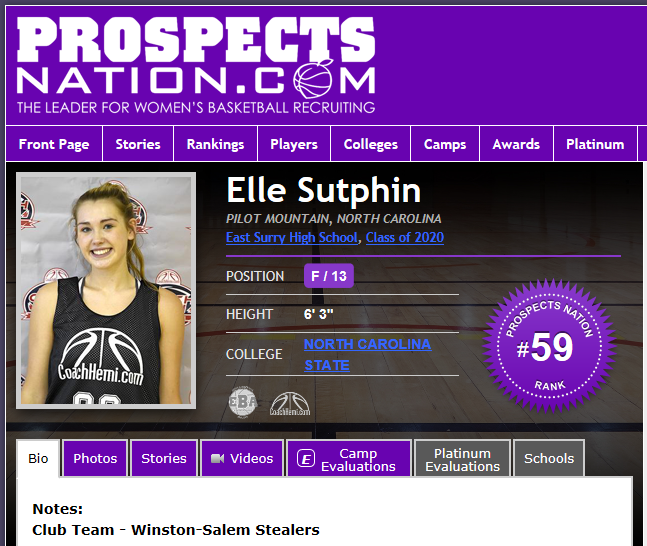 Coach Hemi's Take – Sutphin is ready-made for the modern game of basketball. She possesses the size and skill to play along the frontline in the Atlantic Coast Conference. At 6-foot-3, she has the length to rebound and defend at either post position. She is also mobile enough to run the court in transition or attack the rim in the half-court.
We recently had the chance to work with Sutphin at the Coach Hemi Showcase in Winston-Salem, North Carolina. She displayed a strong work ethic to go along with play-making skills that are unique for a player at her position. She still has room to grow with her leadership skills. However, with two full years of high school basketball in front of her, she should be able to grow more comfortable exerting on the court.
Sutphin entered the ProspectsNation.com ELITE 60 rankings this fall. You can catch Sutphin on the travel circuit with the Winston-Salem Stealers.
See her highlights from October below. Footage courtesy of Parallels Media.