The Blazers Exposure organization will finish it's fourth year after they compete at the #PSBEndoftheRoad Championships in September. The young women from the Middle Georgia and East Alabama rekindled a tradition of basketball excellence in 2015. Read about one of the state of Georgia's top travel programs.
Program Director
Tim Marshall
Program Headquarters
Columbus, Ga.
PeachStateBasketball.com Tournaments Attended:
#PSBPreSeason
#PSBTipOffClassic
#PSBMayDay
#PSBSummerKickoff
#PSBRealDeal
#PSBElite32
Notable Alumnae
Curteeona Brelove (2014) – VCU
Dy-Tiesha Dunson (2013) – Florida Gulf Coast University
Kym Ellison (2012) – Georgia Tech / San Diego State
Tia Faleru (2011) – Ole Miss University
Monique Jackson (2011) – Ole Miss / UT-Martin
Kristi Mokube (2011) – Florida State / George Mason
Courtney Strain (2011) – Auburn / Jacksonville State
The first cycle of Blazers Exposure prospects just finished their college eligibility this past collegiate season. Heading that list is Tia Faleru who completed an outstanding career for coach Matt Insell at Ole Miss. Her stellar senior years was headlined by earning 1st Team All-SEC honors and being named an AP All-American Honorable Mention. Class of 2011 post Monique Jackson also finished her career for coach Kevin McMillan at UT-Martin. Also #EBAAllAmerican post Kristi Mokube enters her senior season at George Mason after starting 18 games and averaging a team high 6 rebounds per game last season.
Notable Uncommitted 2016 Prospects
Nyla Perry
Jaylen Snipes
Season Highlights from Tim Marshall

When asked about the most memorable moments of this past year, coach Marshall immediately talked about others within the program. "We have an excellent group of coaches and parents that are committed to making sure we are all successful."
Marshall mentioned his coaches; Jasper Snipes, Johnny Vasquez, Cedric Holton, Lucy Ellison and Ree-Ree Turpin who coached at various levels within the program. He credits these individuals for the groundswell of talented youth that have sprung up within the program. He also credited his administrative staff of Alicia Manning and Kim Wells for holding the program together. Marshall says, "Without those two figuring out the books and making hotel reservations, I am not sure we would have a program."
The Blazers also boast of a rich academic tradition. Marshall points to the fact last year's 2015 class had an average ACT score of 25. The correlation of between on-court success and classroom achievement is a point of pride for the Marshall. He says, "Our organization encourages ongoing academic success of our student-athletes. This is an emphasis that is occurs yearly with our program."
It is apparent that Marshall's selfless attitude bleeds over into his players and their interactions. He recalls, "The biggest concern that I had coming into this season was how (Ariyah) Copeland and (Jessika) Carter would get along. And you know what? It has never been a problem! They developed a terrific chemistry and Ariyah even became a mentor to Jessika."
Marshall went on to talk about his trip to Colorado Springs with Carter in May as being a special moment for his program. "Jessika received an invitation to the U16 Trials. It challenged her and it also energized me. It was big for our program to have an individual recognized at such a high level."
Individual Standouts
Height is not a problem for the Blazers. Coach Marshall's group boast of two of the most talented post players nationally. Class of 2017 Ariyah Copeland of Columbus, Ga., is a 4-star prospect and is a watch-list prospect for her class when the ProspectsNation.com rankings expand to 100 this fall. Standing at 6-3, Copeland has as soft of touch of any post player in the paint. She combines that with terrific lower body strength and reliable hands. College coaches have been tracking the junior's every move for the past few years. Copeland already has in-home visits with coaches lined up for this month.
Alongside of Copeland stands 6-4 Jessika Carter of Waverly Hall, Ga. The Harris County High School sophomore is a 4-star prospect and currently ranked No. 42 in the class of 2018. Her ability to change shots on the defensive end and run the floor in transition make her a must recruit prospect for most programs nationally. She is just now beginning to scratch the surface of her potential. Carter and Copeland both are poised to be two of the next Blazers Exposure alumnae to play college basketball at its highest level.
The Blazers Exposure seniors, Jaylen Snipes of Opelika, Ala., and Nyla Perry of Albany, Ga., made names for themselves this year while playing on the travel circuit. Both earned praise from the ProspectsNation.com staff during the April evaluation weekend at the #PSBTipOffClassic (Read the full article here: PSB TipOff Classic Day Two). Snipes is a fiesty guard who can hit big shots at critical moments. Whereas Perry's versatility as a ball handler and defender make her a consistent producer. Expect both to attract attention at the end of the month in the year's final NCAA evaluation period.
Next Up
Marshall mentioned how his program is on the rise and the next few years should be particularly fruitful in terms of kids earning scholarships to play ball in college arenas. In years past, 25 young women have left the Blazers Exposure program and played college basketball. That tradition is far from ending with players such as class of 2017 prospects Andeija Puckett of Griffin, Ga., and Tiyah Johnson of Phenix City, Ala., who have demonstrated high potential this year. Puckett, a 6-3 post adds even more height and athleticism to the Blazer frontline. Johnson on the otherhand, is a 5-8 athletic wing who is poised to produce in big ways next year. Add in LaShunte Faniel, who is is Johnson's high school teammate, and Marshall's group will be loaded with post play. The class of 2017 power post stands at 6-3 and specializes at rebounding and playing physical in the lane.
Future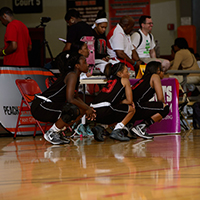 The excitement in coach Marshall's voice was clear when asked about the younger players in the program. In his words, "The youth in our group surprised me. We have two teams at the middle school level that were very competitive. This is a testament to the people that we have within our program having confidence and doing things the right way."
The class of 2018 is already exciting with Carter heading up the list. However, three players that Marshall says that will earning headlines in the future are Ashlee Free, Quan Holton and Trinity Vasquez.
The eighth grade class features Jessika Carter's little sister, Zikeyah "Be-Be" Carter-Ransom who already boasts of a size 13 shoe and stands at 6-2. Claire Worth is another prospect that evaluators will be watching for in future tournaments. Marshall has terrific things to say about class of 2021 prospect Kionna Gaines. Even with the talented players that Marshall has coached in the past, he sees something special in her.
With character, talent and commitment in abundance in Columbus, Ga., expect the Blazers Exposure program to be successful for years to come.
ProspectsNationTV: Blazers Exposure Red vs. Atlanta Lady Celtics Jr. from the #PSBSummerKickoff
Media Exposure / Showcase Opportunities 



Jonathan Hemingway is the Assistant Director of Scouting for the JumpOffPlus.com International Scouting Report, is on the Naismith Trophy Board of Selectors and owns CoachHemi.com, the go-to source for coaches for X's and O's.  He is the floor director of #TeamEBA camps, a site director for #TeamPSB tournaments and can be reached at jonathanhemingway@peachstatebasketball.com.