The Michigan Storm program was created in 2010 to provide young ladies within the state of Michigan a quality basketball experience. Their dedication and hard work in recent years has translated into wins and scholarship offers. They represent the talent rich state of Michigan within the #PSBFamily. Here is a look back on their 2015 campaign.
Program Director
Jeff Taylor
Program Headquarters
Southfield, MI
Official Website
Official Twitter
PeachStateBasketball.com Tournaments Attended:
#PSBTipOffClassic
#PSBRealDeal
#PSBSummerInvite
#PSBEndoftheRoad
Notable Alumnae
Sparkle Taylor (2013) – UTEP
Amber Jamison (2015) -Northwestern
Erika Davenport (2015) -Marquette
Sydnee McDonald (2015) – Chipola Junior College
Alumnae Catch-up
Entering her junior year at UTEP, Sparkle Taylor finished as the team's second leading scorer last season. She started 20 games and averaged 10.3 points per game. Her 25 points versus Eastern New Mexico on December, 12, 2014 was her career high.
Committed Players
Kehinde Bello – University of Minnesota
Taiye Bello – University of Minnesota
Hailey Leidel – University of Massachusetts
Kristen Nelson – Southern Illinois
Zoey Oatis – University of Detroit Mercy
Amber Stephens – Wayne State University
Jalisha Terry – St. Bonaventure
Notable Uncommitted Players
Kayla Russell
Program Vision from Jeff Taylor:
Travel basketball provides opportunities and exposure for young ladies who seek to play basketball at the next level. However, coach Jeff Taylor first mentions what is at the core of the Michigan Storm program. He says, "We use basketball as a vehicle to teach life lessons such as dedication, commitment and sacrifice. These traits translate into success both on and off the basketball court."
The goal of the program is quite clear, which is to provide a forum for these young athletes to showcase their abilities. Coach Taylor goes on to explain, "We cannot guarantee scholarship offers, but we have been quite successful in that regard. Every player on our 2016 team was offered a scholarship. Six out of the eight players are already committed to a Division One program."
The track record of success for the Storm speaks for itself with members of their 2015 team on college rosters in the Big Ten and Big East Conferences. Furthermore, their 2018 team has already garnered attention from college coaches. Taylor explains, "Five members of our 2018 group have already received Division One offers while all 11 are in contact with college coaches at the Division One level."
The success of the past combined with the hope of future helped the Michigan Storm earn an invitation to be an Adidas Gauntlet Team this fall. Taylor says, "We are pleased with this opportunity and we hope to expand our footprint to provide opportunities for the young ladies in the state of Michigan."
Season Highlights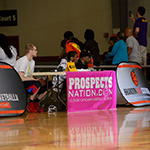 While the individual attention that the players have earned over the years has been great, the Storm also boast a successful team record as well. They kicked off the 2015 travel season with a championship game appearance at the #PSBTipOffClassic in April. They knocked off fellow #PSBFamily teams such as the West Virginia Thunder and the Western PA Bruins to compete on Championship Sunday. There they competed in an SUVtv Instant Classic game, which was broadcasted live on ProspectsNation TV. This game featured a last second shot, which had to be reviewed by officials on the television monitors. Although the Storm would lose the game in sudden death overtime, it is a game that is still talked about by all who witnessed it.
The Michigan Storm can also point to a 11-2 record during the first half of July where they often had to play multiple games on back to back days. They competed at high levels at the Run-4-Roses, #PSBRealDeal Shootout and at the Battle of the Boro. Taylor talks about the highlight of July where the Storm matched up with an EYBL team. Taylor says, "We got a great match-up with the New Jersey Sparks at the #PSBRealDeal. There were more coaches there than we could count, including coach Geno Auriemma from the University of Connecticut. We won that game and it was a memorable moment for our girls."
Individual Standouts
The Storm boasted of talented players who produced on the court and were pursued by college coaches off of it. Class of 2016 guard Jalisha Terry of Flint, Mich., proved to be the engine for coach Jerome Love's 16U team. The St. Bonaventure commit broke into the ProspectsNation.com ELITE Rankings after a stellar performance during the April evaluation period. She is currently ranked No. 141 in the #PNElite150.
Sisters Kehinde and Taiye Bello of Southfield, Mich., had a host of college coaches following their every move this year. Standing at 6-foot-2 respectively, they each provide defense, shot blocking and rebounding that is a scarce commodity in the world of women's basketball. Taiye, who is ranked No. 137 in the #PNElite150, also demonstrated an effective offensive game that earned a 4-star rating. The Bello sisters gave their verbal commitment to head coach Marlene Stollings at the University of Minnesota this August.
The depth of this program could be seen in prospects like Southern Illinois verbal Kristen Nelson of Bloomfield, Mich., and Detroit Mercy commit Zoey Oatis. Both are athletic wings who should bring an immediate contribution when they step onto their respective campuses. Class of 2016 wing Hailey Leidel of Brownstown, Mich., earned a reputation at the #PSBTipOffClassic as one of the best shooters in the class. She is headed to the University of Massachusetts. While guard Amber Stephens demonstrated play-making skills that should help her impact at Wayne State University in Detroit, Michigan.
Future
Although the class of 2016 was filled with success, do not expect this to be the end of the road for the Michigan Storm. Class of 2017 prospects Kierra Crockett of Farmington Hill, Mich., and Victoria Wright of Detroit, Mich., played up on coach Love's 16U team. Add in Western Michigan commit Jordan Walker and the Storm should have a solid nucleus of talent ready for next season. Also prospects such as Tyeshia Bowers of Flint, Mich., and Lexey Tobel are other names that should be noticed next year for the Michigan Storm on the travel circuit.
Coach Taylor also had plenty of excitement for his class of 2018 group. He explains, "Coach Darren McAllister did a great job with these girls and they defeated a number of powerhouse programs over the past year, which included All Ohio, Georgia Pistols and the Mac Irvin Lady Fire."
Look for class of 2018 prospects such as Graysen Cockerham of Howell, Mich., Jessica Bicknell of Saginaw, Mich., Jaida Hampton of Mich., and Jaela Richardson of Saginaw, Mich., to be future stock-risers. Also keep an eye out for Maxine Moore of Farmington Hills, Mich., who is one of the most recruited 2018 prospects in the state. She already boasts of a couple of offers. The class of 2019 and 2020 are also lined up with talent with kids like Destiny Strother of Flint, Mich., and Xeryia Tartt of Flint, Mich., who suited up for McAllister's team this year.
ProspectsNationTV presented by the SUVtv: Michigan Storm vs. New Jersey Sparks from #PSBRealDeal


Jonathan Hemingway is the Assistant Director of Scouting for the JumpOffPlus.com International Scouting Report, is on the Naismith Trophy Board of Selectors and owns CoachHemi.com, the go-to source for coaches for X's and O's.  He is the floor director of #TeamEBA camps, a site director for #TeamPSB tournaments and can be reached at [email protected].