The Tennessee Xtreme organization has been a staple program from the Chattanooga area for over a decade. Their commitment to providing exposure for ladies in the TN-AL-GA area has helped many get to the next level. Here is a look back at their season from last year and a look ahead at the returning talent within the program.
---
With over 20,000 collective followers on our team's social media outlets, we're in a unique position to assist with both creating awareness of a prospect's skill set and recent on-floor performance. From crisp recruiting updates to updated in-season stats to a potential last-minute change in schedule that needs to be conveyed socially, this package allows the player to control the information available to the public about their game.
Become an #SMPMember: Click the Logo Below

---
Program Headquarters
Chattanooga, TN

Official Website

Official Twitter

Committed 2016 Players
Shawnia Anderson – North Georgia
Akia Harris – Tennessee Tech
Megan Lewis – Union
Maddie Wright – Belmont
PSB Tourneys Attended:
#PSBPreSeason
#PSBMayDay
#PSBTipOffClassic
#PSBElite32
#PSBEndoftheRoad
2016 Standout Prospects
This year's group of seniors were coached by Andrew Little. This Xtreme team became very familiar at Peach State Basketball events as they competed regularly for championships and gained national exposure. Post, Maddie Wright of Chattanooga, Tenn., worked her way into the ProspectsNation.com Elite 150 after consistent play at tourneys and EBA camps. She signed with Cam Newbauer at Belmont this spring.
See Wright's Highlights here courtesy of @KrisWatkinsPSB



Joining the team this year was talented guard Akia Harris of Chattanooga, Tenn. The 5-foot-7 point guard put up big points this year as a floor general. She signed with Tennessee Tech this spring as well. Alongside of Harris in the coach Little's back court was Megan Lewis of Ringgold, Ga. Lewis earned a reputation as one of the best shooters in the Southeast at PSB tourneys and EBA camps over the years.
Shawnia Anderson of Cleveland, Tenn., made a big impression at last year's PSB Tip Off Classic (Read Article Here), which helped her sign a scholarship with North Georgia this spring. Little's group also received valuable contributions from Kathaleen Alomar of Cleveland, Tenn., Aizha Little of Cleveland, Tenn and Abby Hubert of Ooltewah, Tenn.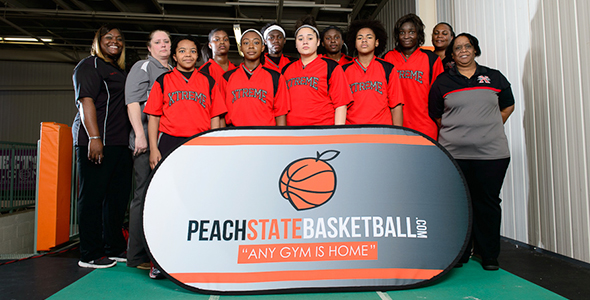 Next Up
The Xtreme organization has a group of richly talented players that have already drawn attention as underclassmen. This team is coached by Keisha Hunt, who also doubles as the Hamilton Heights Christian Academy head coach during the school season. While many of these players are drawing the attention of coaches from Power Conferences she has this to say about the focus of their organization, "We want to enrich the basketball skills of our young ladies. But we also want to develop character and promote academics with our student-athletes."
This upcoming season has success on and off the court paved in front of these Xtreme players. Hunt will return four out of the five starters from last season. Wings Elizabeth Balogun and Amber Hunt of Chattanooga, Tenn., each have offers in their pocket heading into the spring evaluation period. Balogun is an athletic presence who is productive in a number of areas on the court. She is currently ranked No.  49 nationally in the ProspectsNation.com Elite 60. While Hunt is an important to the team as a shot maker and a sneaky-good passer in the half-court.
In the back court, the Xtreme boast of two of the better point guards in the Southeast in the class of 2018. Jasmine Massengill of Chattanooga, Tenn., is currently the No. 26 ranked player in the ProspectsNation.com Elite 60. Her ball skill, size and athleticism have coaches tracking her every move heading into the April evaluation period. A player that is poised for a breakout year is Rhyne Howard of Cleveland, Tenn. She got on the map at the PSB May Day Championship last year (Read Article Here). Like Massengill, she has a number of offers and should be primed for a big spring (More on her Recruiting Here).
Looking Back
Hunt's team experienced much success last season as they won championships at PSB tourneys. Perhaps the most exciting was an overtime win over Team Elite Pointer Sophomore at the May Day Challenge. There, Rhyne Howard, sunk a sudden death free throw to seal the game.
Watch the full game replay on @SUVtv here:



Coach Hunt also mentions important wins at the AAU Showcase where they went undefeated in pool play with only six players on the roster. They then followed that with an impressive victory over Tennessee Flight Silver at the Battle of the Boro. That type of success gives her team plenty of confidence heading into 2016.
Looking Forward
When asked what the expectations were for this season, coach Hunt said, "We expect to pick right back up where we left off last season. We want represent Chattanooga basketball while we play, compete and beat top notch teams from around the country."
Expect a few new faces to impact for the Xtreme this season. On the court, class of 2020 wing Treasure Hunt of Chattanooga, Tenn., is a name that is gaining national recognition already. Also post Sydney Pearce of Gray, Tenn., will join the squad next year to give a needed interior presence.
However, a person that could impact more than all is a person that will not even step on the court. Coach Hunt explains, "We have added professional strength and conditioning coach Cameron Russell to our team for this upcoming season. He has started working with the girls already. He expertise truly raises our game to a higher level."
You will be able to find the Tennessee Xtreme this year at #PSBFamily events. Check the schedule for details in the near future.
@SUVtv Tennessee Xtreme vs. The Nation at the #PSBTipOffClassic



Jonathan Hemingway is the Assistant Director of Scouting for the JumpOffPlus.com International Scouting Report, is on the Naismith Trophy Board of Selectors and owns CoachHemi.com, the go-to source for coaches for X's and O's.  He is the floor director of #TeamEBA camps, a site director for #TeamPSB tournaments and can be reached at jonathanhemingway@peachstatebasketball.com.