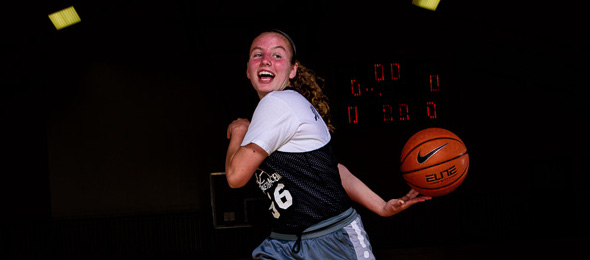 ---
With over 20,000 collective followers on our team's social media outlets, we're in a unique position to assist with both creating awareness of a prospect's skill set and recent on-floor performance. From crisp recruiting updates to updated in-season stats to a potential last-minute change in schedule that needs to be conveyed socially, this package allows the player to control the information available to the public about their game.
Become an #SMPMember: Click the Logo Below

---
Class of 2019 point guard Devin Biesbrock of Maineville, Ohio, is a steady hand at the position. She emerged as a must track guard for our staff during the #PSBEndOfTheRoad in September 2016.
Jonathan Hemingway's takeaway – EBAAllAmerican Camp (Oct. 2016): Biesbrock is a heady point guard with good skill. She has a high motor and works to get better in drills while competing in drills. She showed in this evaluation that she can pass accurately with either hand. Moving forward she can work on exerting her presence more consistently.
Brandon Clay's takeaway – PSBEndOfTheRoad (Sept. 2016): Biesbrock is very capable of making plays from the point guard position. She hit the open 15 footer in addition to getting her teammates involved offensively as well.
Name: Devin Biesbrock
Height: 5'6"
HS Grad Year: 2019
Position: PG
School / Hometown: Kings High School (Maineville, Ohio)
GPA: 4.2
Club Team: Midwest Takeover
---
BrandonClayScouting.com Video Evaluation March 2017
---
Social Media Updates:
#SMPMember🍑 Recruiting
Fueled by #BrandonClayScouting🍑

"Growing the game one scholarship at a time."

Love that '19 PG Devin Biesbrock (OH) used a @TyPhotog EBA pic to announce she's attending Williams College.

JOIN: https://t.co/8GnB3G0viZ

📷 IG: https://t.co/FrgtOjFYMg pic.twitter.com/Ij2Y9JeBM9

— Brandon Clay (@BrandonClayPSB) November 1, 2018
#SMPMember🍑 College Recruiting
Fueled by #BrandonClayScouting🍑

"Growing the game one interested school at a time."

Western Michigan will be in to see '19 PG Devin Biesbrock (OH).

PAGE: https://t.co/3sTcsn7aX0

JOIN: https://t.co/8GnB3G0viZ

📷 IG https://t.co/FrgtOjFYMg pic.twitter.com/gtYq0fMp6U

— Brandon Clay (@BrandonClayPSB) September 13, 2018
#SMPMember🍑 College Recruiting@JLHemingwayPSB gives his take on '19 PG Devin Biesbrock of @MWTakeover. https://t.co/fzroMU8odi

— SMP Recruit Exposure (@SMPMemberPSB) August 23, 2018
Completely agree with @CoachHemi on this one!

Told @OUWBBall's @CoachRichey32 about '19 PG @devin_biesbrock of @MWTakeover #PSBFamily at #PSBPower48.

She's a gamer. The type of PG who could quarterback a team I coach any day of the week. #SMPMember https://t.co/dBPRYLj3WI

— Brandon Clay (@BrandonClayPSB) July 28, 2018
#PSBRealDeal🍑 Showcase
🗓 July 8-9
📍Louisville

Devin Biesbrock
Alyssa Fisher
Chloe Fleming
Syniah McMiller

{📷: @shotbylarry of @ParallelsMedia_ }

FULL SCHEDULE: https://t.co/LgrkrlOiZn

📷 INSTAGRAM: https://t.co/GMToRyMgwW @ojuice13 @chloenicole30 #SMPMember pic.twitter.com/BkqylkgErx

— Brandon Clay (@BClayScouting) July 8, 2018
#SMPMember🍑 College Recruiting
Fueled by @SMPMemberPSB

Exciting to see the growth in Midwest Takeover '19 PG Devin Biesbrock's game.

Hard worker, high IQ. Quality decision maker. Makes her teammates better.

SMP PAGE: https://t.co/nDV6yk77gx

JOIN SMP: https://t.co/H3iRQXgjJB pic.twitter.com/pDS8kMyxfj

— Brandon Clay (@BClayScouting) May 10, 2018
#PSBRealDeal🍑
🗓 July 8-9#PSBNationals
🗓 July 10-11
📍 Both in Louisville

Tomorrow is BIG for Midwest Takeover

Academic '19 Watch

Devin Biesbrock (#SMPMember)
Alex Sperry

—

'19 G Jenna Simon showed well @CoachHemi Camp

'21 Lovie Malone has nexthttps://t.co/Jow0Z53ZU3 pic.twitter.com/5uuRezdOsA

— Brandon Clay (@BrandonClayPSB) April 20, 2018
#SMPMember🍑 College Recruiting
Fueled by @SMPMemberPSB

Need Exposure? We're here to help.

'19 PG Devin Biesbrock (OH) had 21 pts, 5 asts in a state playoff win.

SMP PAGE: https://t.co/3sTcsn7aX0

BECOME AN SMPMEMBER: https://t.co/8GnB3G0viZ

INSTAGRAM https://t.co/jSr8AvCdZB pic.twitter.com/SAR2uHIbEp

— Brandon Clay (@BrandonClayPSB) March 13, 2018
#SMPMember🍑 News
Powered by @SMPMemberPSB

High Academic '19 PG Devin Biesbrock is gearing up for #PSBTipOffClassic Louisville April 20-22 w/Midwest Takeover.@JLHemingwayPSB joins me to breakdown her recruiting: https://t.co/s7Jrq5RXZT

JOIN SMP TODAY: https://t.co/8GnB3G0viZ pic.twitter.com/U1UUQ2PnYu

— Brandon Clay (@BrandonClayPSB) January 31, 2018
#SMPMember🍑 Program News
Powered by @SMPMemberPSB

'19 PG Devin Biesbrock (OH) will lead #PSBFamily Midwest Takeover into the #PSBTipOffClassic in Louisville April 20-22.

She's a high IQ, high academic option at the point position.

More on Biesbrock: https://t.co/3sTcsn7aX0 pic.twitter.com/nPz8Y1mAfV

— Brandon Clay (@BrandonClayPSB) January 4, 2018
'19 Devin Biesbrock showed she's a playmaker & distributor at #CoachHemi513#CoachHemi Featured Player #SMPMember
🎥 https://t.co/slTKrPafis pic.twitter.com/zD2gwrj09c

— Jonathan Hemingway (@JLHemingwayPSB) October 31, 2017
#SMPMember PG @devin_biesbrock showed her slashing & scoring skills at #CoachHemi513

See her highlights belowhttps://t.co/PGlu6lElzG

— Jonathan Hemingway (@CoachHemi) October 10, 2017
#SMPMember🍑 Recruiting Program

HIGH ACADEMIC WATCH

'19 PG Devin Biesbrock (OH) visited Lehigh.

HER PAGE: https://t.co/3sTcsn7aX0 pic.twitter.com/O6jnSAgERJ

— Brandon Clay (@BrandonClayPSB) October 8, 2017
#CoachHemi513 welcomes '19 Devin Biesbrock#SMPMember🍑 reps MW Takeover

JOIN Sept 16 | Cincy, OHhttps://t.co/YV215HJexQ pic.twitter.com/ev5NxrjYdn

— Jonathan Hemingway (@JLHemingwayPSB) August 31, 2017
Catch #PSBFamily @MWTakeover & #SMPMember @devin_biesbrock in July:#PSBSummerInvite (23-24)#PSBPower48 (25-26)https://t.co/WO5dwbcj21 https://t.co/Bj6nv66Jag

— PSB Events (@PeachStateBBall) June 29, 2017
#SMPMember Recruiting Exposure

In June, '19 PG Devin Biesbrock visits:

Columbia
Dartmouth
Penn
Princeton

PAGE: https://t.co/3sTcsn7aX0 pic.twitter.com/NWYLkFkWvt

— Brandon Clay (@BrandonClayPSB) June 1, 2017
#SMPMember Exposure Program

'19 PG @devin_biesbrock of @MWTakeover is playing well at #PSBTipOffClassic

Her page https://t.co/13ZuaFa8cH pic.twitter.com/fEjAvyHsj8

— Kris Watkins (@KrisWatkinsPSB) April 29, 2017
#PSBTipOffClassic #SMPMember Devin Biesbrock helps lead Midwest Takeover Take 1 #PSBFamily Fri – Sun.

HER PAGE: https://t.co/3sTcsn7aX0 pic.twitter.com/RVzsxOqfxM

— Brandon Clay (@BrandonClayPSB) April 25, 2017
#SMPMember Exposure Program

'19 PG @devin_biesbrock of @MWTakeover & @kings_hs has @KrisWatkinsPSB's approval. Mine too.#SMPFilmRoom 🎥📽: pic.twitter.com/meze23MPjN

— Brandon Clay (@BrandonClayPSB) March 22, 2017
#SMPMember Exposure Program

Per @JLHemingwayPSB, '19 PG Devin Biesbrock (OH) has heard from Princeton.

LEARN MORE: https://t.co/3sTcsn7aX0 pic.twitter.com/0FqE0a1Sxi

— Brandon Clay (@BrandonClayPSB) March 9, 2017
#SMPMember Exposure Program

'19 Devin Biesbrock's '16-17 HS:

ECC Player of the Year
ECC 1st Team All-League

MORE: https://t.co/3sTcsn7aX0 pic.twitter.com/7AfTA1w5HC

— Brandon Clay (@BrandonClayPSB) March 6, 2017
#SMPMember Exposure Program

'19 PG Devin Biesbrock (OH) has led Kings HS at 17-5.

Stats: 9.1 ppg, 3.7 apg

JOIN: https://t.co/3sTcsn7aX0 pic.twitter.com/P998OXbHzv

— Brandon Clay (@BrandonClayPSB) February 16, 2017
If you go under ball screens on '19 @devin_biesbrock she will make you pay!#KnockDownShooter

Her Pagehttps://t.co/13ZuaFa8cH pic.twitter.com/E7wkB4U8LN

— Kris Watkins (@KrisWatkinsPSB) February 15, 2017
'19 PG Devin Biesbrock (OH) has visited both Miami of Ohio & Univ. of Chicago.

LEARN MORE ON BIESBROCK: https://t.co/3sTcsn7aX0 pic.twitter.com/qWWYjFRySt

— Brandon Clay (@BrandonClayPSB) January 14, 2017
New "Film Room Breakdown" on '19 PG Devin Biesbrock coming soon.@KrisWatkinsPSB to assist.

HER PAGE: https://t.co/3sTcsn7aX0 pic.twitter.com/j4dz5ZUKNa

— Brandon Clay (@BrandonClayPSB) December 13, 2016
We welcome '19 PG Devin Biesbrock (OH).

High Academic Watch: 4.2 GPA

Visited Columbia, Furman.

PAGE: https://t.co/3sTcsn7aX0 pic.twitter.com/bncabasV2t

— Brandon Clay (@BrandonClayPSB) December 10, 2016
June 3-4

'19 G Devin Biesbrock (OH) is ALREADY registered to rep #PSBFamily Midwest Takeover.

PAGE: https://t.co/XWZyztwSq6 pic.twitter.com/v2tLJGHjq8

— Brandon Clay (@BrandonClayPSB) November 30, 2016
#EBAAllAmerican Stock ⬆️

Devin Biesbrock
Jaycie Bowen
Maya Clark
Kyra Fowler
Sydnee Jackson
Lauren Morris
Keegan Sullivan
Lindsey Syrek pic.twitter.com/bwBO884D2T

— Brandon Clay (@BrandonClayPSB) October 16, 2016
Oct. 15-16

I'm ready to work with '19 G @devin_biesbrock of @MWTakeover #PSBFamily.

JOIN HER: https://t.co/GvBy2NUnCy pic.twitter.com/YP1EamYgRU

— Brandon Clay (@BrandonClayPSB) October 6, 2016
#CoachHemiShowcase
Great screening action & ball movement@savwheeler4@devin_biesbrock@Alexis_Starks42 pic.twitter.com/cpEXhjp5sC

— Jonathan Hemingway (@JLHemingwayPSB) June 19, 2016
---

Brandon Clay is the owner of the JumpOffPlus.com International Report, Peach State Basketball, Inc., and ProspectsNation.com. The JumpOffPlus.com is picked up by more than 200 colleges and universities nationwide. In addition to serving as ProspectsNation.com WNBA Director of Scouting, Clay serves as the Executive Camp Director for the Elite Basketball Academy Camps. He is a McDonald's All-American Game Selection Committee member. Clay serves on the Naismith Trophy Men's / Women's College Player of the Year Academy and is the National Coordinator of Voting for the Boys / Girls All-American Teams. He has been involved in the community since 2001. You can reach Clay at [email protected]