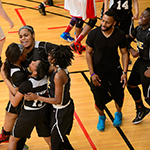 The South Mississippi Elite program is designed to prepare players to be college ready when they leave the program. Since 2007 coach Burnell Wesco and his program have done exactly that. Last year two players from the 2014 graduating class earned Freshman Player of the Year honors. Not only does the SME program get it done on the court, their players are usually just as good off of it too. Here is their 2015 Program Review.

Program Director
Burnell Wesco
Program Headquarters
Hattiesburg, Mississippi

Official Twitter / Instagram

Official Website
Committed 2016 Players
Caitlin Davis (McNeese State University)
BreAshlee Jones (McNeese State University)
Uncommitted 2016 Players
SME Alumna in the College Game:
Tiaria Griffin-University of Georgia, Christa Reed-Vanderbilt, Bretta Hart-Ole Miss, Kayla Gordon-Jacksonville University, Randi Brown-University of New Orleans, Ereyanna Magee-Prairie View A&M, Jazmin Boyd-Grambling, Kalen Phillips-Omaha Nebraska, Victoria Vivians-Mississippi State.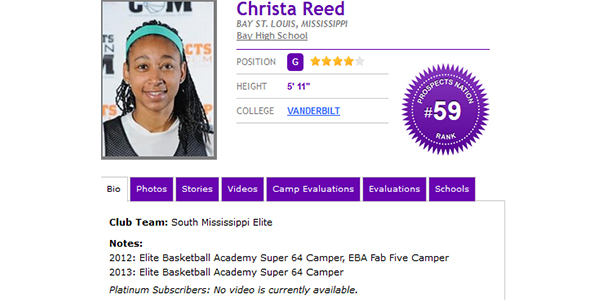 Alumnae Catch-up
The SME ladies have experienced an abundance of success at the college level. Here is what they did last year:
Tiaria Griffin scored her 1,000 point last season with University of Georgia.
Kayla Gordon was the Atlantic Sun Conference Freshman of the year last year with Jacksonville University. She also earned as a Preseason All-Atlantic Sun Team member.
Randi Brown was the Southland Conference Freshman of the year with the University of New Orleans.
Alexie Baldwin was named to the Mid-American Conference All Tournament team with Ohio University while she helped the Bobcats win the tournament last year.
PSB Tournaments Attended:
#PSBTipOffClassic
#PSBRealDeal
#PSBElite32
#PSBEndoftheRoad
Season Highlights: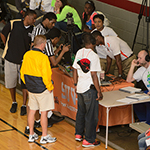 Coach Wesco mentions winning championships at the PSB Tip-Off Classic and at the PSB End of the Road as being the highlights of the season. The championship at the Tip-Off Classic in April was particularly sweet. Wesco explains, "We were down 10 points with about three minutes to play. But we came back and won in sudden death overtime."
That game was broadcasted live on @SUVtv, which became an Instant Classic because of the exciting finish. It also featured the first time where officials used the broadcast monitors to see if the a final shot had come before the buzzer. You can see the archived broadcast at the bottom of the article.
Next Up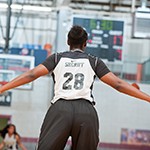 The history of the SME program points to a future that will be filled with success. There are a number of prospects that are on the radar of college coaches and national evaluators alike in the class of 2017 in the program program. Center Lauran Sheriff of Jackson, Miss., has earned a 4-star rating at previous Elite Basketball Academy Camps. The 6-foot-3 center is one of the premier defensive players at the position nationally.
The talent for the program also stretches into the team's back court. Shooting guard Alyric Scott of Richton, Miss., is a player with great size and skills to match. She has upside that will make coaches take notice this upcoming year. Another guard that emerged in a big way is Keyara Jones of Heidelberg, Miss. Her play in April at the Tip-Off Classic earned her recognition as one of the tournament's standout players (Read here: Tip-Off Classic Championship Sunday).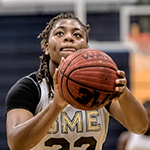 Other players to watch for in the program are guards Jamaya Galloway of Bay City, Miss., Tamirra Haskin of Laurel, Miss., and Moriah Hurst of Miss. Also forward LaMiracle Sims of Miss., is a 6-2 prospect who should earn valuable exposure with the program in the next 9-12 months.
Future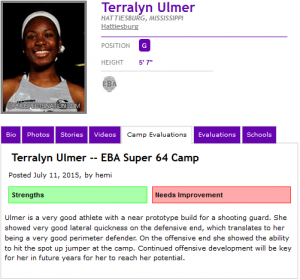 One thing that the SME program does a good job of doing is promoting players at a young age. In the class of 2018 there are players that have built a reputation for themselves at PSB tournaments and at EBA camps. Guard Terralyn Ulmer of Hattiesburg, Miss., has been a consistent performer at the EBA Super 64 camps in recent years. Umayah Harvey of Hattiesburg, Miss., is another prospect who gained valuable exposure with SME as an underclassmen. Also put LaKylian Rankins of Mobile, Ala., as a point guard to watch from the program. Two other prospects to watch for are Lekera Hughes and D'Mia Henry both of Miss.
The class of 2019 is already lined up with talent. Guard Briana Carr of Taylorsville, Miss., has shown a world of promise at EBA camps and on the circuit with SME. She is a great athlete with the ability to affect the game on both ends of the floor. Throw in Jurnee McLaurin who is another very good athlete in the back court and coach Wesco will have plenty of athleticism to coach for years to come. Coach Wesco also mentions guards Gabby Bunch, Shania Harris, Kenedi Walker and Ty Vance as prospects with potential to watch. Forward DaSha Barnes will bring length for the program along the frontline.
In the class of 2020, watch for Chelsea Ulmer of Hattiesburg, Miss., as an up and coming point guard. She competed at the EBA Super 64 Camp in July and held her own versus many older players. Coach Wesco mentions Kloey Adams, Meyyla Grayson, Kaliyah Taylor and Makia Willis as other watch-list players on the rise in their program.
@SUVtv Video from the #PSBTipOffClassic: SME Black vs. Michigan Storm




Jonathan Hemingway is the Assistant Director of Scouting for the JumpOffPlus.com International Scouting Report, is on the Naismith Trophy Board of Selectors and owns CoachHemi.com, the go-to source for coaches for X's and O's.  He is the floor director of #TeamEBA camps, a site director for #TeamPSB tournaments and can be reached at [email protected].