The Indy Lady Gym Rats completed their 18th year of travel basketball this year. In that time the club has helped produce numerous McDonald's All-Americans, Naismith Award nominees and Indiana All-State players. Their focus of treating kids fairly on and off the court has created one of the most special programs on the national scene.

Program Director
James Banks
Program Headquarters
Indianapolis, Ind.

Official Twitter
Official Website
Indy Lady Gym Rats Alumna at the College Level:
Bria Goss (2011) – Kentucky
Julia Henson (2011) – Western Michigan
Jazmine Windham (2011) – Western Michigan
Erica Von Stein (2011) – Regis University
Rachel Gregory (2012) – Buffalo
Kalliste Haskins (2012) – Indiana State
Jade Mills-Harris (2012) – Kentucky Wesleyan
Lakin Roland (2012) – Dartmouth
Nariah Taylor (2012) – Georgia Tech
Andrijana Cvitkovic (2013) – Dayton
Celeste Edwards (2013) – Dayton
Stephanie Mavunga (2013) – North Carolina/Ohio State
Bridget Perry (2013) – Purdue
Taya Reimer (2013) – Notre Dame
Mikale Rogers (2013) – IUPUI
Ally Lehman (2013) – Northern Illinois
Shadae Bosley (2014) – Cleveland State
Devin Ferguson (2014) – University of Indianapolis
Calyn Hosea (2014) – Ball State
Anna Imhoff (2014) – Indiana Wesleyan
Erica Moore (2014) – Purdue
Khadijah Moore (2014) – Ball State
Morgan Olson (2014) – Youngstown State
Jenna Allen (2015) – Michigan State
Lamina Cooper (2015) – Purdue
Darby Maggard (2015) – Belmont
Victoria Gaines (2015) – Michigan State
Sydney Hall (2015) – IUPUI
Tiara Murphy (2015) – Purdue
Ali Patberg (2015) – Notre Dame
Faith Suggs (2015) – Duke

Committed 2016 Players
Amaria Allen (Illinois State)
Lindsey Corsaro (Kentucky)
Savannah Davis (University of St. Francis)
Daesjah Ely (IUPUI)
Darby Foresman (Indiana)
Rachel Green (Indiana Tech U.)
AeRianna Harris (Purdue)
Chandler Jones (University of St. Francis)
Brooke Juday (Eckerd College)
Taylor Miller (Tuskegee)
Cameron Onken (Villanova)
Jayla Scaife (Dayton)
Jasmine Shelt (Kentucky Wesleyan)
Sydney Shelton (Butler)
Markayla Sherman (UMass/Lowell)
Laura Thomas (Northern Kentucky)
Jackie Young (Notre Dame)
Aliyah Walker (Ball State)
Megan Walton (Ball State)
PSB Tournaments Attended:
#PSBRealDeal
#PSBSummerInvite
Program History from Coach James Banks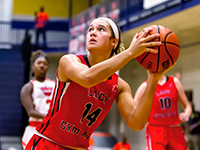 The Indy Lady Gym Rats started much like every other travel program is started; a father trying to help his daughter and her friends play competitive basketball. James Banks was that father. As he explains, "We were originally called the Speice Diamonds. We would get kids in a five mile radius from where we lived. We kept it fun and made it competitive in hopes of helping kids earn scholarships."

Interestingly his daughter would not stay with the program through high school, but that did not keep Banks from keeping the program alive. "She left to go play with Candace Parker in Chicago with the Chicago Hoop Express and the Illinois Jaguars when she was in 8th grade. She got to play with Candace and be coached by Parker's father" Banks says. "That's what was best for her at the time, but we kept working to build the program.
Banks also talked about how the team eventually earned notoriety. "We became a relevant program by playing teams from all over the country. Then in 2009 with a talented collection of girls playing for us, we turned a corner. We were playing very competitively."
By 2010 the Gym Rats program was center stage on the national scene. Banks tells the story, "We were in DC playing the Georgia Ice with Diamond DeShields, Kaela Davis and all those kids. Bria Goss guarded DeShields the entire game and held her to five points. We may have gotten a little lucky to beat such talented kids, but at that moment, everyone knew we were for real."
After that year the Indy Gym Rats earned a contract with Nike to become a sponsored program. Banks points to that year as a turning point for the program. He says, "The name Gym Rats began to recruit itself. Many of the state's top prospects began to want to play for us."
The Gym Rats have been one of the ore consistent performers as of late on the EYBL circuit mainly because of the talent that they have been able to attract. Banks says, "Our 2015 class was our first group to go deep into the tourney at Nike Nationals. We feel like we have have great momentum after our finish this year with our 2016 class."
The Indy Lady Gym Rats System from Danny Riego

In 2011 Banks made a big addition to the program and it was not in the form of a player. The Lady Gym Rats brought in Danny Riego who would quickly earn the reputation of one of the best coaches on the summer circuit. For Riego joining the Gym Rats made a lot of sense. He says, "It is very hard to run a big program and to do it well. For me to join a professionally ran organization that had a prime collection of talent was a golden opportunity."
The addition of Riego added value to a program that was already on the rise. As he says, "My job is to just coach. I get to focus on making kids better and think about Xs and Os."
The state of Indiana still has the shadow of Bobby Knight's motion offense in the background of basketball. Riego and the Gym Rats have dedicated to playing different than the state's tradition. Riego explains, "Kids are being trained and developed differently than they were 20 years ago. Our guards have scoring skill sets, so we put our kids in 'on-ball screen' actions to accentuate those skills."
That dedication has clearly paid off when you look at the lineage of scoring guards that have come through the program. College point guards such as  Tiara Murphy, Darby Maggard and Ali Patberg are all distinguished ball players who thrived in the Gym Rats system. "We are committed to playing a modern brand of basketball" Riego says. "The kids like that it is fresh, fun and effective.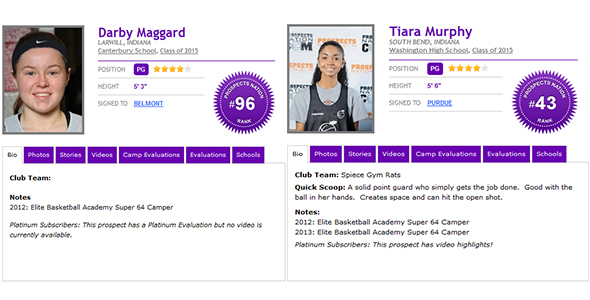 Riego also points to a theme that is present with many successful programs at the youth level; consistency. He says, "We have 12 teams in our program. They are all running the same system. So by the time a kid gets to me, on the top team, they have ran this thousands of times."
But perhaps the most special part of what the Gym Rats have created, according to Reigo, is the legacy. "We tell the stories about the past players and who has worn that jersey before them. They get excited to know that Taya Reimer or Ali Patberg got the same type of shots out of the offense before. We have created a legacy of Indiana basketball players in a short time period."
Highlights

For Reigo, the highlight of every year is seeing the match-ups that his players will face on the EYBL circuit. As he explains, "A few years ago Lamina Cooper (2015 grad) had a stretch where she faced off against Kelsey Mitchell (Ohio State Sophomore), Asia Durr (Louisville Freshman) and Linnae Harper (former Kentucky guard) in a two day stretch. I remember talking to Darby Maggard about how to defend Alexa Middleton (Tennessee Sophomore) when the Tennessee Flight set the side ball screen in Tom Insell's offense. Seeing Darby Foresman have to go toe to toe with Erin Boley is exciting to me. Those are the lasting memories for me."
As for their 2015 campaign, Reigo says this year was very special. "We had a great collection of individual talent once again. From Jackie Young who is a Naismith Award Player of the Year candidate to a rising star like Dana Evans in the class of 2017. Everyone was new to the program, yet each individual player brought a TEAM goal to the first meeting. No one talked individual goals! Every kid talked about how they wanted the team to succeed. That was unique."
That team oriented mentality carried the Indy Lady Gym Rats all the way to North Augusta, S.C., where they finished as Runners-up in Nike Nationals Championships.
Individual Standouts
This year's Lady Gym Rat team was loaded with talent. It was led by the top wing in the country, Jackie Young of Princeton, Ind. Currently ranked No. 5 in the country, Young is versatile enough to post up or initiate the offense as the lead guard. The Notre Dame signee is on the Naismith Top 50 Watch-List for the Player of the Year in women's basketball at the high school level. Find the complete list here: 2015 Naismith Trophy HS Player of the Year Watch-List (Presented by Hilton)
Young was not the only talented prospect in the class of 2016 on the year's Gym Rats squad. Purdue signee Ae'Rianna Harris is one of the best interior defenders in the country. She is ranked No. 61 nationally by ProspectsNation.com. Harris was joined by the No. 55 ranked prospect, Indiana signee Darby Foresman, who is a stretch post who can score inside and out. They back court was filled with sharp shooting guards such as Cameron Onken, a Villanova signee, and Sydney Shelton who is the No. 131 ranked prospect nationally. Shelton is headed to Butler next season. Unfortunately, one of the most talented players on the roster, Kentucky signee Lindsey Corsaro, was sidelined all summer while recovering from an ACL tear. Corsaro is the No. 15 ranked player in the ProspectsNation.com Elite 150.
The cupboard is far from empty with several key pieces returning next year for Riego. The nation's third ranked point guard in the class of 2017, Dana Evans of Gary, Ind., was a big part of last year's success. Karissa McLaughlin entered this year as a near unknown and then quickly soared up the rankings as the No. 34 ranked player in the same class. McLaughlin gave her verbal commitment to the University of Florida earlier this fall.
Also in the class of 2018, Arieal Scott of Ill., is a player that made a big splash on the circuit. She has already garnered a number of offers from schools around the Midwest. She is currently the No. 43 ranked player in her class. Also coach Banks anticipates Indiana commit Breanna Boles to join the team next year. Boles, a 6-2 wing, is currently ranked No. 31 in the Elite 60 in her class. Also class of 2017 guard Destiny Pitts of Mich., has made plans to join the Lady Gym Rats next season.
Future
Coach Banks is already raving about the class of 2019 team that competed on the national travel circuit this year. Coached by Mark Stephens, they won their bracket at the PSB Tip-Off Classic in April. They are headlined by Jorie Allen of Bedford, Ind., who is a 6-2 versatile forward that can do it all. Add in Layla Hartman of Okemos, Mich., and the roster is already deep with talent. Also keep an eye out for Kierstan Bell of Ohio to join this group, who has already gained a reputation as one of the best players in her class in the Midwest.
@SUVtv Video from the #PSBRealDeal: Indy Lady Gym Rats vs. Cincy Angels




Jonathan Hemingway is the Assistant Director of Scouting for the JumpOffPlus.com International Scouting Report, is on the Naismith Trophy Board of Selectors and owns CoachHemi.com, the go-to source for coaches for X's and O's.  He is the floor director of #TeamEBA camps, a site director for #TeamPSB tournaments and can be reached at [email protected].