The Florida Future put together one of the most talented rosters nationally this year. They featured ranked prospects within the 2016, 2017 and 2018 classes. That talent translated into wins and plenty of recruiting attention for the young ladies from Florida. A group of players that were once tabbed as the "Future" of Florida are proving that their talent is here to stay. Here is their 2015 season in review.

Program Director
Jamie Outten
Program Headquarters
Fort Myers, FL
Official Twitter
@FL_Future
Official Website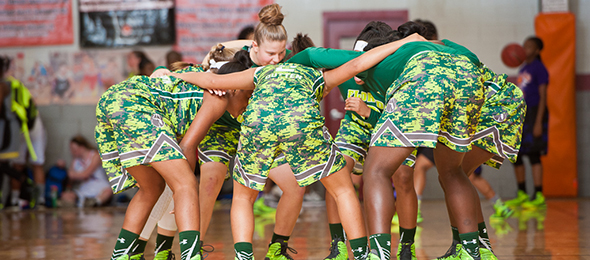 Committed 2016 Players
Stephanie Paul – University of Georgia
Uncommitted 2016 Players
Alexis Mendoza
Florida Future Alumna in the College Game:

Jakella Davis (2015) – Hillsborough JC
Jakia Davis (2015) – St. Petersburg College
Lindsey Purvis (2015) – Wilson College
Deangelique Waith (2014) – LIU Brooklyn
Alumna Catch-up
Deangelique Waith appeared in 28 games last year at LIU. She averaged 4 points and 3 rebounds per game as a freshman. She ranked second on the team in block shots. The highlight of her year was an 11 point, 9 rebound game while on the road at Long Beach State.
PSB Tournaments Attended:

#PSBMayDay
#PSBRealDeal
#PSBPower48
#PSBEndoftheRoad
Program Vision from Coach Jamie Outten

The vision of the program can be found in the name, FUTURE. Coach Outten helps explain what is behind the name, "We want to help build the future for our kids. We want to get them to the collegiate level as basketball players."
Of course a big part of that vision comes through getting their players in the right spots to be seen. Outten says, "It is our aim to give our players the right exposure so that they can earn scholarships."
Season Highlights

The Florida Future have been around since 2010 and have experience tremendous success in the past. This year was no different as the hit the exposure circuit going up against some of the best teams in the nation.
Coach Outten mentions a win outside of the NCAA evaluation period, which sticks out as a memorable moment. He says, "Our game versus Team Elite EYBL at the #PSBMayDay is a highlight of this year. We were able to win the game in the final seconds of a tie game."
Read more about that game from the ProspectsNation.com recap here –> May Day Saturday Fireworks
Destanni Henderson's game winner lifted FL Future into the #PSBMayDay championship game STORY http://t.co/UYulrlkZPc pic.twitter.com/8UI13GHfnA

— Jonathan Hemingway (@JLHemingwayPSB) May 13, 2015
Individual Standouts
This year's team was led by 6-foot forward Stephanie Paul of Naples, Fla. She is the No. 32 ranked prospect in the class of 2016. This week Paul signed to play for the University of Georgia and first year coach Joni Crenshaw. Paul's unique blend of size, strength and versatility make her a player that could contribute early in her career in Athens.
The class of 2017 feature two talented players that have made great reputations at the Elite Basketball Academy in recent years. Five-foot-seven point guard Jarya Outten of Fort Myers, Fla., developed into one of the better lead guards nationally this year. She earned the No. 94 ranking in the ProspectsNation.com Elite 100.
Alongside of Outten in the Future back court is 5-9 wing Autumn Giles of Fort Myers, Fla. Giles is a 3-star prospect on ProspectsNation.com and has coaches actively recruiting her as she heads into her junior year of high school.
The Florida Future have a budding star in the class of 2018 in 5-7 guard Destanni Henderson of Fort Myers, Fla. Henderson is a talented scorer and is currently the No. 10 ranked player in her class. Her explosiveness as a play-maker plus her craftiness in the mid-range make her one of the better up and coming guards nationally.
The Future's Future
There is plenty of talent on the Future's roster that will be around for years to come. Class of 2018 Jordan Cloutier of Naples, Fla., might be one of the sleeper prospects in the class. The skilled shooting guard handles, shoots and has solid size for her position. Also watch for 5-9 wing Bethany Brunson of Fort Myers, Fla., as a player who will make noise in the upcoming years.
The class of 2019 features several promising prospects. Mya Guisto of Naples, Fla., has been a consistent performer for the Florida Future program and at Elite Basketball Academy Camps. The point guard is a crafty handler who shoots the ball at a high percentage.
Two other players to watch in the class of 2019 are Yasmeen Chang of Fort Myers, Fla., and Aleisha Curry of Lehigh Acres, Fla. Both of these players stepped up and played with the Elite team during the month of July. Expect big things from both of these freshman in the years to come.
Also coach Outten plans on bringing his 2021 team onto the circuit next season. They are two time AAU National Champions that are ready for the light of the exposure circuit. Look for Chaniya Clark, O'Mariah Gordon and Janay Outten as three prospects to watch.
@SUVtv Video from the #PSBRealDeal: Florida Future Elite vs. Philly Freedom Stars




Jonathan Hemingway is the Assistant Director of Scouting for the JumpOffPlus.com International Scouting Report, is on the Naismith Trophy Board of Selectors and owns CoachHemi.com, the go-to source for coaches for X's and O's.  He is the floor director of #TeamEBA camps, a site director for #TeamPSB tournaments and can be reached at [email protected].