---
With over 20,000 collective followers on our team's social media outlets, we're in a unique position to assist with both creating awareness of a prospect's skill set and recent on-floor performance. From crisp recruiting updates to updated in-season stats to a potential last-minute change in schedule that needs to be conveyed socially, this package allows the player to control the information available to the public about their game.
Become an #SMPMember: Click the Logo Below

---
Program Director
Brian Rosen

Program Headquarters

Harlem, NY

Official Twitter



Official Website
Program at a Glance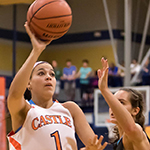 In just two short years, the Castle/YuNG & tha Restless program has helped developed over a dozen of Division-One basketball players. These players are playing at some of the premier programs nationally, which include the likes of Connecticut, Maryland and Michigan. Players such as a Maria Backman, who is on the roster at Michigan, got her start with the YuNG & the Restless program. 

The future appears to bright with a number of talented underclassman returning this upcoming summer. Several of these young ladies are gaining attention from college coaches already. According to Simpson, "Our 2018 prospects are being recruited by some of the best programs in the nation. Schools like Seton Hall, Georgia Tech, Texas Tech and several others have all been in contact with these kids."
Season Highlights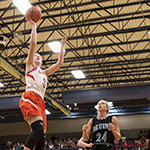 Although from New York, Simpson knew where the epicenter of summer recruiting resides in the first half of July. His group of kids competed at the PSB Real Deal and received valuable exposure. Simpson says, "We played a memorable game versus the WPA Bruins at the Real Deal in the 'Ville. It was after that game that we knew that we will be absolutely ready for next year."
With the talented group of 2017 and 2018 prospects on the roster, expect to hear more of Castle/YuNG & tha Restless in this year's open periods.
2017 Prospects Poised for a Breakout Year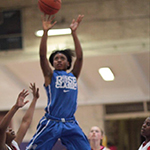 Simpson points to several prospects in this class that are being recruited consistently. He says Janean Cuffee, Dai'yanni Davis, Elizabeth Garcia, Jonise Ledbetter, Morenike Akinrefon, Cristina Camerlengo, Stephanie Sabido and Beck Erosa are players he is looking to have big summers. A number of schools such as Robert Morris, Furman, St. John's among others have been in to see these kids.
2018 is Brimming with Excitement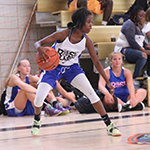 Simpson has big expectations for the kids in the class of 2018. Watch for prospects like Infinity Hammonds, Cinnamon Dockery, Deja Francis, Ronella Kennedy, Ema Schumer and Jozai Vasquez to be talked about in the future. Our JumpOffPlus.com staff has evaluated Hammonds on several occasions already. Our international director of scouting Keil Moore had this to say about the 5-foot-4 point guard:

Hammonds is a talented lead guard who can lead a team from the point position. She is also quick enough to create scoring opportunities for herself and others.




Jonathan Hemingway is the Assistant Director of Scouting for the JumpOffPlus.com International Scouting Report, is on the Naismith Trophy Board of Selectors and owns CoachHemi.com, the go-to source for coaches for X's and O's.  He is the floor director of #TeamEBA camps, a site director for #TeamPSB tournaments and can be reached at [email protected].