Coach Willis Holliday has been doing this a while. He has done it quite well going into his 21st year of developing players. Holliday works with both male and female prospects at the grassroots levels. His teams, the Carolina Hoopsterz, are a staple competitor at PSB tournaments. Here is a look at what makes their program work so successfully.
---
With over 20,000 collective followers on our team's social media outlets, we're in a unique position to assist with both creating awareness of a prospect's skill set and recent on-floor performance. From crisp recruiting updates to updated in-season stats to a potential last-minute change in schedule that needs to be conveyed socially, this package allows the player to control the information available to the public about their game.
Become an #SMPMember: Click the Logo Below

---
Program Headquarters
Greenville, SC
Program Website

Notable Hoopsterz Alumnae

Talisha Chandler – Alabama
Camille Glymph – Auburn/Michigan State/Mars Hill
Kiana Holland – Duke/Ohio State
Ashley Holliday – Kenesaw State
Britney Holliday – Jacksonville
Natira Hinton – Marshall University / Pikeville Collge
Committed 2016 Players
LaShayla Bennett – University of North Carolina
Ashton Davis – Converse
Nicole Franks – Georgia Southern
Brooke Jordan-Brown – UNC-Asheville
Available 2016 Players
Jessica Garlington
Jasmine Moore
PSB Tourneys Attended:
#PSBTipOffClassic
#PSBSummerKickoff
#PSBEndoftheRoad
Program Vision

Holiday has a no-nonsense approach to running his program. It is clear that when it comes to development, Holliday is invested into developing his community first. He explains, "We do not go hunting for kids from other teams. Sometimes kids want to come to us and I have to tell them, 'Stay with your own team.'"
It is also clear from listening to Holliday that he knows exactly how to develop players. A standout ball player himself at Georgia Southern says, "We have a game-plan for every practice. We work on shooting. We develop fundamentals and then we work on the team concept. I do not invest too much in all the fancy dribble stuff, because that does not translate into game play."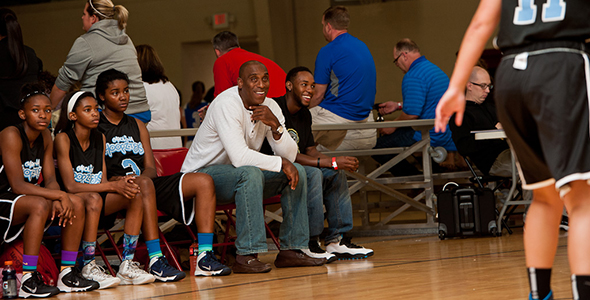 And when it comes to game play, Holliday says there is only one thing he is looking for. "Competition. That's it. There is no reason for us to travel all around the country when most of our kids want to stay in region for college. We find the best tournaments where we can get pushed" Holliday explained.
The Hoopsterz may be better known by people as the Carolina Cougars in years past. However, a change of name has not altered the influence that Holliday's program has in the South Carolina area. Holliday's teams always have a high major recruits like Kiana Holland or Camille Glymph on the roster. This past fall Holliday actually joined forces with another program, the South Carolina Stars and program director John Ross, to compete at the PSB End of the Road Championships. The union of talent shows the influence and respect that Holliday has in the state of South Carolina.
2016 Standouts

The Hoopsterz helped develop one of the top players nationally in LaShayla Bennett of Piedmont, S.C. Bennett is ranked No. 130 in the ProspectsNation.com Elite 150 and signed to play at North Carolina. The 5-foot-9 guard burst on to the scene at the 2013 #PSBSummerKickoff. From there she became one of the most recognizable players for the Hoopsterz at the PSB tourneys.

ProspectsNatonTV: Highlights from 2013 Summer Kickoff courtesy

@KrisWatkinsPSB

It was more than a one-woman show this year for Holliday and the Hoopsterz. Here is what JumpOffPlus.com evaluators had to say about the other Division-1 signees on the Hoopsterz roster:
Nakol Franks (Georgia Southern)
Franks showed herself more as a shooter in this eval. She is a pretty solid shooter from beyond the arc with a strong frame. – Mercedes Wetmore 7/6/15
Brooke Jordan-Brown (UNC-Asheville)

Brown catches the eye with her build and stature. She has legit size and takes up space. She is strong around the bucket and not afraid to lean on the defense to gain position. — Stephen Peck 4/25/15

Next Up
Looking at the Holliday's roster it is easy to see which player could carry the torch. Lawren Cook of Greenville, S.C., is carving out her niche as one of the region's premier prospects. ProspectsNation.com has the 6-foot forward ranked No. 47 in the Elite 60 nationally.
Cook is a power player who can rebound and score effectively on the interior. However, her versatility is a skill that should not be overlooked. Holliday offers insight on this, "The last tournament of the year we showed up shorthanded. A couple kids had to miss because of obligations. So we were without a ball-handler. I looked at Lawren and said, 'It's your time. You got to handle it.'"
Cook had a dominating performance with 25 points and 22 rebounds in a win over a high profile team. This is the type of production that has expectations so high for Cook in just her sophomore year.
Future
When asked about the future of the program, Holliday's voice hit an octave that is reserved for a special kind of excited. Before he could explain how good his middle school group is, Holliday gave a brief history lesson. He says, "Everyone remembers our teams with Camille Glymph and Britney Holliday years ago. We would come into the gym and light up the nets. We had a special team."
He then returns to talk about his group of 2020 and 2021 prospects. He says, "The group that we have coming up could end up being better than that group. We have kids that are shooting the ball from the NBA 3-point line! It is going to be exciting to see them play in the future."
Holliday mentions 2020 guard Janice Burton who currently leads her Lyman High School team in points. Also in the 2020 class is Marissa Powe of More, S.C., who is a skilled point guard with athleticism. He also has a whole host of 2021 players to track, which includes Trinity Franklin of Greenville, S.C. Holliday talked at length about her talent, range and explosiveness. Also Julia Bucci of Greer, S.C., and Taylor Pace of Lyman, S.C., are kids that have demonstrated high levels of skill and IQ with Holliday in his workouts.
@SUVtv video from #EBATop40 featuring Lawren Cook (#142 in white)

@SUVtv video from #EBATop40 featuring
LaShayla Bennett (#86 in Black)



Jonathan Hemingway is the Assistant Director of Scouting for the JumpOffPlus.com International Scouting Report, is on the Naismith Trophy Board of Selectors and owns CoachHemi.com, the go-to source for coaches for X's and O's.  He is the floor director of #TeamEBA camps, a site director for #TeamPSB tournaments and can be reached at [email protected].