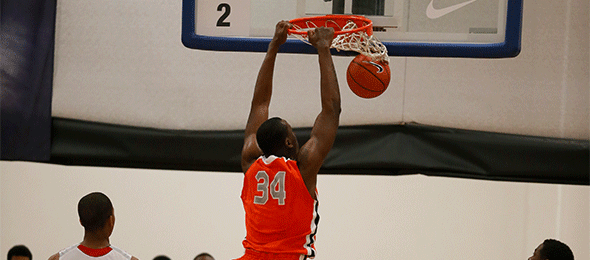 Photo credit – Jon Lopez Nike
The Brandon Clay Scouting Report offers up Prospect Evals from the top male basketball players in the class of 2014.
Cliff Alexander – (Chicago, Ill.) – Curie – 2014
Date: January 18, 2014
Location: Hoop Hall Classic (Springfield, Mass.)
Curie (Ill.) vs. No. 1 Montverde (Calif.)
Committed College: Kansas
Evaluation:
Alexander had the most dominant performance of anyone here today at Hoop Hall. He is a power 5/4 player who viciously rebounds, dunks & scores over anyone. His dominance led to a Curie victory over then No. 1 Montverde today. He finished with 30 points and 13 points and totally dominated the game in it's final minutes. He specializes in rebounding the basketball, because he can simply move anyone out of his way. He terrorized the offensive glass with multiple tip-dunks, including a crowd-pleasing left handed tip dunk over the Montverde post players. He is the most impactful player that I have seen at this moment and could easily put up monster numbers next year at Kansas. However, his long-term ceiling may be lower than the likes of Jahlil Okafor of Chicago, Ill., and Emmanuel Mudiay of Dallas, Texas, simply because he is a 6-8 PF with limited face-up skill.
Highlights of Alexander compliments of Iowa Elites:
Elite Basketball Academy Series
***Designed for evaluation purposes, these are great opportunities for upperclassmen and underclassmen alike to get valuable game broadcasts that can be sent to college coaches with a single email message. For underclassmen, it also serves as the gateway for prospects with remaining high school eligibility to play in front of our National Evaluators.
September – Elite Basketball Academy All-American Camp
October – Elite Basketball Academy Top 40 Fall Workout
CoachHemi.com Showcase Series
 October – CoachHemi.com Workout

Jonathan Hemingway is a National Evaluator for the OTRHoopsReport. He is also the publisher of CoachHemi.com. He has been involved in the community since 1996 as a coach, camp director and evaluator. You can reach him via email at [email protected] and follow him on twitter @JLHemingwayPSB