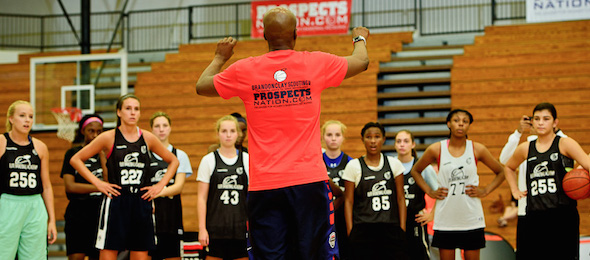 LAWRENCEVILLE, Ga. — With 100 plus campers in the building yet again, the focus of the Elite Basketball Academy All-American Camp was solely focused on-floor development and providing elite-level assessments afterwards as a result. After two days in the gym with both upperclassmen and underclassmen, here's a look at players showing their talent and progress in their skill development over Labor Day Weekend.
---
With over 20,000 collective followers on our team's social media outlets, we're in a unique position to assist with both creating awareness of a prospect's skill set and recent on-floor performance. From crisp recruiting updates to updated in-season stats to a potential last-minute change in schedule that needs to be conveyed socially, this package allows the player to control the information available to the public about their game.
Become an #SMPMember: Click the Logo Below

Social Media Updates: Use #SMPMember and follow @SMPMemberPSB
---
Peyton Andrews of Norman, Okla., is a new face to the program. The Class of 2021 prospect showed an ability to handle the ball and make the open shot. She has the size to play multiple perimeter positions as well.
McKenna Ford of Lewis Center, Ohio continues to show and prove every time she attends an Elite Basketball Academy event. Ford showed a willingness to mix it up inside and the ability to stretch the defense with her jumper. A Class of 2018 perimeter prospect, she's recently received phone calls from multiple schools including Columbia, Furman and Rider.
Class of 2017 post Alayna Ford of Alpharetta, Ga., visited Emmanuel after attending EBA All-American Camp. After another quality showing at camp, Ford's value as a potential college frontcourt prospect continues to rise.
Hannah Fuller of Greenville, S.C., started on the varsity at Southside Christian as a seventh grader. The leaps and strides that the class of 2021 guard showed at camp can be attributed in large part to her success during the school season. A multi-sport athlete, Fuller still has plenty of room for growth per our Director of Domestic Scouting, Jonathan Hemingway.
Alea Harris of Cincinnati, Ohio is showing that she is more than just a shot maker from the perimeter. Throughout camp, she found ways to attack the lane off of the bounce and make plays on the defensive end as well. Harris even took advantage of her time in Atlanta by visiting Emory at the conclusion of the first session.
One of the most improved campers was Ansley Kiefer of Suwanee, Ga. Since her first trip to an Elite Basketball Academy event, Kiefer's skill set has grown with each outing. The class of 2019 guard is handling the basketball and making open shots. Her calling card has always been her willingness to do whatever is asked and the combination of all the above makes her a player to watch.

Brandon Clay is the owner of the JumpOffPlus.com International Report, Peach State Basketball, Inc., and ProspectsNation.com. The JumpOffPlus.com is picked up by more than 200 colleges and universities nationwide. In addition to serving as ProspectsNation.com WNBA Director of Scouting, Clay serves as the Executive Camp Director for the Elite Basketball Academy Camps. He is a McDonald's All-American Game Selection Committee member. Clay serves on the Naismith Trophy Men's / Women's College Player of the Year Academy and is the National Coordinator of Voting for the Boys / Girls All-American Teams. He has been involved in the community since 2001. You can reach Clay at [email protected]