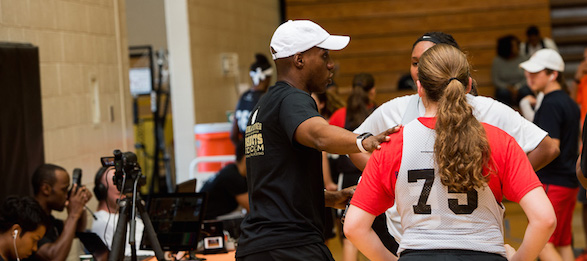 LAWRENCEVILLE, Ga. — With 100 plus campers in the building yet again, the focus of the Elite Basketball Academy All-American Camp was solely focused on-floor development and providing elite-level assessments afterwards as a result. After two days in the gym with both upperclassmen and underclassmen, here's a look at players showing their talent and progress in their skill development over Labor Day Weekend.
Shelby McDaniel of Honolulu, Hawaii won the award for furthest travel to get to camp. Her trip was worth it as we got an in-depth evaluation on the class of 2019 guard. McDaniel has the length that colleges covet in the backcourt. Expect her game to flourish as she becomes more comfortable with elite camp settings such as this one.
Paige Shy of Huntington, W.Va., is a premier spot shooter nationally in the class. Shy's game is rounding out thanks in large part to playing for St. Joseph's and #PSBFamily member West Virginia Thunder year round. She has the skill set to finish around the rim with either hand in addition to making it rain from beyond the arc.
Taylor Stelley of Poinciana, Fla., has established herself as a go-to point guard inside the Sunshine State. Her time leading #PSBFamily member Florida Lightning this club season paid dividends during camp. A Class of 2018 option, Stelley pushed the tempo of the floor and showed court vision getting teammates involved from start to finish.
Izzy Strigel of Durham, N.C., came out blazing at her first Elite Basketball Academy event. The Class of 2018 wing showed a penchant for the long range shot here. She has multiple unofficial visits planned over the course of the fall and will play with #PSBFamily member Carolina All Stars next club season.
Grace Wardeberg of Signal Mountain, Tenn., has shown growth over the past year. The class of 2017 guard has the skill set to handle the basketball, make the open shot or attack off of the dribble. Wardeberg is at her best when her confidence level is high and plays without reservation. She's a high academic prospect and has multiple options from high-end schools.

Brandon Clay is the owner of the JumpOffPlus.com International Report, Peach State Basketball, Inc., and ProspectsNation.com. The JumpOffPlus.com is picked up by more than 200 colleges and universities nationwide. In addition to serving as ProspectsNation.com WNBA Director of Scouting, Clay serves as the Executive Camp Director for the Elite Basketball Academy Camps. He is a McDonald's All-American Game Selection Committee member. Clay serves on the Naismith Trophy Men's / Women's College Player of the Year Academy and is the National Coordinator of Voting for the Boys / Girls All-American Teams. He has been involved in the community since 2001. You can reach Clay at [email protected]