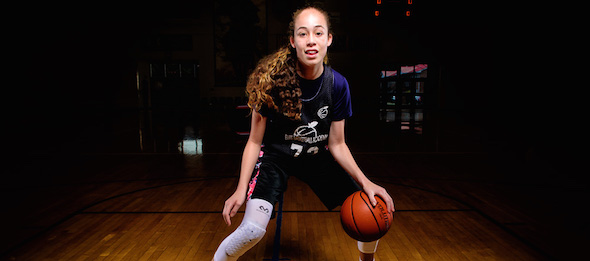 ---
With over 20,000 collective followers on our team's social media outlets, we're in a unique position to assist with both creating awareness of a prospect's skill set and recent on-floor performance. From crisp recruiting updates to updated in-season stats to a potential last-minute change in schedule that needs to be conveyed socially, this package allows the player to control the information available to the public about their game.
Become an #SMPMember: Click the Logo Below

Social Media Updates: Use #SMPMember and follow @SMPMemberPSB
---
Class of 2019 guard Shelby McDaniel of Honolulu, Hawaii, is dedicated to growing her game. The talented guard traveled almost 10,000 miles roundtrip to attend #EBAAllAmerican Camp in September 2016.
Brandon Clay's takeaway: EBASuper64 National Showcase (June 2017)McDaniel's length is intriguing at the off guard position. She made a play on Sunday that summed up her potential and talent: McDaniel brought the ball the length of the floor into a 17 foot jumper in transition.
Brandon Clay's takeaway: (September 2016)
McDaniel showed a smooth handle, court vision and the ability to stretch the defense with the open jumper. She has the length to be a quality option on both ends of the hardwood. I had the chance to coach her team during camp and was impressed with her unselfishness as a teammate even in an open setting. If anything, McDaniel needs to pull the trigger more often when her feet are set and ready to let it fly.
Name: Shelby McDaniel
Height: 5'10"
HS Grad Year: 2019
Position: PG/SG
School / Hometown: Kalani High School (HI)
Club Team: Kentucky Premier
Club Team: University of the Cumberlands
---
Social Media Updates:
#SMPMember🍑 College Recruiting
Fueled by #BrandonClayScouting🍑

HUGE 2019 class so far

20 prospects with college homes including:@MyaGiusto@PaigeShy@savwheeler4@adgreg@denabball100@shelbymac2000

JOIN: https://t.co/8GnB3G0viZ

FOLLOW US ON 📷 IG: https://t.co/FrgtOjFYMg pic.twitter.com/6fFfSYCQcf

— Brandon Clay (@BrandonClayPSB) November 19, 2018
#SMPMember🍑 Recruiting
Fueled by #BrandonClayScouting🍑

"Growing the game one scholarship at a time."

'19 G Shelby McDaniel (HI) accepted an offer to play at Univ. of Cumberlands.

PAGE: https://t.co/uU8uCrjO23

JOIN: https://t.co/8GnB3G0viZ

📷 IG: https://t.co/FrgtOjFYMg pic.twitter.com/oaONnuFocQ

— Brandon Clay (@BrandonClayPSB) October 31, 2018
#SMPMember🍑 Recruiting
Fueled by #BrandonClayScouting🍑

THIS JUST IN

Available '19 SG Shelby McDaniel (KY) will play her senior year in Hawaii. Location is not a concern college wise.

PAGE: https://t.co/uU8uCrjO23

JOIN: https://t.co/8GnB3G0viZ

📷 IG: https://t.co/FrgtOjFYMg pic.twitter.com/sS9ipyzfhm

— Brandon Clay (@BrandonClayPSB) September 20, 2018
#EBAAllAmerican🍑 Showcase
🗓 Aug 25-26
📍 ATL

Stock Risers at #EBASuper64 per #BrandonClayScouting🍑 Report

'19 Shelby Case (IN)
'19 Shelby McDaniel (KY)
'22 Jordan Meulemans (WI)

{📷: @shotbylarry / @ParallelsMedia_ }

JOIN US IN AUGUST https://t.co/2zO9ALvTs2 #SMPMember pic.twitter.com/z6BdlBcO9e

— Brandon Clay (@BrandonClayPSB) June 5, 2018
#EBASuper64🍑 National Showcase
🗓 June 2-3
📍 ATL

🚨 #SMPMember CAMPER ALERT 🚨

Shelby Case (IN)
Jordan Meulemans (WI)
Shelby McDaniel (KY)@AbiOates10 (GA)

All four will work with me before the showcase on Saturday.

JOIN US: https://t.co/tJAgOJkP5h pic.twitter.com/Yzk3yIs427

— Brandon Clay (@BrandonClayPSB) May 21, 2018
#EBASuper64🍑 Showcase
🗓 June 2-3
📍 ATL#EBAAllAmerican🍑 Showcase
🗓 Aug 25-26
📍 ATL

"It's neat to watch the progress '19 G @shelbymac2000 of @HCGirlsBball1 is making. She's trusted the process." @BrandonClayPSB

JOIN US https://t.co/SmA2xBjMav#SMPMember @GreenDebbie32 https://t.co/H7wvrUm7uB

— PSB Events (@PeachStateBBall) April 16, 2018
#EBASuper64🍑 Showcase
🗓 June 2-3
📍 ATL

I said last June that '19 G Shelby McDaniel of @HCGirlsBball1 & @GreenDebbie32 was coming into her own. She's proving me right.

She's back again this June.

JOIN https://t.co/tJAgOJkP5hhttps://t.co/jSr8AvCdZB #SMPMember @shelbymac2000 https://t.co/TgbxFxV0uK

— Brandon Clay (@BrandonClayPSB) April 13, 2018
#SMPMember🍑 College Recruiting
Fueled by @SMPMemberPSB

Need Exposure?!? We're here to help.

Available '19 G Shelby McDaniel (KY) came up big in the tourney.

HER SMP PAGE: https://t.co/uU8uCrjO23

BECOME AN SMPMEMBER: https://t.co/8GnB3G0viZ

INSTAGRAM: https://t.co/jSr8AvCdZB pic.twitter.com/F8o9JHhjDg

— Brandon Clay (@BrandonClayPSB) March 9, 2018
#SMPMember
I am a believer in @shelbymac2000 game. She's been well coached. And I believe her best days of 🏀 are still ahead of her.

She has a #CoachHemi931 invite for March 11https://t.co/NKWgsMF2dN https://t.co/tPBk6Ibaxf

— Jonathan Hemingway (@JLHemingwayPSB) January 22, 2018
#SMPMember🍑 Program News
Powered by @SMPMemberPSB

According to her HS coach (@GreenDebbie32), Available '19 G Shelby McDaniel's game is growing by the day. @JLHemingwayPSB says he's a believer.

Her #BrandonClayScouting Page: https://t.co/uU8uCrjO23 pic.twitter.com/GHYFPhmxCx

— Brandon Clay (@BrandonClayPSB) January 22, 2018
"I love working with @shelbymac2000 of @HCGirlsBball1. Type of guard I'd like to coach on my roster." – @BmayweatherPSB https://t.co/XY9EimnvWM

— SMP Recruit Exposure (@SMPMemberPSB) October 4, 2017
#SMPMember🍑 Recruiting

'19 G Shelby McDaniel is leveling up w/each eval.

Will attend #EBAFallFinale 9/23-24.

JOIN https://t.co/QCCx96kZvc pic.twitter.com/tzStioM2pB

— Brandon Clay (@BrandonClayPSB) September 8, 2017
Shelby McDaniel 19-KY is cooking in transition this morning. Aerial finishes in traffic and dimes to teammates. #SMPMember pic.twitter.com/MVM2F2i6tp

— Chris Hansen (@ChrisHansenPSB) September 3, 2017
#SMPMember🍑 Recruiting

'19 G Shelby McDaniel (KY) visited in Aug.:

Dayton
Lincoln Mem.#BrandonClayScouting PAGE: https://t.co/uU8uCrjO23 pic.twitter.com/AfaUeqDlwb

— Brandon Clay (@BrandonClayPSB) August 29, 2017
#SMPMember Recruiting

'19 G @shelbymac2000 was at Lincoln Memorial.

Next up, #EBAAllAmerican Showcase 9/2-3

PAGE: https://t.co/o3vIDgnVQ7 https://t.co/TDkb8vVJq1

— SMP Recruit Exposure (@SMPMemberPSB) August 6, 2017
'19 G Shelby McDaniel (KY) is in for both:#EBAAllAmerican 9/2-3#EBAFallFinale 9/23-24

JOIN HER: https://t.co/vTyxJdYHmA pic.twitter.com/JHjtT5TBgR

— Brandon Clay (@BrandonClayPSB) July 31, 2017
#SMPMember Recruiting Exposure

'19 G @shelbymac2000 of @GreenDebbie32 visited @XavierWBB & @newerabasketbal.

MORE: https://t.co/uU8uCrjO23 https://t.co/NlY3KuQHhc

— Brandon Clay (@BrandonClayPSB) June 22, 2017
#SMPMember Recruiting Exposure

'19 G Shelby McDaniel (KY) caught Lincoln Memorial's attention at camp.

HER PAGE: https://t.co/uU8uCrjO23 pic.twitter.com/jc8z7B6BAj

— Brandon Clay (@BrandonClayPSB) June 15, 2017
#EBASuper64#SMPMember Shelby McDaniel worked w/ @WeWorkHoops & earned a #EBAAllAmerican Sep 2-3 invite

REGISTER: https://t.co/BLf8mXUUtG pic.twitter.com/nB6igNLcWL

— PSB Events (@PeachStateBBall) June 4, 2017
#SMPMember Recruiting Exposure

'19 Shelby McDaniel (KY) got better w/Harlan Co. HS

She's at #EBASuper64 June 3-4: https://t.co/tJAgOJkP5h pic.twitter.com/YiIntbq4dH

— Brandon Clay (@BrandonClayPSB) April 26, 2017
#SMPMember Exposure Program

'19 G Shelby McDaniel (left) won a Region Title with Harlan County (KY).

LEARN MORE: https://t.co/uU8uCrjO23 pic.twitter.com/Ml1W8DGl3C

— Brandon Clay (@BrandonClayPSB) March 1, 2017
'19 G Shelby McDaniel has moved to Harlan County HS (KY) from Kaiser (HI).

HER #BCSReport PAGE: https://t.co/uU8uCrjO23 pic.twitter.com/sy1uiZWgXf

— Brandon Clay (@BrandonClayPSB) November 11, 2016
'19 G Shelby McDaniel (HI) stepped off the plane ready at #EBAAllAmerican

READ: https://t.co/o3vIDgnVQ7 pic.twitter.com/CKwd3qXihB

— #SMPMember Program (@SMPMemberPSB) November 7, 2016
'19 Shelby McDaniel (HI) will rep Kaiser HS out of Honolulu

PAGE: https://t.co/irv1gDO9BI pic.twitter.com/eXMcP0uYyw

— Rebecca Dyer (@RebeccaDyerPSB) November 4, 2016
'19 Shelby McDaniel (HI) impressed at #EBAAllAmerica

EVAL:https://t.co/irv1gDO9BI pic.twitter.com/CSsyJhQ3MN

— Rebecca Dyer (@RebeccaDyerPSB) October 6, 2016
'19 G Shelby McDaniel flew almost 10,000 miles from Hawaii for #EBAAllAmerican this month.

Her #SMPMember EVAL: https://t.co/uU8uCr2cDt pic.twitter.com/AUA9AsO8uS

— Brandon Clay (@BrandonClayPSB) September 27, 2016
Welcome '19 Shelby McDaniel of Hawaii. She impressed at #EBAAllAmerican.

PAGE: https://t.co/uU8uCrjO23 pic.twitter.com/hF3ktZgAfW

— Brandon Clay (@BrandonClayPSB) September 6, 2016
#EBAAllAmerican Camp:

Sept. 3-4

'19 G Shelby McDaniel is coming from Hawaii.

JOIN HER: https://t.co/j1fvOXHyRu pic.twitter.com/sYPeFY6prN

— PSB Events (@PeachStateBBall) August 4, 2016
---

Brandon Clay is the owner of the JumpOffPlus.com International Report, Peach State Basketball, Inc., and ProspectsNation.com. The JumpOffPlus.com is picked up by more than 200 colleges and universities nationwide. In addition to serving as ProspectsNation.com WNBA Director of Scouting, Clay serves as the Executive Camp Director for the Elite Basketball Academy Camps. He is a McDonald's All-American Game Selection Committee member. Clay serves on the Naismith Trophy Men's / Women's College Player of the Year Academy and is the National Coordinator of Voting for the Boys / Girls All-American Teams. He has been involved in the community since 2001. You can reach Clay at [email protected]