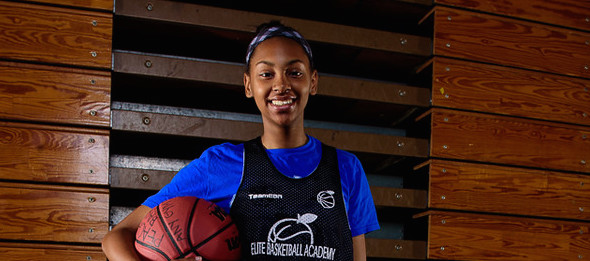 ---
With over 20,000 collective followers on our team's social media outlets, we're in a unique position to assist with both creating awareness of a prospect's skill set and recent on-floor performance. From crisp recruiting updates to updated in-season stats to a potential last-minute change in schedule that needs to be conveyed socially, this package allows the player to control the information available to the public about their game.
Become an #SMPMember: Click the Logo Below

---
Class of 2018 guard Alea Harris of Cincinnati, Ohio is establishing herself as a versatile scoring option.
Brandon Clay's takeaway – PSBPower48 Exposure Tourney (July 2017): Harris had a fantastic summer playing both on and off of the ball offensively for XPress. Her ability to score the basketball attacking the rim was something that we had seen flashes of for the past two years but not seen consistently. In a setting against some of the nation's premier prospects, Harris shined bright in that area of her game.
Brandon Clay's takeaway – EBAAllAmerican Camp (Sept. 2016): Harris is a steady hand at the guard position. She demonstrated court vision and unselfishness in this camp setting in addition to her normal jump shooting ability. She has a high motor and takes good shots. Harris' challenge now is taking her game from solid to impactful every time she hits the court.
Jonathan Hemingway's takeaway – EBAAllAmerican Camp (Sept. 2015): Harris showed great athleticism for a wing in the camp. She is very good at defending the ball and is explosive laterally. She showed herself to be best in transition or when she is putting the ball on the floor to score.
Name: Alea Harris
Height: 5'8″
HS Grad Year: 2018
Position: SG/PG
School / Hometown: Summit Country Day (Cincinnati, Ohio)
Club Team: All-Ohio XPress
College Choice: Wofford
---
Social Media Updates:
#SMPMember🍑 Program News
Powered by @SMPMemberPSB@Wofford_WBB signee '18 G Alea Harris (@aleaaa_raee) of @scdgirlshoops & @XpressBall impressed @OGBR_Basketball.

JOIN SMP TODAY: https://t.co/8GnB3G0viZ

Harris' #BrandonClayScouting Page: https://t.co/JbhhGgXrES https://t.co/ZgtSZF84Zu

— Brandon Clay (@BrandonClayPSB) January 6, 2018
#SMPMember🍑
Alea Harris to Wofford

This week's IN FOCUS explains Harris' decision & future plans

STORY https://t.co/6aiXxE2X9m pic.twitter.com/9rKyG12xao

— Jonathan Hemingway (@JLHemingwayPSB) August 30, 2017
#SMPMember Recruiting

'18 G Alea Harris to Wofford marks the 3rd 2018 class commitment to date.

LEARN MORE ON SMP: https://t.co/8GnB3G0viZ pic.twitter.com/T5lqalWnlA

— Brandon Clay (@BrandonClayPSB) July 31, 2017
#SMPMember Platinum Status#CommitmentCentral

'18 G Alea Harris of @XpressBall & @scdgirlshoops to @Wofford_WBB.https://t.co/JbhhGgXrES pic.twitter.com/aPIJJEY2Em

— Brandon Clay (@BrandonClayPSB) July 30, 2017
#SMPMember Recruiting

'18 G @aleaaa_raee of @XpressBall has the 📷 & 📱 of @KrisWatkinsPSB.@Wofford_WBB is also at #PSBPower48 watching. https://t.co/RoWR0yCJ3P

— SMP Recruit Exposure (@SMPMemberPSB) July 25, 2017
#PSBSummerInvite & #PSBPower48@Wofford_WBB is in for both. They just offered #SMPMember '18 G Alea Harris. She'll be there w/ @XpressBall. pic.twitter.com/8Fcj9zkbE0

— PSB Events (@PeachStateBBall) July 17, 2017
#SMPMember Recruiting

'18 SG Alea Harris adds a Wofford offer. She's at #PSBSummerInvite & #PSBPower48 July 23-26.https://t.co/JbhhGgXrES pic.twitter.com/cHirPEhMJF

— Brandon Clay (@BrandonClayPSB) July 14, 2017
#SMPMember Recruiting Exposure

THIS JUST IN

'18 SG Alea Harris (OH) has an offer from Oakland.

MORE ON HARRIS: https://t.co/JbhhGgXrES pic.twitter.com/1GmoNf4Tvv

— Brandon Clay (@BrandonClayPSB) July 1, 2017
#SMPMember Recruiting Exposure

Look for '18 G @aleaaa_raee to have a BIG July w/@XpressBall. Has a scholarship offer from @UDMCoachScott. https://t.co/P9yeD03EEp

— PSB Events (@PeachStateBBall) June 30, 2017
#SMPMember Recruiting Exposure

'18 G Alea Harris (OH) visited Wofford this past weekend.

LEARN MORE ON HARRIS: https://t.co/JbhhGgXrES pic.twitter.com/09WRaVJdDE

— Brandon Clay (@BrandonClayPSB) June 21, 2017
#SMPMember Recruiting Exposure

'18 G Alea Harris (OH) visited Detroit last weekend. She has an offer.

HER PAGE: https://t.co/JbhhGgXrES pic.twitter.com/ZgrkyrSkrw

— Brandon Clay (@BrandonClayPSB) June 14, 2017
#SMPMember Alea Harris (@aleaaa_raee) is developing at the rate we predicted in years past @BrandonClayPSBhttps://t.co/r2wPqDq4Rm pic.twitter.com/THEklwq31L

— Jonathan Hemingway (@JLHemingwayPSB) May 28, 2017
#SMPMember Exposure Stock Riser

'18 G Alea Harris (OH) visits Detroit, UIC & Wofford in June. One already offered.https://t.co/JbhhGgXrES pic.twitter.com/el06D8E3wc

— Brandon Clay (@BrandonClayPSB) May 28, 2017
#SMPMember Recruiting Exposure

'18 G Alea Harris named First Team All-City & All Miami Valley Conference.

MORE: https://t.co/JbhhGgXrES pic.twitter.com/5m9jtxWN92

— Brandon Clay (@BrandonClayPSB) May 9, 2017
#SMPMember Recruiting Exposure

Read more about Available '18 G @aleaaa_raee of @scdgirlshoops & @XpressBall HERE: https://t.co/L2G9Is2zYr https://t.co/K4Fin1PdGg

— SMP Recruit Exposure (@SMPMemberPSB) April 25, 2017
#PSBTipOffClassic #SMPMember Alea Harris @aleaaa_raee has been clutch from the FT line for @XpressBall

— Rebecca Dyer (@RebeccaDyerPSB) April 23, 2017
#SMPMember Recruiting

Friday at 9 am

Catch 2018's McKenna Ford & Alea Harris at #PSBTipOffClassic w/All OH XPresshttps://t.co/CFoA777M3T pic.twitter.com/o5SmEvknl8

— Brandon Clay (@BrandonClayPSB) April 18, 2017
#SMPMember
Been a Harris fan for a while

Skilled, length for a PG, no holes in her game

Will play this game for years to come@aleaaa_raee https://t.co/UZId421kpU

— Jonathan Hemingway (@CoachHemi) February 9, 2017
#SMPMember Exposure Program

'18 G Alea Harris (OH) had 17 pts, 6 rbs in a W.

Team is No. 1 in the state.

MORE: https://t.co/JbhhGgXrES pic.twitter.com/7hQRpB1NKU

— Brandon Clay (@BrandonClayPSB) February 9, 2017
'18 G Alea Harris (OH) is a MUST recruit for academic programs.

Last 4: 13.2 ppg, 6.2 rbs, 2.5 astshttps://t.co/JbhhGgXrES pic.twitter.com/hFFF2hdyhO

— Brandon Clay (@BrandonClayPSB) December 31, 2016
'18 Alea Harris (OH) visited High Point. Versatile guard w/deep range.

Averages: 11 ppg, 3 rpg, 3 apghttps://t.co/JbhhGgXrES pic.twitter.com/mQpHcHqMGH

— Brandon Clay (@BrandonClayPSB) December 7, 2016
Read @BrandonClayPSB's take on '18 Alea Harris (OH)

LINK:https://t.co/mqiLpmfoZ9 pic.twitter.com/FpOytZsUX4

— Rebecca Dyer (@RebeccaDyerPSB) October 30, 2016
#SMPMember@aleaaa_raee shined at #EBAAllAmerican. See what @JLHemingwayPSB says.

HERE: https://t.co/L2G9IrKYzR https://t.co/ODjCVAqPh0

— #SMPMember Program (@SMPMemberPSB) October 23, 2016
'18 Alea Harris (OH) can get to the rim with ease & has great lateral speed on defensehttps://t.co/mqiLpmfoZ9 pic.twitter.com/BpiBHD3yoh

— Rebecca Dyer (@RebeccaDyerPSB) September 21, 2016
2018 Alea Harris is explosive on offense & a tough ball defender.

HER PAGE: https://t.co/JbhhGgXrES pic.twitter.com/3gW9VBqKCs

— Brandon Clay (@BrandonClayPSB) September 15, 2016
Alea Harris #SMPMember … 2018 Prospect… Proving herself so far at the #EBAAllAmerican https://t.co/v5E6JrTQ3S

— Jarrett Christian (@jarrettproPSB) September 3, 2016
#PSBSummerInvite#SMPMember
'18 Alea Harris @aleaaa_raee of @XpressBall playing live on @SUVtv
Watch her here:https://t.co/O6iBvon37c

— Kris Watkins (@KrisWatkinsPSB) July 25, 2016
Alea Harris (@SMPMemberPSB) playing in front of Cincy, SIU, Wichita St. at #PSBSummerInvitehttps://t.co/BcwCJEYcIG pic.twitter.com/42mSMZRt5w

— Jonathan Hemingway (@JLHemingwayPSB) July 24, 2016
'18 Alea Harris | OH | Summit Country Day | All Ohio Peek

PAGE:https://t.co/mqiLpmfoZ9 pic.twitter.com/B1D0IYFK2y

— Rebecca Dyer (@RebeccaDyerPSB) July 8, 2016
'18 Alea Harris shined at #EBASuper64. Check out the social media recap

LINK:https://t.co/Rvqv14nr3r pic.twitter.com/7OZnkvxtQR

— Rebecca Dyer (@RebeccaDyerPSB) June 7, 2016
#EBASuper64#SMPMember '18 Alea Harris @aleaaa_raee (OH) played well all weekend including knocking down this 3 pic.twitter.com/YQI9ALpzWh

— Kris Watkins (@KrisWatkinsPSB) June 5, 2016
#EBASuper64 #SMPMember newcomer '18 Alea Harris @aleaaa_raee (OH) is getting it done! Attacking the rim & knocking down open looks

— Rebecca Dyer (@RebeccaDyerPSB) June 5, 2016
#SMPMember Stock Risers:

Alea Harris
Calyn Richardson
Paige Shy
Alea Spears

PROGRAM INFO: https://t.co/8GnB3FITUp pic.twitter.com/J6aMVpHv5J

— Brandon Clay (@BrandonClayPSB) June 4, 2016
#EBASuper64 Stock ⬆️ AM@ShaileenWoods @JasmineMarieR
Bobbi Wardwell@lyric_custodio
Alea Harris
Hannah Pratt pic.twitter.com/Hh7Hxr4PwF

— Jonathan Hemingway (@JLHemingwayPSB) June 4, 2016
'18 Alea Harris (OH) is 1st Team All-City.@CoachHemi loves her game.

PAGE: https://t.co/JbhhGgXrES pic.twitter.com/6VQQZ6yNdI

— Brandon Clay (@BrandonClayPSB) May 31, 2016
#EBASuper64 Camp:#SMPMember '18 G Alea Harris reps All-Ohio Peek & SCD June 4-5

JOIN HER: https://t.co/XWZyztwSq6 pic.twitter.com/CA6lNfUmUq

— Brandon Clay (@BrandonClayPSB) May 22, 2016
Welcome '18 G Alea Harris (OH)

Summit Country Day | All-Ohio Peek

HER PAGE: https://t.co/JbhhGgFQgi pic.twitter.com/qrD3miDsyp

— Brandon Clay (@BrandonClayPSB) May 11, 2016
---

Brandon Clay is the owner of the JumpOffPlus.com International Report, Peach State Basketball, Inc., and ProspectsNation.com. The JumpOffPlus.com is picked up by more than 200 colleges and universities nationwide. In addition to serving as ProspectsNation.com WNBA Director of Scouting, Clay serves as the Executive Camp Director for the Elite Basketball Academy Camps. He is a McDonald's All-American Game Selection Committee member. Clay serves on the Naismith Trophy Men's / Women's College Player of the Year Academy and is the National Coordinator of Voting for the Boys / Girls All-American Teams. He has been involved in the community since 2001. You can reach Clay at [email protected]