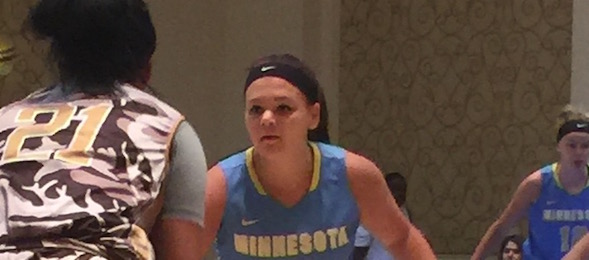 ---
With over 20,000 collective followers on our team's social media outlets, we're in a unique position to assist with both creating awareness of a prospect's skill set and recent on-floor performance. From crisp recruiting updates to updated in-season stats to a potential last-minute change in schedule that needs to be conveyed socially, this package allows the player to control the information available to the public about their game.
Become an #SMPMember: Click the Logo Below

Social Media Updates: Use #SMPMember and follow @SMPMemberPSB
---
Class of 2017 wing Skylar Kosek of Orono, Minn., has established herself as a high academic prospect in the senior class. Playing for Minnesota Fury during the 2016 club season, Kosek averaged: 6.1 points, 1.2 rebounds, 1.8 assists per game.
Keil Moore's takeaway – North Tartan Meltdown (July 2016):
Kosek is a high level shooter capable of playing multiple frontcourt positions. She is a consistent jump shooter with range out beyond the arc. Kosek will also make plays in the lane as well.
Name: Skylar Kosek
Height: 5'8″
HS Grad Year: 2017
Position: SG/SF
GPA: 3.4
ACT: 25
School / Hometown: Benilde-St. Margaret's (Orono, Minn.)
Club Team: Minnesota Fury
College Choice: Hamline University
---
BrandonClayScouting.com Video Evaluation: September 2016
---
Social Media Updates:
#CommitmentCentral@KrisWatkinsPSB appreciates '17 @SkylarKosek's skill to stretch defenses

🎥 EVIDENCE https://t.co/pfqqyUROf3 #SMPMember https://t.co/CG4JYpOwsL

— ProspectsNation.com (@ProspectsNation) June 1, 2017
#SMPMember Recruiting Central

'17 Skylar Kosek (MN) picked Hamline Univ.

"Shot maker on the wing."

UPDATED PAGE: https://t.co/OiS4uQivO5 pic.twitter.com/LZ6krIgT4u

— Brandon Clay (@BrandonClayPSB) June 1, 2017
#SMPMember Exposure Program

'17 W Skylar Kosek (MN) is visiting Hamline & St. Benedict this weekend.

LEARN MORE: https://t.co/OiS4uQivO5 pic.twitter.com/W8S1peN8ye

— Brandon Clay (@BrandonClayPSB) April 1, 2017
#SMPMember Exposure

'17 Skylar Kosek visited #JumpOffPlus fam Palm Beach Atlantic. Has a roster spot waiting.

INFO https://t.co/OiS4uQivO5 pic.twitter.com/BAireCcRSN

— Brandon Clay (@BrandonClayPSB) March 29, 2017
#SMPMember Exposure Program@SkylarKosek (MN) heard from Wilson @PhoenixWBB.

High Academic Available '17 W.

— Brandon Clay (@BrandonClayPSB) February 28, 2017
Check out '17 Skylar Kosek's video eval. Hoops w/ @MinnesotaFury

WATCH:https://t.co/IJIRwI7psp pic.twitter.com/kP6q3ui4BE

— Rebecca Dyer (@RebeccaDyerPSB) November 7, 2016
'17 SG Skylar Kosek is impressive on the court & in the classroom.

VIDEO EVAL: https://t.co/jIffJP6Yry pic.twitter.com/3NkLS4eFbN

— #SMPMember Program (@SMPMemberPSB) October 23, 2016
'17 Skylar Kosek has a Brand New @BrandonClayPSB Video Eval
Watch It Here:https://t.co/YR1QKPIpj4 pic.twitter.com/taIjK5RVAB

— Kris Watkins (@KrisWatkinsPSB) September 25, 2016
'17 W Skylar Kosek (MN) will visit:

Dakota St.
Palm Beach
St. Olaf
Tampa

PAGE: https://t.co/OiS4uQA6FD pic.twitter.com/6PWBGm8uG3

— Brandon Clay (@BrandonClayPSB) September 1, 2016
Welcome '17 W Skylar Kosek (MN). She has a 3.4 GPA & a 25 ACT score.

HER PAGE: https://t.co/jIffJP6Yry pic.twitter.com/yM0MIMW1DA

— #SMPMember Program (@SMPMemberPSB) August 3, 2016
---

Brandon Clay is the owner of the JumpOffPlus.com International Report, Peach State Basketball, Inc., and ProspectsNation.com. The JumpOffPlus.com is picked up by more than 200 colleges and universities nationwide. In addition to serving as ProspectsNation.com WNBA Director of Scouting, Clay serves as the Executive Camp Director for the Elite Basketball Academy Camps. He is a McDonald's All-American Game Selection Committee member. Clay serves on the Naismith Trophy Men's / Women's College Player of the Year Academy and is the National Coordinator of Voting for the Boys / Girls All-American Teams. He has been involved in the community since 2001. You can reach Clay at [email protected]