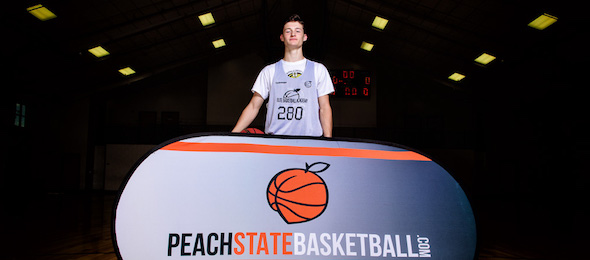 ---
With over 20,000 collective followers on our team's social media outlets, we're in a unique position to assist with both creating awareness of a prospect's skill set and recent on-floor performance. From crisp recruiting updates to updated in-season stats to a potential last-minute change in schedule that needs to be conveyed socially, this package allows the player to control the information available to the public about their game.
Become an #SMPMember: Click the Logo Below

Brandon Clay's Takeaway – EBAAllAmerican Camp (October 2016): Staten is a guard with the ability to shoot the ball and create off of the dribble. He showed a steady hand at the point with his play here in a gym full of college scholarship prospects. While coaching his team, we talked about using the high pick and roll set to make plays out of transition then Staten executed the action to a T. He'll continue to add strength and expand the range on his jump shot over the next 12 months but the future is bright for this guy.
---
Vitals
Name: Ty Staten
Height: 6'0″
HS Grad Year: 2018
Position: PG
GPA / ACT Score: 3.95 / 26
School / Hometown: Fairland HS (Proctorville, Ohio)
Club Team: West Virginia Flight
College Choice: Ohio Northern
Social Media Updates:
#SMPMember🍑 College Recruiting
Fueled by @SMPMemberPSB

Before heading to Ohio Northern, '18 G Ty Staten (OH) has his game on full tilt. Jason Arkley showed love.

SMP PAGE: https://t.co/5bJVIivUml

BECOME AN SMPMEMBER: https://t.co/8GnB3G0viZ

INSTAGRAM https://t.co/jSr8AvCdZB pic.twitter.com/gsrxJmV0pD

— Brandon Clay (@BrandonClayPSB) March 11, 2018
#SMPMember🍑 Program News
Powered by @SMPMemberPSB

'18 G Ty Staten (@statenty) has his foot on the gas for @FairlandBball. @BigShotsNation took notice.

Staten's #BrandonClayScouting Page: https://t.co/5bJVIivUml

JOIN SMP TODAY: https://t.co/8GnB3G0viZ @wvflight2018 @JucoReport https://t.co/uS7xtQJ48m

— Brandon Clay (@BrandonClayPSB) January 8, 2018
#SMPMember🍑 Program News

THIS JUST IN

'18 PG Ty Staten (OH) has chosen Ohio Northern.

Staten shined at the #EBAAllAmerican Showcase in 2016. Dynamic guard option.

His #BrandonClayScouting PAGE: https://t.co/5bJVIivUml

SMP Program INFO: https://t.co/8GnB3G0viZ pic.twitter.com/OCwyEvx0TG

— Brandon Clay (@BrandonClayPSB) December 5, 2017
#SMPMember🍑 Recruiting Program

THIS JUST IN

'18 PG Ty Staten (OH) has an offer from West Virginia Tech.

MORE: https://t.co/5bJVIivUml pic.twitter.com/BNDbDS4BXV

— Brandon Clay (@BrandonClayPSB) September 5, 2017
#SMPMember🍑 Recruiting

Keep an eye on Available '18 Ty Staten. Pass first PG who had a good July w/ @wvflight2018.https://t.co/5bJVIivUml pic.twitter.com/D5Mt60P03t

— Brandon Clay (@BrandonClayPSB) September 1, 2017
#SMPMember Recruiting Exposure

'18 PG Ty Staten (OH) will visit Capital and Colorado School for Mines.

JOIN THEM: https://t.co/5bJVIivUml pic.twitter.com/caKei7kwWP

— Brandon Clay (@BrandonClayPSB) June 28, 2017
#SMPMember Recruiting

'18 Ty Staten (OH) is a high IQ PG option.

LEARN MORE: https://t.co/WSnxhVkP8h @StatenTy @wvflight2018 @BTS_Report https://t.co/HzxCFosaWb

— Brandon Clay (@BrandonClayPSB) June 27, 2017
#SMPMember Exposure

'18 PG Ty Staten (OH) has Cornell, Lafayette, WV Tech, Marietta seeing him at Pitt Jam Fri-Sunhttps://t.co/5bJVIivUml pic.twitter.com/JrfV9XITDU

— Brandon Clay (@BrandonClayPSB) April 27, 2017
#SMPMember Exposure Program

Big week for '18 G Ty Staten (OH)

All-Conference Selection
Fairland HS in the Final 4https://t.co/5bJVIivUml pic.twitter.com/F82lEIziry

— Brandon Clay (@BrandonClayPSB) March 19, 2017
#SMPMember Exposure Program

'18 G Ty Staten w/8 pts, 9 ast & 4 stl in a W. Fairland is 21-1, 14-0 in league.

MORE: https://t.co/5bJVIivUml pic.twitter.com/tdXROiHRWO

— Brandon Clay (@BrandonClayPSB) February 26, 2017
#SMPMember Exposure Program

'18 Ty Staten posted 10 pts, 10 rbs, 4 asts & 4 stls in a Fairland HS (14-1) W.

MORE: https://t.co/5bJVIivUml pic.twitter.com/3i6mhQJR2I

— Brandon Clay (@BrandonClayPSB) January 26, 2017
'18 PG Ty Staten has Fairland HS (OH) off to a 5-0 start. He currently leads them in asts, stls & rebs.https://t.co/5bJVIivUml pic.twitter.com/T9AZo5zCtP

— Brandon Clay (@BrandonClayPSB) December 27, 2016
Ty Staten led Fairland w/ 16 pts, 15 asts, 15 rbs & 4 stls in two Ws last week.https://t.co/5bJVIivUml pic.twitter.com/MJtxRgTZdg

— Brandon Clay (@BrandonClayPSB) December 14, 2016
Welcome '18 G Ty Staten (OH) to the family.

He's already made a big impression on our staff.

READ HOW: https://t.co/5bJVIivUml pic.twitter.com/4Sw8jlfbxd

— Brandon Clay (@BrandonClayPSB) December 5, 2016
'18 Ty Staten represented Fairland HS (OH) & put on a show last month.

EVAL: https://t.co/LaL9VhclgY pic.twitter.com/emM4zMhLKJ

— Brandon Clay (@BrandonClayPSB) November 30, 2016
Ty Staten (OH) is traveling 900 miles round trip to grow his game

JOIN HIM:https://t.co/fmy69eBDHb pic.twitter.com/dVdPncelIA

— Brandon Clay (@BrandonClayPSB) October 15, 2016
'18 Ty Staten showed out in June at the #CoachHemiShowcase. He's in for #EBAAllAmerican Oct. 15-16

JOIN https://t.co/UpZUFzqjL7 pic.twitter.com/aausTEofBm

— Jonathan Hemingway (@JLHemingwayPSB) October 4, 2016
Ty Staten (OH) is looking to put on a show at camp Oct. 15-16.

JOIN HIM: https://t.co/fmy69eBDHb pic.twitter.com/Bo3wLz05SO

— Brandon Clay (@BrandonClayPSB) September 30, 2016
#CoachHemi Player of the Day: Ty Staten (OH-18). Watch @SUVtv video & read about his gamehttps://t.co/m6oLuTboAf pic.twitter.com/xtKNjk1Gha

— Jonathan Hemingway (@JLHemingwayPSB) June 22, 2016

Brandon Clay is the owner of Peach State Basketball, Inc., and BrandonClayScouting.com. He serves as the Executive Camp Director for the Elite Basketball Academy Camps. Clay is a McDonald's All-American Game Selection Committee member. He also votes on the Naismith Trophy Men's / Women's College Player of the Year Academy and is the HS Boys / Girls All-American Team Board of Selectors Chairperson. He has been involved in the community since 2001. You can reach Clay at [email protected]