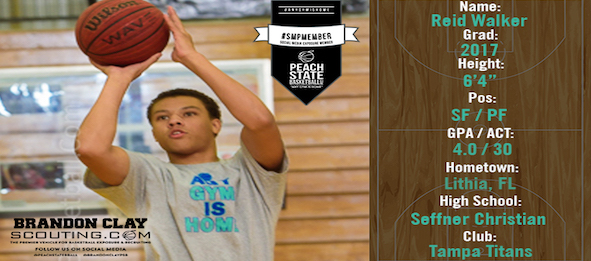 ---
With over 20,000 collective followers on our team's social media outlets, we're in a unique position to assist with both creating awareness of a prospect's skill set and recent on-floor performance. From crisp recruiting updates to updated in-season stats to a potential last-minute change in schedule that needs to be conveyed socially, this package allows the player to control the information available to the public about their game.
Become an #SMPMember: Click the Logo Below

---
Class of 2017 forward Reid Walker of Lithia, Fla., has emerged as a must track prospect for high academic schools nationwide. Walker has been a stock riser at both #EBASuper64 Camp in June 2015 and again at #EBAAllAmerican Camp in September 2015. We look forward to charting his progress through the high school season into next club season.
Jonathan Hemingway's takeaway – EBATop40 Camp (March 2016): Walker proved to be one of the most experienced and polished prospects at the camp. His combination of size, skill and poise make him a versatile threat. His jumper has smoothed out nicely in recent months. He is showing that he can hit the long range jumper with consistency with his feet set. His ball skill is solid enough for him to face the basket full-time. Yet his high energy work ethic still allows to produce with second chance opportunities. He is set for a big spring with the Tampa Titans. Look for him to visit a number of college campuses this summer.
Vitals
Name: Reid Walker
Height: 6'4″
HS Grad Year: 2017
Position: SF / PF
GPA / ACT Score: 4.0 / 30
School / Hometown: Seffner Christian (Lithia, Fla.)
Club Team: Tampa Titans
College Choice: WPI
Social Media Updates:
BREAKING#SMPMember Exposure

'17 Reid Walker (FL) of @Tampa_Titans & @SCA_bball to WPI.

MORE ON @reidwalker2017: https://t.co/EEer3WcyC9 pic.twitter.com/XNUY8IJR9S

— Brandon Clay (@BrandonClayPSB) March 30, 2017
Just like he did for @Tampa_Titans, '17 @reidwalker2017 has been on a TEAR all season for @SCA_bball.https://t.co/tZ2e5DNq6O https://t.co/uqsNZqJQ7A

— #SMPMember Program (@SMPMemberPSB) December 31, 2016
2017 Reid Walker joins the 1,000 point club for Seffner Christian.

HIS PAGE: https://t.co/EEer3Wua0J pic.twitter.com/LyEfYKqD7l

— Brandon Clay (@BrandonClayPSB) December 23, 2016
Looking for a TALENTED High Academic prospect?

'17 6'4 Reid Walker (FL) is your man!

Read Here:https://t.co/UxsSfwKPEJ pic.twitter.com/B2hswClbhN

— Kris Watkins (@KrisWatkinsPSB) December 5, 2016
#SMPMember @reidwalker2017 of @SCA_bball strikes early and often.

Check the numbers (Assist @Tampa_Titans) ⬇️ https://t.co/HjN8Ws78AK

— #SMPMember Program (@SMPMemberPSB) November 25, 2016
"In Focus" with '17 Reid Walker (FL)

READ:https://t.co/GNiyuJu6rT pic.twitter.com/2uRjccOKaj

— Rebecca Dyer (@RebeccaDyerPSB) October 20, 2016
#SMPMember Reid Walker (@reidwalker2017) takes a visit to University of Chicago.

READ HERE:https://t.co/M51MRY7T2x https://t.co/e23WFSqgpg

— #SMPMember Program (@SMPMemberPSB) October 14, 2016
#SMPMember@reidwalker2017 of @Tampa_Titans takes a visit to Hope College.

READ HERE: https://t.co/tZ2e5DNq6O pic.twitter.com/51ZwZOGAUX

— #SMPMember Program (@SMPMemberPSB) October 14, 2016
'17 Reid Walker is a smooth operator w/ the ball in his hands

PAGE:https://t.co/1Hto4tvUYv pic.twitter.com/l7s80r1Bev

— Rebecca Dyer (@RebeccaDyerPSB) September 15, 2016
With high academic standing, Reid Walker takes a visit to Emory.

HIS PAGE: https://t.co/EEer3Wua0J pic.twitter.com/IhvNCsX67u

— Brandon Clay (@BrandonClayPSB) September 13, 2016
'17 Reid Walker is a high scorer on the court and in the classroom.

HIS PAGE: https://t.co/EEer3Wua0J pic.twitter.com/d9OOVbhe0G

— Brandon Clay (@BrandonClayPSB) August 28, 2016
'17 Reid Walker (FL) consistently played well in July. Wing w/ size & skillhttps://t.co/1Hto4tejzV pic.twitter.com/zG7ajVJboJ

— Rebecca Dyer (@RebeccaDyerPSB) August 5, 2016
Keep an eye on '17 Reid Walker in July. High IQ player w/ scoring ability

PAGE:https://t.co/1Hto4tvUYv pic.twitter.com/uSxEpD17dL

— Rebecca Dyer (@RebeccaDyerPSB) July 6, 2016
#SMPMember Central:

Garrett Gilkeson
Nick Honor
Colten Kresl
Reid Walker

READ: https://t.co/yJhIJRo103 @ckresl1 pic.twitter.com/zKWG6lMd6e

— Brandon Clay (@BrandonClayPSB) June 28, 2016
High academic '17 Reid Walker (FL) will visit Brown this weekend.

HIS PAGE: https://t.co/EEer3WcyC9 pic.twitter.com/GL6kQiFF5l

— Brandon Clay (@BrandonClayPSB) June 14, 2016
#SMPMember: Willie Evans Jr. & Shun Williams love '17 Reid Walker. Dropped 31 pts Fri.

PAGE https://t.co/EEer3Wua0J pic.twitter.com/v1jF50kJy6

— Brandon Clay (@BrandonClayPSB) May 14, 2016
'17 Reid Walker stars on & off the hardwood.@JLHemingwayPSB drops "In Focus:" https://t.co/RANwzy0NPx pic.twitter.com/JLEBX8cXQY

— Brandon Clay (@BrandonClayPSB) May 11, 2016
In Focus with Reid Walker (FL-17). Competitor | Student | Teammate#SMPMember Featurehttps://t.co/jEDTyZj8yj pic.twitter.com/0SDBdlLskW

— Jonathan Hemingway (@JLHemingwayPSB) April 26, 2016
#SMPMember: '17 @reidwalker2017 playing well today @OntheRadarHoops event

His Pagehttps://t.co/UxsSfwKPEJ https://t.co/XrjmPkneUN

— Kris Watkins (@KrisWatkinsPSB) April 23, 2016
'17 F Reid Walker (FL) has his academic info posted on his page.

READ HERE: https://t.co/EEer3WcyC9 pic.twitter.com/UNAe2qquYP

— Brandon Clay (@BrandonClayPSB) April 13, 2016
After @OntheRadarHoops saw Reid Walker at #EBATop40, Princeton is interested.https://t.co/EEer3WcyC9 pic.twitter.com/4B152lSyjn

— Brandon Clay (@BrandonClayPSB) March 22, 2016
#EBATop40 Reid Walker showing an improved jumper today in @AP_BBall drill set @reidwalker2017 @Tampa_Titans pic.twitter.com/dbk6klgDps

— Jonathan Hemingway (@CoachHemi) March 6, 2016
'17 W Reid Walker (FL) is in Mar. 5-6. The #SMPMember has a 30 ACT score.

JOIN: https://t.co/E2LhIzBges pic.twitter.com/QNdhrCXVrE

— Brandon Clay (@BrandonClayPSB) February 25, 2016
#EBATop40:#SMPMember Reid Walker to rep Seffner Christian & @Tampa_Titans Mar. 5-6.

JOIN: https://t.co/MMYLOTMlpv pic.twitter.com/uq6vI1dfrF

— Brandon Clay (@BrandonClayPSB) February 16, 2016
'17 High Academic W Reid Walker (FL) earned an #EBATop40 Camp invite March 5-6. JOIN HIM: https://t.co/MMYLOTMlpv pic.twitter.com/jmE1lx5cvR

— Brandon Clay (@BrandonClayPSB) January 12, 2016
'17 F Reid Walker is a high motor guy. 20 pts/10 rebs in a W. READ MORE ON THE #SMPMember: https://t.co/BAq9zgcBY8 pic.twitter.com/eOwJzaaWyI

— Brandon Clay (@BrandonClayPSB) December 11, 2015
Reid Walker was a model of versatility last night at the @tampa_titans workout. #SMPMember http://t.co/HbVuggxRyF pic.twitter.com/1z7k6L6LVB

— Jonathan Hemingway (@JLHemingwayPSB) October 3, 2015
Latest Interest for '17 F Reid Walker (FL) is Cal Tech. He was an #EBAAllAmerican star.

CARD: http://t.co/4Jw4NKYFoX pic.twitter.com/tAjiLd1RRC

— Brandon Clay (@BrandonClayPSB) October 1, 2015
Consistency is the name of Reid Walker's (FL-17) game

#BCSReport PLAYER CARD
http://t.co/ODORNXr6Xw pic.twitter.com/X3RAL5Wv8q

— Jonathan Hemingway (@JLHemingwayPSB) September 16, 2015
#EBAAllAmerican: Reid Walker (@reidwalker2017) ability to finish around the basket is impressive. Also does a great assignment for me job of hitting boards.

— Brandon Clay (@BClayScouting) September 5, 2015
#EBAAllAmerican – Reid Walker has been a bright spot so far. Has a feel for the game and plays with a motor.

— #TeamEBA (@TeamEBA) September 5, 2015
#EBAAllAmerican Camp Sep. 5 is FILLING up. Only taking 40 young men. Reid Walker is in!

JOIN: http://t.co/qzSrniiUGu pic.twitter.com/RpVKg2byOZ

— Brandon Clay (@BrandonClayPSB) August 24, 2015
'17 Reid Walker @reidwalker2017 is in for #EBAAllAmerican Camp Sept 5/6 http://t.co/vwu3RguofA

#PeachStateTV Video
pic.twitter.com/b8cfXlc66d

— Kris Watkins (@KrisWatkinsPSB) August 14, 2015
'17 Reid Walker to visit Brown & Dartmouth this week. He's at #EBAAllAmerican Sept. 5-6

JOIN: http://t.co/qzSrniAvy2 pic.twitter.com/SmgdifsLyo

— Brandon Clay (@BrandonClayPSB) August 5, 2015
'17 SF Reid Walker is a productive wing. Gets it done inside & out. Showed his talent 1st hand at #EBASuper64 pic.twitter.com/1ucTSdeXGZ

— Jonathan Hemingway (@JLHemingwayPSB) June 8, 2015

Brandon Clay is the owner of Peach State Basketball, Inc., and BrandonClayScouting.com. He serves as the Executive Camp Director for the Elite Basketball Academy Camps. Clay is a McDonald's All-American Game Selection Committee member. He also votes on the Naismith Trophy Men's / Women's College Player of the Year Academy and is the HS Boys / Girls All-American Team Board of Selectors Chairperson. He has been involved in the community since 2001. You can reach Clay at [email protected]