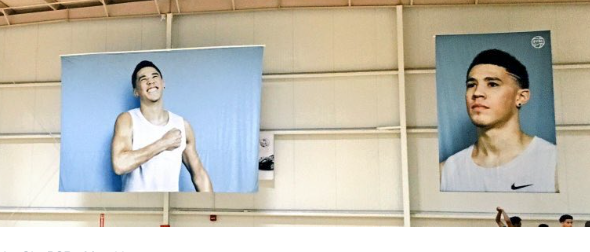 ---
With over 20,000 collective followers on our team's social media outlets, we're in a unique position to assist with both creating awareness of a prospect's skill set and recent on-floor performance. From crisp recruiting updates to updated in-season stats to a potential last-minute change in schedule that needs to be conveyed socially, this package allows the player to control the information available to the public about their game.
Become an #SMPMember: Click the Logo Below

Social Media Updates: Use #SMPMember and follow @SMPMemberPSB
---
ATLANTA – BrandonClayScouting.com is designed to give both college coaches and fans alike an in-depth look at some of the nation's top prospects. Nike EYBL play is a perfect stage to gauge the talent level of elite preps. The Session IV stop was no different. Here are some of the notable players from the event:
Silas Adheke | 6'9" | St. Louis Eagles | Class of 2017
Adheke is a strong-framed option at the power forward spot. He plays with energy around the rim and isn't backing down from MoKan Elite at all. He's similar to Tyler Cook with a little bounce natural athleticism. Adheke showed touch hitting a left-hand floater at 6 feet. He's averaging 7.1 points, 6.3 rebounds a game in 16 EYBL games.
Brandon McCoy | 7'0" | California Supreme | Class of 2017
McCoy is legitimate option in the middle of the defense. His presence allows Cal Supreme to play Deandre Ayton on the back wing of the 2-3. McCoy has a build similar to LaMarcus Aldridge but his skill set isn't as advanced as Aldridge even at Texas. McCoy is averaging 16.6 points, 8.6 rebounds in EYBL play. He's shooting 66 percent from the free throw line, 52 percent from the field.
R.J. Nembhard | 6'3" | Houston Hoops | Class of 2017
Nembhard has been a consistent producer for Houston Hoops. He's been their best perimeter based scoring option through 16 EYBL games. He's averaging 12.1 points, 3.6 rebounds and 2 assists per. He's shooting 70 percent from the free throw line, 34 percent from the 3-point line and 38 percent from the field.
Emmitt Williams | 6'8" | E1T1 Elite | Class of 2018
Williams is playing real minutes with another summer of eligibility remaining. He's averaging 10.4 points, 6.6 rebounds per in 16 EYBL games so far. He's got a build / style that reminds me of Jarred Vanderbilt. Williams made a MEAN catch / open and rip to attack the rim from 12 feet. He is a grinder shooting 60 percent from the field. That said, he's at 63 percent from the free throw line and can improve there.

Brandon Clay is the owner of Peach State Basketball, Inc., and BrandonClayScouting.com. He serves as the Executive Camp Director for the Elite Basketball Academy Camps. Clay is a McDonald's All-American Game Selection Committee member. He also votes on the Naismith Trophy Men's / Women's College Player of the Year Academy and is the HS Boys / Girls All-American Team Board of Selectors Chairperson. He has been involved in the community since 2001. You can reach Clay at BrandonClay@PeachStateBasketball.com