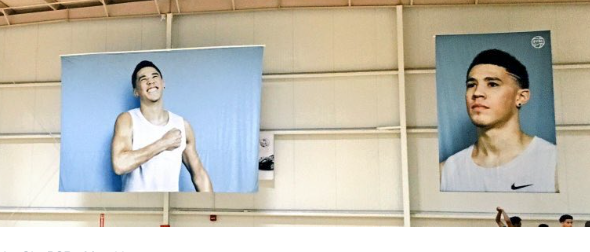 ---
With over 20,000 collective followers on our team's social media outlets, we're in a unique position to assist with both creating awareness of a prospect's skill set and recent on-floor performance. From crisp recruiting updates to updated in-season stats to a potential last-minute change in schedule that needs to be conveyed socially, this package allows the player to control the information available to the public about their game.
Become an #SMPMember: Click the Logo Below

---
ATLANTA – BrandonClayScouting.com is designed to give both college coaches and fans alike an in-depth look at some of the nation's top prospects. Nike EYBL play is a perfect stage to gauge the talent level of elite preps. The Session IV stop was no different. Here are some of the notable players from the event:
Marvin Bagley III | 6'10" | Phoenix Phamily | Class of 2018
Marvin Bagley has the tools to be the No. 1 pick in the '19 NBA Draft.

STORY: https://t.co/cbV6fa6uhP pic.twitter.com/o9S5tYelEp

— Brandon Clay (@BrandonClayPSB) June 27, 2016
Simply put, Bagley III is the best forward in the country. He's averaging 20.8 points, 10.2 rebounds on the season and playing like the potential No. 1 selection in the 2019 NBA Draft. Bagley is putting up a crisp 52 percent from the field and is showing touch around the paint. He is an elite finisher at the basket with the length to impact the game on both ends at the rim.
D.J. Harvey | 6'4" | Team Takeover | Class of 2017
'17 G DJ Harvey brings size & skill to @TTOBasketball & @DeMathaHoops.

READ: https://t.co/cbV6fa6uhP pic.twitter.com/rVipeNFBPh

— Brandon Clay (@BrandonClayPSB) June 25, 2016
Harvey has struggled a bit during EYBL play before this stop. He played with a renewed pace in Atlanta making plays on both ends against Cal Supreme. Harvey is averaging 11 points, 6.7 rebounds and right at 2 assists per in 16 EYBL games. He's at 68 percent from the line and 30.5 perfect from the 3-point line. Both of those numbers have room for improvement but the talent / size is there.
Kevin Knox | 6'8" | E1T1 | Class of 2017
'17 Kevin Knox looks at home on the wing: 21 pts, 8 rbs per EYBL game.

STORY: https://t.co/cbV6fao5Gp pic.twitter.com/VKZmcDrZib

— Brandon Clay (@BrandonClayPSB) June 15, 2016
Knox is making the transition to a full-time wing almost flawlessly. He still has some moments where it's evident that he's still putting it all together but the numbers through 16 EYBL games are crisp: 20.8 points, 7.9 rebounds per. He's shooting 71 percent from the line, 31 percent from beyond the arc. Both of those numbers can improve but have Knox's game in a good place going into his senior season.
Jontay Porter | 6'9" | MoKan Elite | Class of 2018
Is '18 Jontay Porter the biggest spring stock riser in the junior class?

READ: https://t.co/cbV6fa6uhP pic.twitter.com/uxuSL8bjao

— Brandon Clay (@BrandonClayPSB) June 25, 2016
Porter has slimmed down since my eval this winter. He is showing the ability to stretch the floor with his jumper. If he'll continue to be a force around the rim, this added range will only enhance his game. He's averaged 5.6 points, 4.6 rebounds per so far this season on 45 percent from 3-point land.

Brandon Clay is the owner of Peach State Basketball, Inc., and BrandonClayScouting.com. He serves as the Executive Camp Director for the Elite Basketball Academy Camps. Clay is a McDonald's All-American Game Selection Committee member. He also votes on the Naismith Trophy Men's / Women's College Player of the Year Academy and is the HS Boys / Girls All-American Team Board of Selectors Chairperson. He has been involved in the community since 2001. You can reach Clay at [email protected]