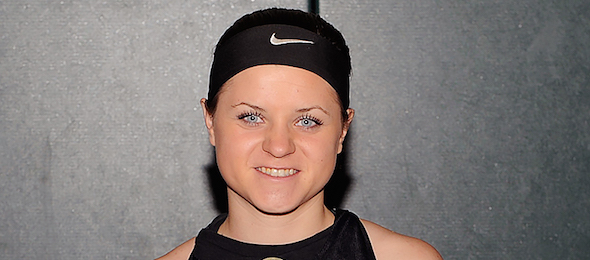 ---
With over 20,000 collective followers on our team's social media outlets, we're in a unique position to assist with both creating awareness of a prospect's skill set and recent on-floor performance. From crisp recruiting updates to updated in-season stats to a potential last-minute change in schedule that needs to be conveyed socially, this package allows the player to control the information available to the public about their game.
Become an #SMPMember: Click the Logo Below

---
Class of 2017 guard Sydney Snyder of Loysburg, Pa., used the Keil Moore Showcase in the fall of 2015 to put herself on the BrandonClayScouting.com radar. She already has the interest of multiple schools across all the division levels of college basketball. Snyder is a strong student and a member of the National Honor Society.
Brandon Clay's takeaway – KeilMooreShowcase (Oct. 2016): Snyder can flat out shoot the basketball. She is a talented option at the off guard position. Snyder showed that she is capable of making shots off of the bounce or off of the catch as well.
Name: Sydney Snyder
Height: 5'8″
HS Grad Year: 2017
Position: SG
School / Hometown: Northern Bedford HS (Loysburg, PA)
Club Team: Doug West Defenders – Team West
SAT Score (April 2016): 1060 (two-part)
College Choice: Davis and Elkins (Elkins, West Virginia)
ProspectsNation.com Video Evaluation – April 2016:
ProspectsNation.com Video Evaluation – December 2015:
Social Media Updates:
#SMPMember Exposure Program

'17 Sydney Snyder holds Northern Bedford's scoring record at 1,396 & counting.

MORE: https://t.co/13Cyvy35Pn pic.twitter.com/K6XYCSnTbZ

— Brandon Clay (@BrandonClayPSB) February 18, 2017
Another member finds a college.

'17 Sydney Snyder (PA) commits to Davis & Elkins (West VA).

HER PAGE: https://t.co/13Cyvy35Pn pic.twitter.com/PVRyTMEhiQ

— Brandon Clay (@BrandonClayPSB) October 4, 2016
Sydney Snyder | 2017 | PA | SG @sydsnyder10 https://t.co/IMXbdHekYw pic.twitter.com/UgPQRNP2O8

— Rebecca Dyer (@RebeccaDyerPSB) September 14, 2016
'17 @sydsnyder10 is a SG to watch this season after an appreciable summer.

PAGE:https://t.co/4HbCFgDqWP pic.twitter.com/z8euJYXJv0

— #SMPMember Program (@SMPMemberPSB) August 28, 2016
'17 Sydney Snyder (PA) scored a 1060 on the SAT. Check out her page

PAGE:https://t.co/IMXbdHekYw pic.twitter.com/8Iub89SaCk

— Rebecca Dyer (@RebeccaDyerPSB) August 3, 2016
Check out '17 Sydney Snyder's updated video evaluation

VIDEO:https://t.co/IMXbdHekYw pic.twitter.com/cgEG5P25sx

— Rebecca Dyer (@RebeccaDyerPSB) July 1, 2016
'17 G Sydney Snyder (PA) visited St. Francis for Elite Camp Sunday.

HER PAGE: https://t.co/13Cyvy35Pn pic.twitter.com/3gN6kdbmn9

— Brandon Clay (@BrandonClayPSB) June 14, 2016
'17 @SydSnyder scored her 1000th pt this season. Has a new video Eval

Watch https://t.co/AWrCn3Tw6gpic.twitter.com/qWrH2ZsZ2n

— Kris Watkins (@KrisWatkinsPSB) May 23, 2016
High academic '17 G Sydney Snyder (PA) has a 1,060 SAT (two-part) score.

PAGE: https://t.co/13Cyvy35Pn pic.twitter.com/uwO6MvS6yi

— Brandon Clay (@BrandonClayPSB) May 10, 2016
'17 SG Sydney Snyder has a new video eval up. Can flat out shoot it.

WATCH 📽: https://t.co/13Cyvy35Pn pic.twitter.com/DmL8khXeXE

— Brandon Clay (@BrandonClayPSB) April 20, 2016
'17 G Sydney Sydner's (PA) HS Stats

16 ppg, 4 rpg, 34% from 3 & 82% FT

PAGE: https://t.co/13Cyvy35Pn pic.twitter.com/iary6e2AXu

— Brandon Clay (@BrandonClayPSB) March 28, 2016
'17 Sydney Snyder (PA) has her Video Eval on her @ProspectsNation card.

WATCH: https://t.co/bm1htsF5lm pic.twitter.com/Ny6KcoUi86

— Brandon Clay (@BrandonClayPSB) February 5, 2016
#SMPMember: '17 G Sydney Snyder (PA) is averaging 16 ppg/4.5 rpg/3 apg a game.

HER PAGE: https://t.co/13CyvxLuXP pic.twitter.com/0vJnw2Ag0k

— Brandon Clay (@BrandonClayPSB) January 21, 2016
#SMPMember: 7 Made 3's in a quarter is no problem for '17 Sydney Snyder @SydSnyder https://t.co/AWrCn3Tw6g Video ⬇️ pic.twitter.com/VSasyNghBP

— Kris Watkins (@KrisWatkinsPSB) December 10, 2015
'17 Sydney Snyder visited Sacred Heart. She shined at @KeilMoorePSB's showcase. #SMPMember: https://t.co/13CyvxLuXP pic.twitter.com/ayn84zzHbI

— Brandon Clay (@BrandonClayPSB) December 1, 2015
'17 SG Sydney Snyder (PA) visited Eastern Kentucky. She's a dead eye shooter. #SMPMember: https://t.co/13CyvxLuXP pic.twitter.com/ZKfyGayrcs

— Brandon Clay (@BrandonClayPSB) November 12, 2015
Keil Moore #KMFallShowcase Stars: Breyenne Bellerand Daijah Jefferson @MakaylaPippin Savannah Simmons Sydney Snyder pic.twitter.com/uWfNu86Ghv

— Brandon Clay (@BrandonClayPSB) October 31, 2015
'17 Sydney Snyder (PA) is in the #SMPMember Program. @KeilMoorePSB will see her Sat. PAGE: https://t.co/13CyvxLuXP pic.twitter.com/MYGjKT3Zsu

— Brandon Clay (@BrandonClayPSB) October 30, 2015

Brandon Clay is the owner of the JumpOffPlus.com International Report, Peach State Basketball, Inc., and ProspectsNation.com. The JumpOffPlus.com is picked up by more than 200 colleges and universities nationwide. He serves as the Executive Camp Director for the Elite Basketball Academy Camps. He serves on the Naismith Trophy Men's / Women's College Player of the Year Academy and the HS Boys / Girls All-American Team Board of Selectors. Clay has been involved in the community since 2001. You can reach him at [email protected]