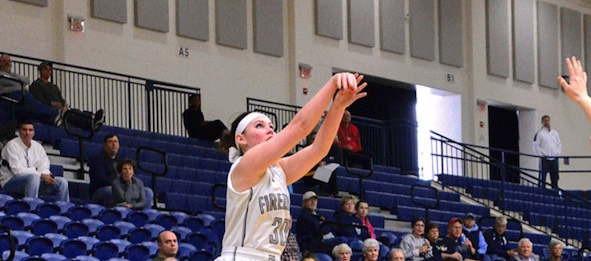 With over 20,000 collective followers on our team's social media outlets, we're in a unique position to assist with both creating awareness of a prospect's skill set and recent on-floor performance. From crisp recruiting updates to updated in-season stats to a potential last-minute change in schedule that needs to be conveyed socially, this package allows the player to control the information available to the public about their game.
Become an #SMPMember: Click the Logo Below

Class of 2016 guard Celeste Etter of Kettering, Ohio is no stranger to the BrandonClayScouting.com evaluation staff with viewings dating back to 2012. The sharpshooting guard has the interest of multiple schools and should be able to contribute early as a guard capable of stretching the defense. Etter is well on her way to be a full qualifier with a 3.3 GPA to go with a 24 ACT score.
Name: Celeste Etter
Height: 5'8″
HS Grad Year: 2016
Position: SG
School / Hometown: Kettering Fairmont HS / Kettering, OH
Club Team: Wolves Elite
Committed College: Fairmont State
ProspectsNation.com Video Evaluation: December 2015
Social Media Updates:
Why invest in being an #SMPMember? '16 @CelesteEtter chose Fairmont St. They offered after seeing her video eval. pic.twitter.com/jKWTUZll0M

— Brandon Clay (@BrandonClayPSB) December 14, 2015
24 hrs after her #SMPMember Eval posted, '16 @CelesteEtter got a Fairmont St. offer. VIDEO: https://t.co/Ig4aWYj3um pic.twitter.com/LIYQQZow1o

— Brandon Clay (@BrandonClayPSB) December 11, 2015
New Video Eval on Available '16 G @CelesteEtter from @KrisWatkinsPSB #SMPMember WATCH HERE: https://t.co/Ig4aWYAESW pic.twitter.com/vJk0WwsXOn

— Brandon Clay (@BrandonClayPSB) December 10, 2015
'16 G @CelesteEtter (OH) has a new ACT score of 24. Sharpshooter w/a 3.3 GPA. #SMPMember: https://t.co/Ig4aWYj3um pic.twitter.com/sGgq2xgE5y

— Brandon Clay (@BrandonClayPSB) November 17, 2015
Newest #SMPMember: '16 G @CelesteEtter (OH). Can fill it up. 3.3 GPA, 22 ACT. PROGRAM PAGE: https://t.co/8GnB3G0viZ pic.twitter.com/noO0xxjYjB

— Brandon Clay (@BrandonClayPSB) October 29, 2015

Brandon Clay is the owner of the JumpOffPlus.com International Report, Peach State Basketball, Inc., and ProspectsNation.com. The JumpOffPlus.com is picked up by more than 200 colleges and universities nationwide. He serves as the Executive Camp Director for the Elite Basketball Academy Camps. He serves on the Naismith Trophy Men's / Women's College Player of the Year Academy and the HS Boys / Girls All-American Team Board of Selectors. Clay has been involved in the community since 2001. You can reach him at [email protected]