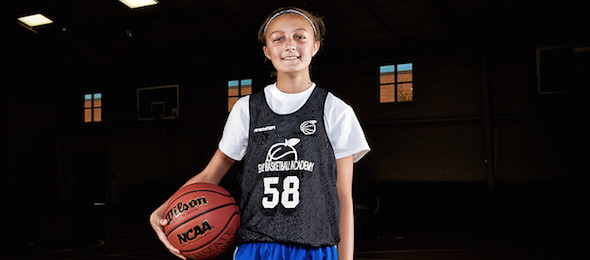 With over 20,000 collective followers on our team's social media outlets, we're in a unique position to assist with both creating awareness of a prospect's skill set and recent on-floor performance. From crisp recruiting updates to updated in-season stats to a potential last-minute change in schedule that needs to be conveyed socially, this package allows the player to control the information available to the public about their game.
Become an #SMPMember: Click the Logo Below

Class of 2019 guard Macey Gregg of Rossville, Ga., is just entering high school this season and is already on the BrandonClayScouting.com radar. She shined at both the #EBAAllAmerican Camp and #EBATop40 Workout in the fall of 2015.
Name: Macey Gregg
Height: 5'7″
HS Grad Year: 2019
Position: SG
School / Hometown: Lakeview Fort Oglethorpe HS (Rossville, GA)
Club Team: Tennessee XTreme
#BrandonClayScouting Video Evaluation: June 2017
ProspectsNation.com Video Evaluation: March 2016
Social Media Updates:
#SMPMember🍑 College Recruiting
Fueled by #BrandonClayScouting🍑

"Growing the game one scholarship at a time."

'19 G Macey Gregg @maceyyyy_3 inked with @UNGWBB.

PAGE: https://t.co/76bpTJfZQm

JOIN: https://t.co/8GnB3G0viZ

📷 IG: https://t.co/FrgtOjFYMg @adgreg @SMPMemberPSB https://t.co/6VENQ97sUD

— Brandon Clay (@BrandonClayPSB) November 26, 2018
Our latest Instagram TV recap features:

Macey Gregg
Cayla King
Toledo Thunder
West MI Drive

📽🎥 by @shotbylarry WATCH HERE: https://t.co/OqoRhrhgys

FULL SCHEDULE: https://t.co/RERUhXdckx

📷 INSTAGRAM: https://t.co/falGPcyrx3 #SMPMember pic.twitter.com/ucO7o8TD8j

— Brandon Clay (@BrandonClayPSB) July 10, 2018
#BrandonClayScouting🍑: '19 G Macey Gregg has been working with me & attending our events since middle school. She chose North Georgia as her future college home. I couldn't be more happy for her!#AnyGymIsHome🍑

{📸: @typhotog}

📷 Instagram: https://t.co/w5DQSYnzvq #SMPMember pic.twitter.com/9XrwYTkmxK

— Brandon Clay (@BrandonClayPSB) June 27, 2018
#CommitmentCentral via #BrandonClayScouting🍑 Report

"Growing the game one scholarship at a time."

'19 G Macey Gregg (GA) to North Georgia.

📷 IG: https://t.co/w5DQSYnzvq

COLLEGE COACH EVALS: https://t.co/dc2OUdikQX

SHOWCASE / TOURNEY INFO: https://t.co/Jow0Z53ZU3 #SMPMember pic.twitter.com/jYZHj8UJZB

— Brandon Clay (@BrandonClayPSB) June 26, 2018
'19 @maceyyyy_3 Gregg's game has grown leaps and bounds over the last few years. Relentless worker who is always working to add something new to her game.

She has a #EBASuper64 Invite
June 2nd-3rdhttps://t.co/3EgLYhrBdx https://t.co/7hqqOSVgbj

— Kris Watkins (@KrisWatkinsPSB) May 18, 2018
#SMPMember🍑 College Recruiting
Fueled by @SMPMemberPSB

Need Exposure? We're here to help.

'19 G Macey Gregg of @LFOGIRLSBBALL & @AlSoStarz_Veal was named Catoosa County Co-Player of the Year.

SMP PAGE: https://t.co/76bpTJfZQm

JOIN SMP: https://t.co/8GnB3G0viZ pic.twitter.com/SvQMFtuNsd

— Brandon Clay (@BrandonClayPSB) May 15, 2018
#SMPMember🍑 Recruiting

Need Exposure? We're here to help.

HUGE weekend for '19 G Macey Gregg (@maceyyyy_3) of @AlSoStarz_Veal.

Oglethorpe's @CoachRichey32 was watching.

SMP PAGE: https://t.co/05WIzYyalv

JOIN SMP: https://t.co/PrIMH9VAjj

INSTAGRAM https://t.co/xzC9Fj4Qh5 https://t.co/zInKTLbCQ5

— SMP Recruit Exposure (@SMPMemberPSB) March 26, 2018
#PSBSpringShowdown:#SMPMember:

'19 Macey Gregg @maceyyyy_3 has a new team but same Lights Out shot!@AlSoStarz_Veal

Her Page w/ 🎥 Breakdown:https://t.co/L48EEJlla8 pic.twitter.com/PaclBb756y

— Kris Watkins (@KrisWatkinsPSB) March 24, 2018
#SMPMember🍑 Program News
Assisted by @JLHemingwayPSB

Available '19 G Macey Gregg (GA) reached her 1,000th point last week.

New #BrandonClayScouting Story on @PeachStateBBall from @CoachHemi: https://t.co/2Cyyip9zqh

BECOME AN SMP MEMBER TODAY: https://t.co/8GnB3G0viZ pic.twitter.com/JYQFgm7ywZ

— Brandon Clay (@BrandonClayPSB) January 29, 2018
#SMPMember🍑 Program News
Powered by @SMPMemberPSB

Available '19 G Macey Gregg (GA) has multiple offers already for good reason.

She scored her 1,000th point this week.

Full breakdown from @JLHemingwayPSB & I is on the way.

Her #BrandonClayScouting: https://t.co/76bpTJfZQm pic.twitter.com/a03ZPT6YXA

— Brandon Clay (@BrandonClayPSB) January 28, 2018
#SMPMember '19 Macey Gregg (GA) is putting up huge numbers this year…

35pt game, then followed it up with a 41pt game

She will run w/ @AlSoStarz_Veal this spring/summer

She has a #CoachHemiShowcase invite

March 3-4 (GA)https://t.co/tJvjGX6tfo pic.twitter.com/2MoTHKjwT2

— Jonathan Hemingway (@JLHemingwayPSB) January 26, 2018
#SMPMember🍑 Program News
Powered by @SMPMemberPSB

'19 Macey Gregg (@maceyyyy_3) of @LFOGIRLSBBALL will play for @alsostarz_veal & @ALSoStarz this season.

Catch her Apr 20-22 at #PSBTipOffClassic

Gregg's #BrandonClayScouting Page: https://t.co/76bpTJfZQm @adgreg @VinceSmithPSB https://t.co/z5MRz8nzyB

— Brandon Clay (@BrandonClayPSB) January 8, 2018
#SMPMember🍑 Program News
Powered by https://t.co/BuFuimJ0fE

Available '19 G Macey Gregg (@maceyyyy_3) dropped 41 in a game 4 days after dropping 35.@KrisWatkinsPSB saw her growth in the spring. So did multiple colleges.

Her #BrandonClayScouting Page: https://t.co/05WIzYyalv https://t.co/taaqQszTym

— SMP Recruit Exposure (@SMPMemberPSB) December 20, 2017
#SMPMember🍑 Program News

'19 CG Macey Gregg (GA) dropped a career-high 33 points in a win on Tuesday.

She already has multiple scholarship offers. Shined bright at @CoachHemi's #CoachHemi423 Camp.

Her #BrandonClayScouting Page w/@KrisWatkinsPSB 📹🎥: https://t.co/76bpTJfZQm pic.twitter.com/Zkdgqx40mL

— Brandon Clay (@BrandonClayPSB) December 17, 2017
Impressed w/ Macey Gregg at #PSBEndOfTheRoad🍑 & #coachhemi423

Exudes confidence, shot maker.

Stock ⬆️#SMPMember: https://t.co/dQx61cpFHJ pic.twitter.com/JOx1JB9alL

— Jonathan Hemingway (@CoachHemi) September 23, 2017
#PSBEndOfTheRoad🍑 Tourney

THIS WEEKEND

'19 G Macey Gregg (GA) has a Young Harris offer.

She's all in: https://t.co/76bpTJfZQm #SMPMember pic.twitter.com/SwgrnVh6EN

— Brandon Clay (@BrandonClayPSB) September 19, 2017
#SMPMember🍑 Recruiting Program

THIS JUST IN

'19 G Macey Gregg (GA) visited North Georgia & has an offer.

MORE: https://t.co/76bpTJfZQm pic.twitter.com/rdWGjUoooi

— Brandon Clay (@BrandonClayPSB) September 6, 2017
#SMPMember Macey Gregg (@maceyyyy_3) was tracked closely by coaches at #PSBElite32

She has a #CoachHemi423 invitehttps://t.co/3QaHPMWCic pic.twitter.com/h8pcPc3B20

— Jonathan Hemingway (@JLHemingwayPSB) August 4, 2017
#SMPMember Platinum

THIS JUST IN

'19 G Macey Gregg has the @KrisWatkinsPSB 👍🏾.

UAH did the same & offered.

PAGE: https://t.co/76bpTJfZQm pic.twitter.com/iOeOILErwY

— Brandon Clay (@BrandonClayPSB) July 20, 2017
#SMPMember Recruiting

THIS JUST IN

'19 G Macey Gregg (GA) added a Lee Univ. offer after her camp play today.

PAGE https://t.co/76bpTJfZQm pic.twitter.com/gKjMweJFEc

— Brandon Clay (@BrandonClayPSB) July 1, 2017
#SMPMember Recruiting

'19 G Macey Gregg (GA) is visiting Lee Univ. today.@KrisWatkinsPSB respects her play.

MORE https://t.co/76bpTJfZQm pic.twitter.com/0JWXbH5KEG

— Brandon Clay (@BrandonClayPSB) July 1, 2017
#SMPMember Recruiting

In the Lab on '19 G Macey Gregg's (TN) latest eval.

14.9 PPG
3.8 RPG
All-Region Team

MORE: https://t.co/76bpTJfZQm pic.twitter.com/hgTrQOiihz

— Brandon Clay (@BrandonClayPSB) June 21, 2017
#SMPMember Recruiting Exposure

'19 G Macey Gregg (GA) can play on or off the ball.

New @KrisWatkinsPSB video eval drops later this week. pic.twitter.com/Ei77IEdCBR

— Brandon Clay (@BrandonClayPSB) June 12, 2017
'19 Macey Gregg @maceyyyy_3 went off in the 2nd half today

Her @PeachStateBBall #SMPMember Pagehttps://t.co/L48EEJlla8

🎥⬇️ pic.twitter.com/dgWVH6I3r3

— Kris Watkins (@KrisWatkinsPSB) May 13, 2017
#PSBMayDay Challenge

May 12-14

Tennessee XTreme is led by '19 G Macey Gregg.

They're all in.

JOIN: https://t.co/DLFiage3qO #SMPMember pic.twitter.com/PMWDl8X5gJ

— Brandon Clay (@BrandonClayPSB) May 5, 2017
'19 Macey Gregg @maceyyyy_3 handling the ball & slashing well for @Tnxtremebball #SMPMember

— Rebecca Dyer (@RebeccaDyerPSB) April 30, 2017
#PSBTipOffClassic
'19 Macey Gregg (@maceyyyy_3) slashing & scoring. Halftime lead for TN Xtreme#SMPMemberhttps://t.co/dQx61cpFHJ pic.twitter.com/ekNgNCnAKE

— Jonathan Hemingway (@CoachHemi) April 29, 2017
#SMPMember Exposure Program

After her #EBATop40 play, '19 G Macey Gregg has a new video eval in the works.

PAGE: https://t.co/76bpTJfZQm pic.twitter.com/h72cqBZPqG

— Brandon Clay (@BrandonClayPSB) March 31, 2017
'19 Macey Gregg shooting it well this morning in skill sessions.

Her #SMPMember Pagehttps://t.co/L48EEJlla8 pic.twitter.com/mkJquIedcP

— Kris Watkins (@KrisWatkinsPSB) March 12, 2017
Another #SMPMember in the building is '19 Macey Gregg. She's been rolling since she walked in!

Her Page: https://t.co/76bpTJfZQm pic.twitter.com/yJPIJycefp

— Brandon Clay (@BrandonClayPSB) March 11, 2017
#EBATop40 Girls Camp

Sat/Sun

'19 #SMPMember Macey Gregg will rep TN Xtreme & Lakeview Fort Oglethorpe.

JOIN HER: https://t.co/76bpTJfZQm pic.twitter.com/7XAI6bEZhG

— Brandon Clay (@BrandonClayPSB) March 7, 2017
#SMPMember Exposure Program

'19 Macey Gregg (GA) is averaging 15 pts, 4 rebs & takes all AP classes.

LEARN MORE: https://t.co/76bpTJfZQm pic.twitter.com/QIpj7qZ11l

— Brandon Clay (@BrandonClayPSB) January 24, 2017
'19 SG Macey Gregg brings high energy & court IQ to @Tnxtremebball.

READ HERE: https://t.co/eDHyBpmm1o pic.twitter.com/dnlcQV4QYm

— ProspectsNation.com (@ProspectsNation) October 24, 2016
'19 Macey Gregg will hoop w/ Lakeview Fort Oglethorpe HS (GA) this seasonhttps://t.co/GRsBY2X6Un pic.twitter.com/pbGhK88FuP

— Rebecca Dyer (@RebeccaDyerPSB) September 28, 2016
W/ 2019 Macey Gregg you get high energy & a floor general that can shoot.

PAGE: https://t.co/05WIzYyalv pic.twitter.com/G5G0Ke37Oq

— #SMPMember Program (@SMPMemberPSB) September 26, 2016
Love the energy and enthusiasm '19 Macey Gregg @maceyyyy_3 brings

PAGE:https://t.co/GRsBY3eIiX pic.twitter.com/Oss0GXddn8

— Rebecca Dyer (@RebeccaDyerPSB) July 16, 2016
'19 Macey Gregg was impressive at #PSBTipOffClassic!

PAGE:https://t.co/GRsBY3eIiX pic.twitter.com/hm6tIyFqwO

— Rebecca Dyer (@RebeccaDyerPSB) April 29, 2016
#PSBTipOffClassic#SMPMember '19 @maceyyyy_3 has been getting to the rim w/ease

Her Page https://t.co/L48EEJlla8 pic.twitter.com/bS2tlsF6yH

— Kris Watkins Ed.D. (@KrisWatkinsPSB) April 23, 2016
#PSBTipOffClassic#SMPMember '19 Macey Gregg's page updated w/ tweets from @RebeccaDyerPSB https://t.co/L48EEJlla8 pic.twitter.com/HcagpvLqR2

— Kris Watkins Ed.D. (@KrisWatkinsPSB) April 17, 2016
'19 #SMPMember Macey Gregg @maceyyyy_3 is the floor general for @Tnxtremebball Fr. Doing it all!

— Rebecca Dyer (@RebeccaDyerPSB) April 16, 2016
Excited to check out '19 Macey Gregg at #PSBTipOffClassic

PAGE:https://t.co/GRsBY3eIiX pic.twitter.com/iNwXmH9wzi

— Rebecca Dyer (@RebeccaDyerPSB) April 15, 2016
'19 G Macey Gregg (TN) to rep @Tnxtremebball at #PSBTipOffClassic.

JOIN THEM: https://t.co/CFoA77pmVr pic.twitter.com/peELMPvtAZ

— Brandon Clay (@BrandonClayPSB) April 7, 2016
'19 G Macey Gregg has a new video eval compliments of @KrisWatkinsPSB.

WATCH: https://t.co/76bpTJfZQm pic.twitter.com/MyEE5EX9yy

— Brandon Clay (@BrandonClayPSB) March 18, 2016
2019 #SMPMember Macey Gregg has an #EBAAllAmerican camp eval posted here: https://t.co/n1VQMYhKpE pic.twitter.com/N1hdvpov3S

— Brandon Clay (@BrandonClayPSB) November 3, 2015
#EBATop40: Count '19 Macey Gregg (GA) in for Oct. 17. She'll rep @Tnxtremebball. REGISTER: http://t.co/fTYUxQI3B9 pic.twitter.com/h5vlCZdTk5

— Brandon Clay (@BrandonClayPSB) October 2, 2015

Brandon Clay is the owner of the JumpOffPlus.com International Report, Peach State Basketball, Inc., and ProspectsNation.com. The JumpOffPlus.com is picked up by more than 200 colleges and universities nationwide. He serves as the Executive Camp Director for the Elite Basketball Academy Camps. He serves on the Naismith Trophy Men's / Women's College Player of the Year Academy and the HS Boys / Girls All-American Team Board of Selectors. Clay has been involved in the community since 2001. You can reach him at [email protected]