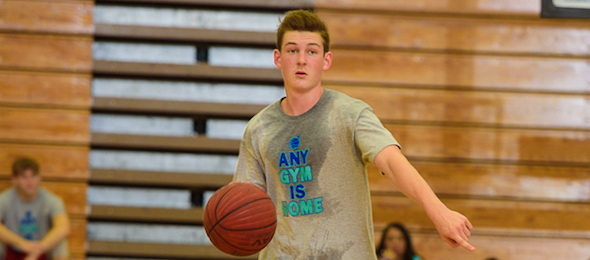 With over 30,000 collective followers on our team's social media outlets, we're in a unique position to assist with both creating awareness of a prospect's skill set and recent on-floor performance. From crisp recruiting updates to updated in-season stats to a potential last-minute change in schedule that needs to be conveyed socially, this package allows the player to control the information available to the public about their game.
Become an #SMPMember: Click the Logo Below

Class of 2017 point guard Colten Kresl of Paradise Valley, Ariz., made an impact at the #EBAAllAmerican Camp in September 2014. He came back to the 2015 version and did the same establishing himself as a must recruit for schools needing a distributor in his class. Kresl already has multiple scholarship offers and should only see his recruiting pick up steam over the coming months.
Brandon Clay's takeaway – EBA Super 64 Camp (September 2016):
Kresl is a super smooth guard who can get his jumper at nearly any moment. His crafty ball-handling and superb footwork keep defenders off balance, which sets up the rest of his game. Kresl projects to be a point guard at the next level, because of his skill and vision with the basketball. Since the 6-foot-1 guard has the ability to knock down the long range jumper at a high percentage, he can also spotlight on the wing. Kresl's challenge moving into his junior school season should be focused on becoming more efficient. Sometimes the talented guard can go stretches where he presses the issue rather than letting the game come to him.
Vitals
Name: Colten Kresl
Height: 6'0″
HS Grad Year: 2017
Position: PG
School / Hometown: Chaparral HS (Paradise Valley, Ariz.)
Club Team: Arizona Power BBall
College Choice: California State Univ. Dominguez Hills
BrandonClayScouting.com Video Evaluation – September 2014:
Social Media Updates:
#SMPMember Exposure Program

'17 Colten Kresl will host UNLV for a home visit.

Stats: 20 ppg, 4 apg

MORE: https://t.co/gFUq5TmWiJ @ckresl1 pic.twitter.com/MmOqEM1EFQ

— Brandon Clay (@BrandonClayPSB) February 28, 2017
#SMPMember Exposure Program

'17 G Colten Kresl (AZ) had Washington State in to see him.

LEARN MORE ON @CKRESL1: https://t.co/gFUq5TmWiJ pic.twitter.com/eXvblF4zy0

— Brandon Clay (@BrandonClayPSB) February 7, 2017
New Mexico State was in to see '17 #SMPMember Colten Kresl (@ckresl1)

MORE NEWS:https://t.co/e69mrlYTUE pic.twitter.com/2kkhZCphjN

— Brandon Clay (@BrandonClayPSB) November 7, 2016
Colten Kresl (@ckresl1) has precision passing. Visited Navy this summer.

VIDEO: https://t.co/gSr8NDePkP pic.twitter.com/sNbs1JNkVo

— #SMPMember Program (@SMPMemberPSB) October 10, 2016
'17 Colten Kresl is a excellent distributor of the rock & can score.

VIDEO EVAL:https://t.co/gFUq5TmWiJ pic.twitter.com/OxMfzZ4Lah

— Brandon Clay (@BrandonClayPSB) September 11, 2016
Colten Kresl | 2017 | Arizonahttps://t.co/amsYGmmt9g pic.twitter.com/50o2XwR1D3

— Rebecca Dyer (@RebeccaDyerPSB) September 7, 2016
BREAKING:

'17 G Colten Kresl (AZ) is visiting Navy this weekend.#SMPMember PAGE: https://t.co/gFUq5TExah @ckresl1 pic.twitter.com/gQXagiNQkQ

— Brandon Clay (@BrandonClayPSB) June 23, 2016
'17 Colten Kresl is shining bright w/ @PowerhouseHoops program.

PAGE: https://t.co/gFUq5TExah @ckresl1 pic.twitter.com/uJYi6PhwWm

— Brandon Clay (@BrandonClayPSB) April 8, 2016
Check out '17 Colten Kresl (AZ)

VIDEO:https://t.co/amsYGmmt9g pic.twitter.com/anHhAlvzXe

— Rebecca Dyer (@RebeccaDyerPSB) June 3, 2016
#SMPMember '17 Colten Kresl (AZ) had a BIG opening night w/28 pts, 7 asts.

PAGE: https://t.co/gFUq5TExah @ckresl1 pic.twitter.com/IrKFMYXQ7Y

— Brandon Clay (@BrandonClayPSB) November 24, 2015
Pepperdine visited '17 G Colten Kresl. He's a 2-time #EBAAllAmerican. #SMPMember: https://t.co/gFUq5TExah @ckresl1 pic.twitter.com/zIhH1Kj0Bh

— Brandon Clay (@BrandonClayPSB) November 16, 2015
'17 PG Colten Kresl (AZ) directed traffic at #EBAAllAmerican. His #SMPMember PAGE: https://t.co/gFUq5TmWiJ @ckresl1 pic.twitter.com/JxAp1HBsBw

— Brandon Clay (@BrandonClayPSB) October 1, 2015
Colten Kresl ( @ckresl1 ) was smooth with the handles at the #EBAAllAmerican Camp. #tbt pic.twitter.com/qecjpW6l9G

— SUVtv (@SUVtv) September 24, 2015
Annual Grind:

'17 Colten Kresl (AZ) flying in for #EBAAllAmerican work!

#BCSReport: http://t.co/rgn0VW5liv @ckresl1 pic.twitter.com/AOvKP3jGbh

— Brandon Clay (@BrandonClayPSB) September 13, 2015
Colten Kresl (AZ-17) showed his skills at #EBAAllAmerican

#BCSReport PLAYER CARD
http://t.co/hpQv4zcE8U @ckresl1 pic.twitter.com/W2bt8WQjIv

— Jonathan Hemingway (@JLHemingwayPSB) September 15, 2015
Colten Kresl ( @ckresl1 ) was smooth with the handles at the #EBAAllAmerican Camp. #tbt pic.twitter.com/qecjpW6l9G

— SUVtv (@SUVtv) September 24, 2015
@jrkhoops: Brandon Clay, thanks for a great #EBAAllAmerican

^ love where Colten Kresl's game is headed! Come back for #EBASuper64. @ckresl1

— Brandon Clay (@BrandonClayPSB) September 7, 2015
#EBAAllAmerican: Newly minted Naismith voter @OntheRadarHoops here @CGwinnettBball seeing Colten Kresl (AZ) @ckresl1 https://t.co/FbaX8PRd9i

— Brandon Clay (@BClayScouting) September 6, 2015
#EBAAllAmerican: Fresh off a Northern Arizona offer '17 Colten Kresl is putting on a show early scoring from all over http://t.co/pm0HQy48qt

— Kris Watkins (@KrisWatkinsPSB) September 5, 2015
#EBAAllAmerican Camp: Colten Kresl (AZ) is in. He has a Northern Arizona offer @ckresl1

EVAL: http://t.co/P4db1TV9fB pic.twitter.com/aIa1N9ttHv

— Brandon Clay (@BrandonClayPSB) September 1, 2015
#EBASuper64: '17 Colten Kresl is in June 6-7, has heard from Pepperdine & Utah.

JOIN http://t.co/ZPLIkFX2bE @ckresl1 pic.twitter.com/ER9iSibz7t

— Brandon Clay (@BrandonClayPSB) March 12, 2015
#EBAAllAmerican: '17 G Colten Kresl's play (AZ) had everyone in the gym looking. Eval/video: http://t.co/P4db1TV9fB pic.twitter.com/60JPoguUfa

— Brandon Clay (@BrandonClayPSB) October 10, 2014
#EBAAllAmerican: 17-AZ Colten Kresl was on fire from outside yesterday watch his games here http://t.co/bM8I4mPHpz pic.twitter.com/NRl1O4wnGS

— Kris Watkins (@KrisWatkinsPSB) September 14, 2014

Brandon Clay is the owner of Peach State Basketball, Inc., and BrandonClayScouting.com. He serves as the Executive Camp Director for the Elite Basketball Academy Camps. Clay is a McDonald's All-American Game Selection Committee member. He also votes on the Naismith Trophy Men's / Women's College Player of the Year Academy and is the HS Boys / Girls All-American Team Board of Selectors Chairperson. He has been involved in the community since 2001. You can reach Clay at [email protected]