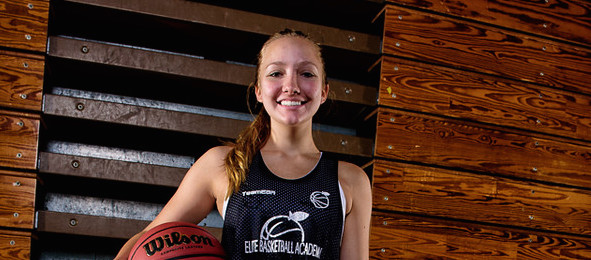 With over 20,000 collective followers on our team's social media outlets, we're in a unique position to assist with both creating awareness of a prospect's skill set and recent on-floor performance. From crisp recruiting updates to updated in-season stats to a potential last-minute change in schedule that needs to be conveyed socially, this package allows the player to control the information available to the public about their game.
Become an #SMPMember: Click the Logo Below

Class of 2017 guard Megan Veneman of Ashley, Ohio, came to #EBAAllAmerican Camp over Labor Day Weekend ready to show and prove. The combination of skill and court savvy has allowed Veneman to consistently produce against some of the Buckeye State's elite prospects. We'll track her progress over the next year but the foundation is set for her to be a scholarship prospect at the collegiate level.
Jonathan Hemingway's takeaway – EBATop40 Camp (March 2016): Veneman once again proved to be a steady producer at the guard position at the EBA Top 40 Camp. She pressed the action at times and scored points while also balancing a distributing role as a guard. She showed increased craftiness to get her shot off the move. She still possesses her trademark hustle and energy on both ends of the floor. You know what Veneman is going to bring to the court each outing: efficiency, production and leadership. Developing a specialty that will translate to an elite level is the next step that Megan will look to enhance as she heads into her senior year of high school.
Vitals
Name: Megan Veneman
Height: 5'8″
HS Grad Year: 2017
Position: SG/PG
School / Hometown: Lakewood Ranch HS (Lakewood Ranch, FL)
Club Team: FGB
ProspectsNation.com Video Evaluation – December 2015:
Social Media Updates:
#RedsSuper64
'17 Megan Veneman had her midrange jumper working today. #SMPMemberhttps://t.co/F3bDa42LaN pic.twitter.com/i5Jhk2ipQl

— Jonathan Hemingway (@JLHemingwayPSB) September 18, 2016
'17 Megan Veneman (FL) is a savvy guard w/ handles & scoring ability

PAGE:https://t.co/HjwR4U1ppe pic.twitter.com/tGkih2EfFx

— Rebecca Dyer (@RebeccaDyerPSB) September 14, 2016
Update on '17 Megan Veneman: Will play at Lakewood Ranch High School in Florida this season pic.twitter.com/NQNlkmteQI

— Rebecca Dyer (@RebeccaDyerPSB) August 4, 2016
'17 Megan Veneman (OH) is a tough competitor with skill on the wing

VIDEO:https://t.co/HjwR4U1ppe pic.twitter.com/QgJsxeP5A2

— Rebecca Dyer (@RebeccaDyerPSB) August 3, 2016
'17 Megan Veneman representing Ohio at the OGBR Border Battle today.

HER PAGE: https://t.co/cZSWWAnevy pic.twitter.com/vk3arrOL6I

— #SMPMember Program (@SMPMemberPSB) July 29, 2016
Stay updated on '17 Megan Veneman (OH) this summer at @SMPMemberPSB

PAGE:https://t.co/HjwR4U1ppe pic.twitter.com/7efUJ0Eahn

— Rebecca Dyer (@RebeccaDyerPSB) July 1, 2016
'17 G Megan Veneman (OH) visited Flagler for camp.

HER PAGE: https://t.co/hhXcXHS482 @1emama pic.twitter.com/or8gTBYNpL

— Brandon Clay (@BrandonClayPSB) June 21, 2016
'17 Megan Veneman (OH) 5 foot 8 guard with perimeter skills

PAGE: https://t.co/6Bii5DLC0o pic.twitter.com/hvMmx1uy1I

— ProspectsNation.com (@ProspectsNation) May 19, 2016
'17 Megan Veneman continues to improve her game. Driving and scoring well

PAGE:https://t.co/HjwR4U1ppe pic.twitter.com/iPiZACxaHl

— Rebecca Dyer (@RebeccaDyerPSB) April 14, 2016
'17 Megan Veneman (OH) showed real growth at #EBATop40. Skilled worker!

PAGE: https://t.co/hhXcXHS482 pic.twitter.com/rfErnuPlsv

— Brandon Clay (@BrandonClayPSB) March 28, 2016
#SMPMember: '17 Megan Veneman (OH) is ready for #EBATop40 this weekend-View her page here https://t.co/p4HIRVmimT pic.twitter.com/TYgPnUALaf

— Kris Watkins (@KrisWatkinsPSB) February 29, 2016
'17 G Megan Veneman leads her team in assists/scoring & has a 23 ACT.

PAGE: https://t.co/hhXcXI9FwC pic.twitter.com/UVyHfuMQmU

— Brandon Clay (@BrandonClayPSB) February 22, 2016
New @ProspectsNation Video on '17 Megan Veneman (OH) from @KrisWatkinsPSB#SMPMember WATCH: https://t.co/hhXcXI9FwC pic.twitter.com/mHPoWyXN1s

— Brandon Clay (@BrandonClayPSB) December 3, 2015
'17 Megan Veneman (OH) named HS team captain. 3.5 GPA. Avg 6 pts/4 rbs in '14-15 #SMPMember https://t.co/hhXcXI9FwC pic.twitter.com/tyNYtSzqNY

— Brandon Clay (@BrandonClayPSB) November 17, 2015
Megan Veneman (@meganve03) shows just how well she can get to the paint and handle pressure. Impressive play today. pic.twitter.com/pwO1vOo0QX

— Brandon Clay (@BrandonClayPSB) October 17, 2015
#EBATop40 Megan Veneman OH-17 having a big day on @SUVtv. Shooting, driving & scoring! I know @BrandonClayPSB loves this! @meganve03 — Jonathan Hemingway (@CoachHemi) October 17, 2015
'17 G Megan Veneman (OH) is in the #SMPMember fam. She put on affordable write my essay at #EBAAllAmerican.

HER PAGE: http://t.co/hhXcXI9FwC pic.twitter.com/aa8U4mgaTM — Brandon Clay (@BrandonClayPSB) September 14, 2015

Brandon Clay is the owner of the JumpOffPlus.com International Report, Peach State Basketball, Inc., and ProspectsNation.com. The JumpOffPlus.com is picked up by more than 200 colleges and universities nationwide. In addition to serving as ProspectsNation.com WNBA Director of Scouting, Clay serves as the Executive Camp Director for the Elite Basketball Academy Camps. He is a McDonald's All-American Game Selection Committee member. Clay serves on the Naismith Trophy Men's / Women's College Player of the Year Academy and is the National Coordinator of Voting for the Boys / Girls All-American Teams. He has been involved in the community since 2001. You can reach Clay at [email protected]