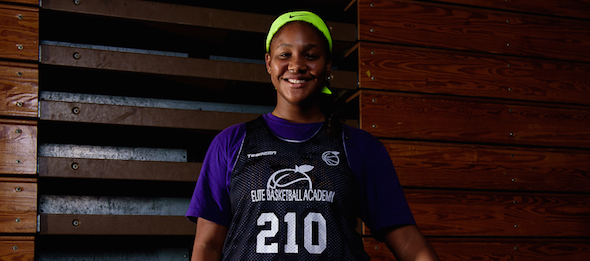 With over 20,000 collective followers on our team's social media outlets, we're in a unique position to assist with both creating awareness of a prospect's skill set and recent on-floor performance. From crisp recruiting updates to updated in-season stats to a potential last-minute change in schedule that needs to be conveyed socially, this package allows the player to control the information available to the public about their game.
Become an #SMPMember: Click the Logo Below

Class of 2017 graduate Alayna Ford of Alpharetta, Ga., is a legitimate threat at the power forward spot. She is a versatile option with size. She made her presence felt making shots, playing in the pick and roll action while being effective around the basket as well at #EBAAllAmerican Camp over Labor Day Weekend. Ford's ability and skill drew rave reviews from the ProspectsNation.com staff in the process.
Jonathan Hemingway's takeaway – EBA Super 64 Camp (September 2016):
Ford is a power forward who showed strength and touch on the interior. She proved she can take the bump and still finish around the rim. Impressively Ford also showed range on her jumper. She hit a nice corner jumper off of a hand-off, which showed that she can shoot off of the move. Although limited by length, Ford is an effective player both inside and out.
Vitals
Name: Alayna Ford
Height: 5'10"
HS Grad Year: 2017
Position: PF
School: Chattahoochee HS (Alpharetta, GA)
Club Team: Georgia Red Storm
ProspectsNation.com Video Evaluation – December 2015:
Social Media Updates:
#SMPMember Recruiting Exposure#CommitmentCentral

THIS JUST IN

'17 F Alayna Ford to Clark Atlanta.

HER PAGE: https://t.co/3vIZ0yBnid pic.twitter.com/wMSAzslNxH

— Brandon Clay (@BrandonClayPSB) May 18, 2017
Available '17 Alayna Ford is a talented prospect who can score inside and out

More Here:https://t.co/5hzQxJ22JK pic.twitter.com/ohDsI2xSgj

— Kris Watkins (@KrisWatkinsPSB) November 29, 2016
Alayna Ford now has an #EBAAllAmerican eval from @JLHemingwayPSB & I.

HER PAGE: https://t.co/3vIZ0yjLTD pic.twitter.com/jlgh2SWXb0

— Brandon Clay (@BrandonClayPSB) October 23, 2016
#SMPMember
Available '17 Alayna Ford (GA) @AFHooch33 is an interior force who is effective in ball screen sets
Info:https://t.co/5hzQxJ22JK

— Kris Watkins (@KrisWatkinsPSB) September 26, 2016
Available '17 F @AFHooch33 of @LODBALL fresh off of a visit to Emmanuel.

HER #SMPMember PAGE: https://t.co/UKGGAGYmyK https://t.co/laL93P3e69

— PSB Events (@PeachStateBBall) September 23, 2016
Available '17 F @AFHooch33 of @LODBALL fresh off of a visit to Emmanuel.

HER #SMPMember PAGE: https://t.co/UKGGAGYmyK https://t.co/laL93P3e69

— PSB Events (@PeachStateBBall) September 23, 2016
#SMPMember Alayna Ford '17.. Focused & Tuned In. On a mission at the #EBAAllAmerican Camp. https://t.co/C4UfL9sm4L

— Jarrett Christian (@jarrettproPSB) September 3, 2016
'17 Alayna Ford @AFHooch33 is in for #EBAAllAmerican Sept. 3-4@GeorgiaRedStorm @bfnupe90 pic.twitter.com/bYP2TEIvRG

— Rebecca Dyer (@RebeccaDyerPSB) August 31, 2016
#SMPMember Alayna Ford stretches the D & is also a great option on the pick & roll.

PAGE: https://t.co/3vIZ0yBnid pic.twitter.com/vhL5mgKiJN

— Brandon Clay (@BrandonClayPSB) August 25, 2016
#SMPMember Alayna Ford looks to put on a show at #EBAAllAmerican Sept. 3-4. @bfnupe90

JOIN: https://t.co/JNkkUpdNDv pic.twitter.com/UT42D38kOf

— Brandon Clay (@BrandonClayPSB) August 18, 2016
'17 F Alayna Ford (GA) visited Austin Peay last weekend.

HER PAGE: https://t.co/3vIZ0yjLTD @bfnupe90 pic.twitter.com/Urn2gd38bm

— Brandon Clay (@BrandonClayPSB) June 14, 2016
Check out '17 Alayna Ford's video. Plays w/ @GeorgiaRedStorm

VIDEO:https://t.co/9Ip7v6q7CD pic.twitter.com/fECIv05l2R

— Rebecca Dyer (@RebeccaDyerPSB) May 27, 2016
'17 F Alayna Ford is with @GeorgiaRedStorm Fri-Sun#SMPMember https://t.co/3vIZ0yjLTD @bfnupe90 pic.twitter.com/0xo6XEG8Yu

— Brandon Clay (@BrandonClayPSB) April 13, 2016
'17 Alayna Ford is a 5 foot 10 versatile F/P. Plays w/ Georgia Red Storm

PAGE:https://t.co/9Ip7v6q7CD pic.twitter.com/jJ8KX4wA2f

— Rebecca Dyer (@RebeccaDyerPSB) April 11, 2016
'17 Alayna Ford led Chattahoochee to state w/ 14 pts, 10 rbs.

PAGE: https://t.co/3vIZ0yBnid @bfnupe90 pic.twitter.com/wb448R6LjK

— Brandon Clay (@BrandonClayPSB) February 11, 2016
'17 F Alayna Ford is next up. @KrisWatkinsPSB w/a FRESH video eval.#SMPMember: https://t.co/3vIZ0yBnid @bfnupe90 pic.twitter.com/0zwzJLXn0b

— Brandon Clay (@BrandonClayPSB) January 1, 2016
#SMPMember '17 @AFHooch33 (@GeorgiaRedStorm) has a new video Eval dropping soon https://t.co/5hzQxJ22JK Preview ⬇️ pic.twitter.com/yB25dIMMEE

— Kris Watkins (@KrisWatkinsPSB) December 31, 2015
#EBAAllAmerican: '17 Alayna Ford of @GeorgiaRedStorm was on one all weekend.

#SMPMember Page: http://t.co/3vIZ0yBnid pic.twitter.com/rLnDB7ptFf

— Brandon Clay (@BrandonClayPSB) September 16, 2015
@bfnupe90: @AFHooch33 Steal at #EBAAllAmerican @GeorgiaRedStorm @SIZZLEAAU ^^ welcome Alayna to the #SMPMember fam pic.twitter.com/JHkcRdP5bJ

— Brandon Clay (@BrandonClayPSB) September 6, 2015
#EBAAllAmerican: Alayna Ford (@AFHooch33) from Red Storm is crashing the boards and getting the ball up the court well.

— ProspectsNation.com (@ProspectsNation) September 6, 2015

Brandon Clay is the owner of the JumpOffPlus.com International Report, Peach State Basketball, Inc., and ProspectsNation.com. The JumpOffPlus.com is picked up by more than 200 colleges and universities nationwide. In addition to serving as ProspectsNation.com WNBA Director of Scouting, Clay serves as the Executive Camp Director for the Elite Basketball Academy Camps. He is a McDonald's All-American Game Selection Committee member. Clay serves on the Naismith Trophy Men's / Women's College Player of the Year Academy and is the National Coordinator of Voting for the Boys / Girls All-American Teams. He has been involved in the community since 2001. You can reach Clay at [email protected]