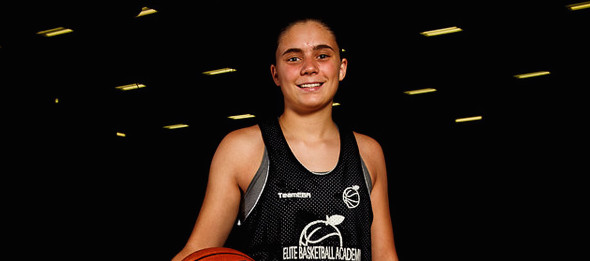 With over 20,000 collective followers on our team's social media outlets, we're in a unique position to assist with both creating awareness of a prospect's skill set and recent on-floor performance. From crisp recruiting updates to updated in-season stats to a potential last-minute change in schedule that needs to be conveyed socially, this package allows the player to control the information available to the public about their game.
Become an #SMPMember: Click the Logo Below

Class of 2018 guard Taylor Stelley of Poinciana HS (Kissimmee, Fla.), has earned an invite to the #EBASuper64 Camp in June 2016. The highly effective PG dictates the tempo of the game with her skill on both ends of the floor. She caught the eye of our ProspectsNation.com staff with her sharpshooting during the #PSBRealDeal and #PSBSummerInvite during the July Evaluation Period in 2015.
Brandon Clay's takeaway – EBAAllAmerican Camp (Sept. 2016): Stelley is a fireball point guard. She plays the game with energy and aggressiveness. She shot the ball very well this weekend. When need be, she can move without the ball in her hands and gets her shot off with quickness. She is a specialist while playing the point guard position and plays the game without turning it over at a high rate.
Name: Taylor Stelley
Height: 5'7″
HS Grad Year: 2018
Position: PG
School / Hometown: Poinciana HS (Kissimmee, Fla.)
Club Team: Florida Lightning #PSBFamily
College Choice: Belmont Abbey
#BrandonClayScouting: #SMPMember Video Eval – January 2016
Social Media Updates:
#SMPMember🍑 Program News
Fueled by @SMPMemberPSB

'18 PG Taylor Stelley (@showtime_tt) of @flalightning & @FL_Lightning is ready to take her show on the road to @AbbeyWBB.

Who is next to sign from our program?

JOIN SMP: https://t.co/8GnB3G0viZ @VinceSmithPSB @Jeffthegymrat https://t.co/K0k4LpZFug

— Brandon Clay (@BrandonClayPSB) January 8, 2018
Taylor Stelley chose Belmont Abbey after #PSBNationals🍑@JLHemingwayPSB goes IN Focus w/ Stelleyhttps://t.co/yin8YmSFXR pic.twitter.com/YedALqdhox

— ProspectsNation.com (@ProspectsNation) October 4, 2017
#SMPMember Recruiting

Taylor Stelley (FL) to Belmont Abbey marks our 4th '18 commit so far & 2nd in two days.

INFO https://t.co/da0V8vhcZP pic.twitter.com/pAiokkYZ7F

— Brandon Clay (@BrandonClayPSB) August 1, 2017
#SMPMember Platinum Status#CommitmentCentral

'18 PG Taylor Stelley (FL) to Belmont Abbey.

HER PAGE: https://t.co/da0V8vhcZP @audreytim12 pic.twitter.com/LSlpgarjoJ

— Brandon Clay (@BrandonClayPSB) July 31, 2017
#SMPMember Recruiting

'18 PG Taylor Stelley (FL) has new interest from Brenau & Lynn after #PSBNationals

HER PAGE: https://t.co/da0V8vhcZP pic.twitter.com/ga8YkGvCN6

— Brandon Clay (@BrandonClayPSB) July 15, 2017
Available '18 PG @showtime_tt of @FL_Lightning caught @KrisWatkinsPSB 📷.@CoachHuddLynn saw her too.https://t.co/2jqNU9Xvtn https://t.co/SSaIk3Quhg

— SMP Recruit Exposure (@SMPMemberPSB) July 11, 2017
Love the energy that #SMPMember '18 Taylor Stelley @showtime_tt plays with for @FlaLightning

— Rebecca Dyer (@RebeccaDyerPSB) May 13, 2017
#CoachHemiShowcase Evals@RebeccaDyerPSB says Taylor Stelley turned a corner in her development

EVAL #SMPMember https://t.co/9Dk1PymaDm pic.twitter.com/pjDi1N1OeI

— Jonathan Hemingway (@JLHemingwayPSB) March 29, 2017
Welcome #SMPMember '18 Taylor Stelley to the #CoachHemiShowcase

She recently scored her 1,000pt

March 4-5 https://t.co/tJvjGX6tfo pic.twitter.com/V9pzBTYht8

— Jonathan Hemingway (@JLHemingwayPSB) February 18, 2017
BREAKING:

'18 G Taylor Stelley (FL) scored her 1,000th point tonight. She's a @AP_BBall favorite.#SMPMember PAGE: https://t.co/da0V8vhcZP pic.twitter.com/iJAnp3ebHV

— Brandon Clay (@BrandonClayPSB) December 17, 2016
'18 Taylor Stelley is a fiery PG with the ability to play out on the wing. Quick release on her jumperhttps://t.co/Brfg0ULxCs pic.twitter.com/mXMDq9thfl

— Rebecca Dyer (@RebeccaDyerPSB) October 27, 2016
See what @BrandonClayPSB has to say about '18 PG Taylor Stelley (FL).

HERE: https://t.co/3PSEKGGgEf pic.twitter.com/79sle8gwXB

— #SMPMember Program (@SMPMemberPSB) September 29, 2016
'18 Taylor Stelley was a consistent scoring option for FL Lightning during #PSBEndOfTheRoad https://t.co/Brfg0V38u0 pic.twitter.com/rolR0So9DH

— Rebecca Dyer (@RebeccaDyerPSB) September 28, 2016
#PSBEndOfTheRoad#SMPMember
'18 Taylor Stelley @showtime_tt
Has done a great job on the defensive end this weekendhttps://t.co/xyewoGVrhT

— Kris Watkins (@KrisWatkinsPSB) September 25, 2016
Taylor Stelley had a good showing at #EBAAllAmerican, a PG that leads.

HER PAGE:https://t.co/da0V8vhcZP pic.twitter.com/YOnqpf7GIF

— Brandon Clay (@BrandonClayPSB) September 7, 2016
#EBAAllAmerican#SMPMember '18 Taylor Stelley (@showtime_tt) showcasing her talents today @BrandonClayPSB Eval ⬇️ pic.twitter.com/WqeSAhGmYk

— Kris Watkins (@KrisWatkinsPSB) September 3, 2016
Keep up with '18 Taylor Stelley's recruiting at @SMPMemberPSB

PAGE:https://t.co/Brfg0ULxCs pic.twitter.com/3K93b1nFIU

— Rebecca Dyer (@RebeccaDyerPSB) July 14, 2016
#PSBRealDeal#SMPMember '18 Taylor Stelley @showtime_tt with the euro and finish in transition

Video pic.twitter.com/6t3y5GMp4O

— ProspectsNation.com (@ProspectsNation) July 10, 2016
Ready to work w/ #SMPMember '18 G Taylor Stelley (FL) this weekend.

JOIN HER: https://t.co/XWZyztwSq6 pic.twitter.com/vXOiMA8Swl

— Brandon Clay (@BrandonClayPSB) June 1, 2016
'18 Taylor Stelley is in for the #EBASuper64 camp coming up next month

PAGE:https://t.co/Brfg0ULxCs pic.twitter.com/FToYX5Bbv3

— Rebecca Dyer (@RebeccaDyerPSB) May 17, 2016
#PSBTipOffClassic#SMPMember '18 Taylor Stelley @showtime_tt of @SeasonNeverEnd scoring in transition & from 3 pic.twitter.com/bfbt1bYbzx

— Kris Watkins (@KrisWatkinsPSB) April 23, 2016
Taylor Stelley shined at #PSBSpringShowdown. She's in for #EBASuper64.

PAGE: https://t.co/da0V8vyNRn pic.twitter.com/jGsmUYR5AT

— Brandon Clay (@BrandonClayPSB) April 4, 2016
#SMPMember: '18 G Taylor Stelley can play! Shined at #PSBSpringShowdown.

PAGE: https://t.co/da0V8vyNRn @showtime_tt https://t.co/A0UdlNoPvU

— Brandon Clay (@BrandonClayPSB) March 28, 2016
#PSBSpringShowdown#SMPMember: '18 PG Taylor Stelley (FL) is making plays all over the floor today
Here Page:https://t.co/xyewoGDQql

— Kris Watkins (@KrisWatkinsPSB) March 26, 2016
'18 G Taylor Stelley of #PSBFamily FL Lightning has a new video eval.

WATCH: https://t.co/da0V8vhcZP pic.twitter.com/HcWlggFvuh

— Brandon Clay (@BrandonClayPSB) February 1, 2016
'18 Taylor Stelley is a #SMPMember. Check @showtime_tt's page & video clip:https://t.co/da0V8vhcZP @SeasonNeverEnd pic.twitter.com/DkpvVcXdhO

— Brandon Clay (@BrandonClayPSB) January 12, 2016
'18 PG Taylor Stelley (FL) is off & running. Had 34 pts on South Lake HS. #SMPMember PAGE: https://t.co/da0V8vhcZP pic.twitter.com/uPFOL3s6jh

— Brandon Clay (@BrandonClayPSB) December 6, 2015
'18 G Taylor Stelley (FL) has a new @ProspectsNation eval from #EBASuper64. #SMPMember: https://t.co/da0V8vhcZP pic.twitter.com/7GB3fhv50G

— Brandon Clay (@BrandonClayPSB) November 28, 2015
'18 PG Taylor Stelley (FL) showed well at #PSBRealDeal for Florida Lightning. #SMPMember: http://t.co/da0V8vhcZP pic.twitter.com/i7FBoFZZQj

— Brandon Clay (@BrandonClayPSB) October 1, 2015
#PSBSummerInvite Taylor Stelley controls the tempo of the game the moment she touches the court. A good floor general. @SeasonNeverEnd

— ProspectsNation.com (@ProspectsNation) July 24, 2015
#PSBRealDeal Taylor Stelley hits yet another 3. Her and Lindsey Morrow make up an efficient combo. @StelleyTaylor @lindseykmorrow

— ProspectsNation.com (@ProspectsNation) July 10, 2015

Brandon Clay is the owner of the JumpOffPlus.com International Report, Peach State Basketball, Inc., and ProspectsNation.com. The JumpOffPlus.com is picked up by more than 200 colleges and universities nationwide. In addition to serving as ProspectsNation.com WNBA Director of Scouting, Clay serves as the Executive Camp Director for the Elite Basketball Academy Camps. He is a McDonald's All-American Game Selection Committee member. Clay serves on the Naismith Trophy Men's / Women's College Player of the Year Academy and is the National Coordinator of Voting for the Boys / Girls All-American Teams. He has been involved in the community since 2001. You can reach Clay at [email protected]