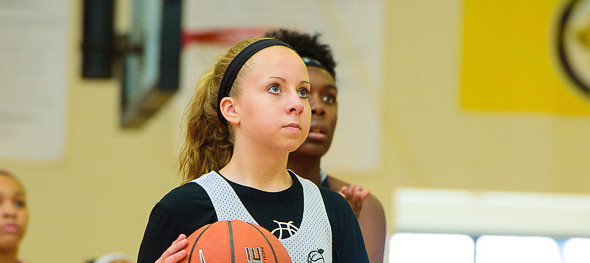 ---
With over 20,000 collective followers on our team's social media outlets, we're in a unique position to assist with both creating awareness of a prospect's skill set and recent on-floor performance. From crisp recruiting updates to updated in-season stats to a potential last-minute change in schedule that needs to be conveyed socially, this package allows the player to control the information available to the public about their game.
Become an #SMPMember: Click the Logo Below

Class of 2018 guard Brittney Nitz of Belleville, Ill., made an impression on the BrandonClayScouting.com Report staff at the EBASuper64 Camp. Director of Elite Basketball Academy Evaluations, Stephen Peck, took notice.
Brandon Clay's takeaway – EBASuper64 Camp (June 2016): Nitz is a point guard who showed her shooting abilities well this weekend. She has a high release on her shot, which gives her consistency to range. She was nearly automatic in camp games this weekend. We would like to see Nitz get a little more aggressive either looking for her shot or creating for others. She has the skills that should project to more productivity in the future.
Stephen Peck's takeaway (June 2016): "Nitz has a high release on her jump shot. She will only improve her game as she becomes more aggressive on the offensive end picking her spots to score it. Fitz showed the basketball skill / IQ to be a real asset on both ends of the floor."
Name: Brittney Nitz
Height: 5'6″
HS Grad Year: 2018
Position: SG / PG
School / Hometown: Belleville East (Belleville, Ill.)
Club Team: Best Choice
College Choice: Missouri Valley
---
Social Media Updates:
#SMPMember🍑 Program News#CommitmentCentral

'18 G Brittney Nitz (IL) signed with Missouri Valley College.

Her #BrandonClayScouting Page: https://t.co/05ctAHpAC0

Full SMP Program Info: https://t.co/8GnB3G0viZ @Britt_Nit pic.twitter.com/MhQLvY5mQB

— Brandon Clay (@BrandonClayPSB) November 29, 2017
#SMPMember🍑 Recruiting

'18 PG Brittney Nitz has offers from Culver-Stockton & MO Valley College.

PAGE: https://t.co/05ctAHpAC0 @Britt_Nit pic.twitter.com/UDoHSGhgco

— Brandon Clay (@BrandonClayPSB) October 4, 2017
#SMPMember Recruiting Exposure

'18 G Brittney Nitz (IL) visited Webster Univ.

LEARN MORE ON NITZ: https://t.co/05ctAHpAC0 @Britt_Nit pic.twitter.com/pi7ZMYpLvQ

— Brandon Clay (@BrandonClayPSB) July 1, 2017
#SMPMember Recruiting

'18 G Brittney Nitz visited MO Baptist. She's also in National Honor Society

PAGE https://t.co/05ctAHpAC0 @Britt_Nit pic.twitter.com/zWZ7o2hmg4

— Brandon Clay (@BrandonClayPSB) June 20, 2017
#SMPMember Exposure Program

'18 G @britt_nit of @beLadyLancers has been working!

LEARN MORE: https://t.co/05ctAHpAC0 @NitzDoug @RUCKD23 https://t.co/40V3wYzFac

— Brandon Clay (@BrandonClayPSB) March 1, 2017
'18 G Brittney Nitz had 16 pts, 6 asts, 3 rbs & 3 stls for Bellevue East

LEARN MORE ON NITZ: https://t.co/05ctAH7Zdq @britt_nit pic.twitter.com/fVzxT9ipR3

— Brandon Clay (@BrandonClayPSB) January 8, 2017
'18 Brittney Nitz of @BELadyLancers is shining. @ruckd23 & @keith_witter got her ready.

PAGE https://t.co/05ctAHpAC0 @Britt_Nit https://t.co/1iAltWghv3

— Brandon Clay (@BrandonClayPSB) January 4, 2017
.@StephenPeckPSB took notice of the summer @Britt_Nit had. @NitzDoug

HIS TAKE: https://t.co/1O9LKJE8FE pic.twitter.com/NnKCNBGfEa

— #SMPMember Program (@SMPMemberPSB) October 25, 2016
'18 Brittney Nitz will rep Belleville East (IL) @Britt_Nit

Combo guard w/ consistent jumper

PAGE:https://t.co/tl0G7XRs7a pic.twitter.com/yNn6mTfngt

— Rebecca Dyer (@RebeccaDyerPSB) October 24, 2016
'18 Brittney Nitz (@Britt_Nit) visited Millikin University last weekend.#SMPMember Central:https://t.co/hgJ4xIIYR9 pic.twitter.com/v16aDMyRwm

— Brandon Clay (@BrandonClayPSB) October 11, 2016
Brittney Nitz's (@Britt_Nit) game stood out to @JLHemingwayPSB in July.

READ: https://t.co/1O9LKJE8FE pic.twitter.com/l5SrlIeKvd

— #SMPMember Program (@SMPMemberPSB) October 10, 2016
'18 G Brittney Nitz (IL) drew praise from @StephenPeckPSB at #EBASuper64

READ: https://t.co/1O9LKJVJxc pic.twitter.com/9fy6U8vCl0

— #SMPMember Program (@SMPMemberPSB) June 30, 2016
#EBASuper64 – I like what Brittney Nitz IL-18 is doing today. Has combo guard ability and makes shots from the perimeter.

— Keil Moore (@KeilMoorePSB) June 5, 2016
#EBASuper64 National Camp:

'18 Brittney Nitz (IL) to rep Belleville East/Best Choice

JOIN: https://t.co/XWZyztwSq6 pic.twitter.com/qLAtptZIv9

— Brandon Clay (@BrandonClayPSB) April 7, 2016
---

Brandon Clay is the owner of the JumpOffPlus.com International Report, Peach State Basketball, Inc., and ProspectsNation.com. The JumpOffPlus.com is picked up by more than 200 colleges and universities nationwide. In addition to serving as ProspectsNation.com WNBA Director of Scouting, Clay serves as the Executive Camp Director for the Elite Basketball Academy Camps. He is a McDonald's All-American Game Selection Committee member. Clay serves on the Naismith Trophy Men's / Women's College Player of the Year Academy and is the National Coordinator of Voting for the Boys / Girls All-American Teams. He has been involved in the community since 2001. You can reach Clay at [email protected]