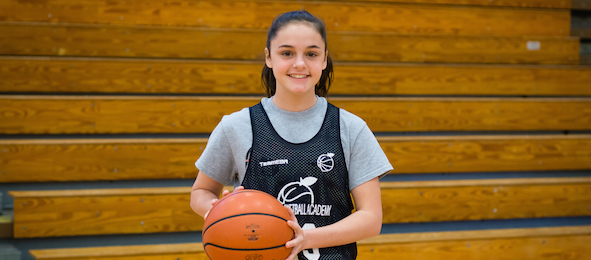 ---
With over 20,000 collective followers on our team's social media outlets, we're in a unique position to assist with both creating awareness of a prospect's skill set and recent on-floor performance. From crisp recruiting updates to updated in-season stats to a potential last-minute change in schedule that needs to be conveyed socially, this package allows the player to control the information available to the public about their game.
Become an #SMPMember: Click the Logo Below

Brandon Clay's takeaway – EBATop40 National Showcase (Mar. 2017):
Kiefer is continuing to improve. A smaller option at the guard spot, Kiefer is a hard worker who has dedicated herself to the game the past 12 months. Look for her to establish herself as a guard capable of handling the ball in the halfcourt upon her return from injury this coming winter.
Class of 2019 guard Ansley Kiefer of Suwanee, Ga., has been working diligently on her craft to improve her game. She's off to a good start with her play at the Elite Basketball Academy Top 40 Camp in March 2016. BrandonClayScouting.com Director of Domestic Scouting, Jonathan Hemingway, got a first-hand look at Kiefer's game at the camp.
Brandon Clay's takeaway – EBAAllAmerican Camp (Sept. 2016): Since her first trip to an Elite Basketball Academy event, Kiefer's skill set has grown with each outing. The class of 2019 guard is handling the basketball and making open shots. Her calling card has always been her willingness to do whatever is asked and the combination of all the above makes her a player to watch.
Jonathan Hemingway's takeaway (March 2016): "Kiefer made a solid first impression at the EBA Top 40 Camp with her strong fundamentals and rock solid work ethic. She is a floor general in the making with her steady ball handling and willness to distribute to her teammates. Kiefer still has physical maturity and game experience in her future."
Name: Ansley Kiefer
Height: 5'4"
HS Grad Year: 2019
Position: PG
School / Hometown: North Gwinnett HS (Suwanee, Ga.)
Club Team: Georgia Ribbon Warriors
---
BrandonClayScouting.com Video Evaluation December 2016
---
Social Media Updates:
#SMPMember🍑 College Recruiting
Fueled by #BrandonClayScouting🍑

"Growing the game one scholarship at a time."

'19 G Ansley Kiefer (GA) chose Lawrence Univ. after visiting last weekend. #CommitmentCentral

JOIN: https://t.co/8GnB3G0viZ

FOLLOW ON 📷 IG: https://t.co/FrgtOjFYMg pic.twitter.com/xf786RVLiw

— Brandon Clay (@BrandonClayPSB) November 7, 2018
#SMPMember🍑 College Recruiting
Fueled by #BrandonClayScouting🍑

Per @Jarrett_PRO, '19 G @ansleykiefer of @NGGirlsbball & @TmLegacyHoops visited Lawrence Univ. last weekend.

PAGE: https://t.co/2xZuFLDLEN

JOIN: https://t.co/8GnB3G0viZ

FOLLOW ON 📷 IG: https://t.co/FrgtOjFYMg https://t.co/wOxhEameyR

— Brandon Clay (@BrandonClayPSB) November 1, 2018
#SMPMember🍑 College Recruiting
Fueled by #BrandonClayScouting🍑

'19 G @AnsleyKiefer of @NGGirlsbball caught @JLHemingwayPSB's notebook at #PSBSummerKickoff with @TmLegacyHoops.

SMP PAGE: https://t.co/2xZuFLDLEN

JOIN: https://t.co/8GnB3G0viZ

📷 IG: https://t.co/FrgtOjFYMg pic.twitter.com/iL6yVIiWJM

— Brandon Clay (@BrandonClayPSB) August 31, 2018
#SMPMember🍑 College Recruiting
Fueled by #BrandonClayScouting🍑

'19 G @AnsleyKiefer of @NGGirlsbball / @TmLegacyHoops has been busy.

Visits last weekend to North Alabama & Lincoln Memorial.

SMP PAGE: https://t.co/2xZuFLDLEN

JOIN SMP: https://t.co/8GnB3G0viZ https://t.co/30bQrz1NzI

— Brandon Clay (@BrandonClayPSB) July 3, 2018
#SMPMember🍑 College Recruiting
Fueled by #BrandonClayScouting🍑

"Invest in your future success today."

'19 G @ansleykiefer of @NGGirlsbball has an offer from @CoachMWilliams_ of Simmons College.

JOIN SMP: https://t.co/8GnB3G0viZ

📷 INSTAGRAM https://t.co/FrgtOjFYMg https://t.co/j6ytoy36p4

— Brandon Clay (@BrandonClayPSB) June 22, 2018
#EBASuper64🍑 National Showcase
🗓 June 2-3
📍 ATL

'19 G @ansleykiefer of @NGGirlsbball visited Simmons College & @CoachMWilliams_

JOIN US IN JUNE https://t.co/tJAgOJkP5h

HER PAGE: https://t.co/2xZuFLDLEN #SMPMember @Insguru1 @makaylaschy @sjkiefer @AP_BBall @VinceSmithPSB https://t.co/jbTWApdbdR

— Brandon Clay (@BrandonClayPSB) May 21, 2018
#SMPMember🍑 College Recruiting
Fueled by @SMPMemberPSB

Need Exposure? We're here to help.

It's official. '19 G @ansleykiefer of @NGGirlsbball & @GAHoopstars_FBC is back!

SMP PAGE: https://t.co/2xZuFLDLEN

JOIN SMP: https://t.co/8GnB3G0viZ

INSTAGRAM https://t.co/jSr8AvCdZB https://t.co/QInDV1sSyc

— Brandon Clay (@BrandonClayPSB) March 13, 2018
#SMPMember🍑 College Recruiting
Fueled by @SMPMemberPSB

Need Exposure?!? We can help.

Available '19 G @AnsleyKiefer is ready to return.

HER #BrandonClayScouting PAGE: https://t.co/2xZuFLDLEN

BECOME AN SMPMEMBER: https://t.co/8GnB3G0viZ

INSTAGRAM: https://t.co/jSr8AvCdZB pic.twitter.com/15MzTPp8nn

— Brandon Clay (@BrandonClayPSB) March 8, 2018
#SMPMember🍑 College Recruiting
Powered by @SMPMemberPSB

'19 G Ansley Kiefer of @NGGirlsbball is ready to return to the court.

Our @TyPhotog 📷 from #EBAAllAmerican in '17 is on my Instagram story: https://t.co/OA4k4vfvLF

JOIN SMP TODAY: https://t.co/8GnB3G0viZ pic.twitter.com/IQjELY2MaT

— Brandon Clay (@BrandonClayPSB) February 13, 2018
#SMPMember🍑 News
Powered by @PeachStateBBall

'19 G Ansley Kiefer (@ansleykiefer) of @NGGirlsbball is close to returning thanks in large part to @CoachRJLuke.

"Her work ethic makes her a difference maker." @BrandonClayPSB

Her #BrandonClayScouting Page: https://t.co/QqwMz1z7vT https://t.co/FIL4YckTmr

— SMP Recruit Exposure (@SMPMemberPSB) January 24, 2018
'19 G @ansleykiefer of @TeamEliteJD is working hard to return to the court soon.

HER PAGE: https://t.co/QqwMz1z7vT https://t.co/3uJIrnQ1Qi

— SMP Recruit Exposure (@SMPMemberPSB) August 1, 2017
#SMPMember Recruiting Exposure

'19 G Ansley Kiefer (GA) is on the comeback trail after an injury.

She'll be a high end academic recruit. pic.twitter.com/VvoEAstV3C

— Brandon Clay (@BrandonClayPSB) June 1, 2017
#SMPMember Recruiting Exposure

"2019 Ansley Kiefer is extremely coachable, a hard worker." – @TeamEliteJD

HER PAGE https://t.co/2xZuFLDLEN pic.twitter.com/zHkHdwZzJP

— Brandon Clay (@BrandonClayPSB) April 24, 2017
'19 @ansleykiefer was solid yesterday and came back this morning charged up

HER #SMPMember PAGE: https://t.co/JUmGedOT8T pic.twitter.com/KSZApbhwXV

— Kris Watkins (@KrisWatkinsPSB) March 12, 2017
'19 Ansley Kiefer (GA) putting in skill work w/ @BrandonClayPSB @AP_BBall

Her #SMPMember Page:https://t.co/JUmGedOT8T pic.twitter.com/DZXw71ZTc7

— Kris Watkins (@KrisWatkinsPSB) March 11, 2017
#EBATop40 National Camp

Mar. 11-12#SMPMember '19 G Ansley Kiefer is ready. She's consistently improving!

JOIN: https://t.co/E2LhIzBges pic.twitter.com/OGrjQMzl8t

— Brandon Clay (@BrandonClayPSB) February 1, 2017
'19 G @AnsleyKiefer (GA) took advantage of @AP_BBall & @CoachHemi opening the gym. Showed an improved jumper & shooting range. pic.twitter.com/9IrPEvpZEM

— Brandon Clay (@BrandonClayPSB) December 30, 2016
'19 G @ansleykiefer (GA) keeps growing her game w/@AP_BBall. @BrandonClayPSB will watch tomorrow.

PAGE: https://t.co/QqwMz1z7vT https://t.co/jRQSKnCQ1Q

— #SMPMember Program (@SMPMemberPSB) December 28, 2016
'19 PG Ansley Kiefer made NG's varsity. Now she has a new video eval

WATCH: https://t.co/2xZuFLDLEN pic.twitter.com/aeKtQ8wBpD

— Brandon Clay (@BrandonClayPSB) December 2, 2016
'19 Ansley Kiefer has a Brand New Video Eval on her Page w/ breakdown from @BrandonClayPSB

Watch Herehttps://t.co/JUmGedOT8T pic.twitter.com/fz81DqYIR1

— Kris Watkins (@KrisWatkinsPSB) December 2, 2016
'19 @ansleykiefer of @NGGirlsbball had a good showing at #CoachHemiWorkout

Her Page:https://t.co/JUmGedOT8T pic.twitter.com/FXzTUghnAY

— Kris Watkins (@KrisWatkinsPSB) October 31, 2016
'19 Ansley Kiefer is a quick PG & shined at #EBAAllAmerican in September.

READ: https://t.co/2xZuFLDLEN pic.twitter.com/IrxhKoCxaP

— Brandon Clay (@BrandonClayPSB) October 24, 2016
'19 Ansley Kiefer (GA) is a high motor guard with a blue collar work ethic https://t.co/Bndq8bJUJE pic.twitter.com/sPcD8u92r3

— Rebecca Dyer (@RebeccaDyerPSB) September 30, 2016
Ansley Kiefer continues to grow her game in multiple dimensions.

READ HERE: https://t.co/zwXb2XwruX pic.twitter.com/ZLWGLvDZlL

— #SMPMember Program (@SMPMemberPSB) September 29, 2016
Ansley Kiefer impressed at #EBAAllAmerican w/ her high motor & vision.

HER PAGE:https://t.co/2xZuFLDLEN pic.twitter.com/qbaq0OXVLH

— Brandon Clay (@BrandonClayPSB) September 7, 2016
.@AP_BBall loves @AnsleyKiefer of @NGGirlsbball. She has a Sept. 3-4 #EBAAllAmerican bid: https://t.co/HDjwagc7NG https://t.co/NB5LYbFlZf

— ProspectsNation.com (@ProspectsNation) August 11, 2016
"Ansley Kiefer was a summer stock riser. Playing with confidence." – @CoachHemi#SMPMember: https://t.co/QqwMz1hw7j pic.twitter.com/C86brcUmNw

— #SMPMember Program (@SMPMemberPSB) August 11, 2016
'19 G Ansley Kiefer impressed @coachhemi at #EBATop40 Camp in March.

HER EVAL: https://t.co/2xZuFLmagd pic.twitter.com/yxcEoVLGuW

— Brandon Clay (@BrandonClayPSB) June 23, 2016
Check out another newcomer; '19 Ansley Kiefer from GA

PAGE:https://t.co/Bndq8bJUJE pic.twitter.com/O0Uin2tsUH

— Rebecca Dyer (@RebeccaDyerPSB) May 19, 2016
We're glad to add '19 G Ansley Kiefer of @NGGirlsbball & @CoachO10.

HER PAGE: https://t.co/2xZuFLmagd pic.twitter.com/FXyppOjDNn

— Brandon Clay (@BrandonClayPSB) April 21, 2016
'19 Ansley Kiefer will rep @NGGirlsbball & @CoachO10 at #EBATop40 on Mar. 5-6

JOIN HER: https://t.co/E2LhIzBges pic.twitter.com/24zO25R1RI

— Brandon Clay (@BrandonClayPSB) January 26, 2016

Brandon Clay is the owner of the JumpOffPlus.com International Report, Peach State Basketball, Inc., and ProspectsNation.com. The JumpOffPlus.com is picked up by more than 200 colleges and universities nationwide. In addition to serving as ProspectsNation.com WNBA Director of Scouting, Clay serves as the Executive Camp Director for the Elite Basketball Academy Camps. He is a McDonald's All-American Game Selection Committee member. Clay serves on the Naismith Trophy Men's / Women's College Player of the Year Academy and is the National Coordinator of Voting for the Boys / Girls All-American Teams. He has been involved in the community since 2001. You can reach Clay at [email protected]