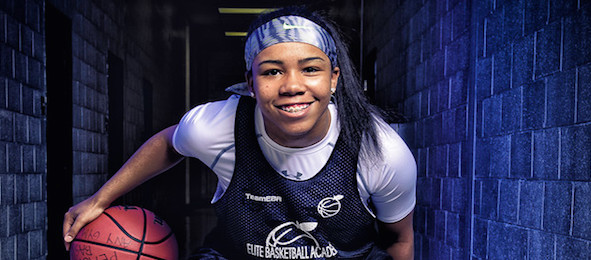 ---
With over 20,000 collective followers on our team's social media outlets, we're in a unique position to assist with both creating awareness of a prospect's skill set and recent on-floor performance. From crisp recruiting updates to updated in-season stats to a potential last-minute change in schedule that needs to be conveyed socially, this package allows the player to control the information available to the public about their game.
Become an #SMPMember: Click the Logo Below

---
Class of 2019 guard Alea Spears of Lawrenceville, Ga., has proven herself as a prospect for our staff to keep close tabs on. BrandonClayScouting.com Assistant Director of Domestic Scouting, Stephen Peck says that "Spears is a capable scorer on the perimeter who plays the game with energy and passion."
Brandon Clay's takeaway – EBAAllAmerican Camp (June 2016): Spears is a talented guard prospect who was effective in an off the ball role during gameplay. She has shown her talent throughout the club season with #PSBFamily member Georgia Hoopstars. Spears is aggressive on the offensive end creating shot attempts for herself off of the dribble. Spears has the frame and ability to be a high end defender as well when she brings that same energy to the other end of the hardwood.
Name: Alea Spears
Height: 5'6″
HS Grad Year: 2019
Position: SG
School / Hometown: Mountain View HS (Lawrenceville, Ga.)
Club Team: FBC
---
Social Media Updates:
'19 Alea Spears dropped 19pts last night in a win for @MVHSLadyBearsBB

Read About Her:https://t.co/PhMD9lO3Om pic.twitter.com/GLruvhGt0t

— Kris Watkins (@KrisWatkinsPSB) January 29, 2017
'19 Alea Spears (GA) Dropped 19pts at @DSCTourney yesterday

HER PAGE:https://t.co/FTpk2smLcE… pic.twitter.com/SnSOzjZ86r

— Kris Watkins (@KrisWatkinsPSB) December 30, 2016
'19 G Alea Spears (GA) leads Mountain View HS in the Deep South Classic this week.

PAGE: https://t.co/3VkzfE2SXA @GBACoach pic.twitter.com/4a4pYa3Uej

— Brandon Clay (@BrandonClayPSB) December 28, 2016
'19 Alea Spears got high praise from @BrandonClayPSB at #EBAAllAmerican.

READ: https://t.co/395mbZbqzp pic.twitter.com/ehtz019OS5

— #SMPMember Program (@SMPMemberPSB) November 8, 2016
'19 Alea Spears(GA) has been a stock riser in PSB events this summer

HERPAGE:https://t.co/8zAwjQEP29 pic.twitter.com/mfsYmG5lNG

— Rebecca Dyer (@RebeccaDyerPSB) October 12, 2016
Welcome '19 G Alea Spears (GA)

Mountain View HS | Georgia Hoopstars

HER PAGE: https://t.co/3VkzfEktP8 pic.twitter.com/JrPL2Rwop9

— Brandon Clay (@BrandonClayPSB) June 13, 2016
#SMPMember Stock Risers:

Alea Harris
Calyn Richardson
Paige Shy
Alea Spears

PROGRAM INFO: https://t.co/8GnB3FITUp pic.twitter.com/J6aMVpHv5J

— Brandon Clay (@BrandonClayPSB) June 4, 2016
#EBASuper64#SMPMember '19 Alea Spears @SpearsAlea has really impressed w/ her game today. Scoring from range & at the rim.

— Kris Watkins (@KrisWatkinsPSB) June 5, 2016
'19 Alea Spears will rep Mountain View & @GAHoopStars on June 4-5.

JOIN HER: https://t.co/XWZyztfh1w pic.twitter.com/7x7R1m6IJ3

— Brandon Clay (@BrandonClayPSB) May 26, 2016
#EBATop40 Jenna Brown to Alea Spears in the baseline drift drill. @SpearsAlea @TeamElitebball pic.twitter.com/heCzdATapY

— Jonathan Hemingway (@CoachHemi) March 5, 2016
19′ Alea Spears (Ga Red Storm) knocking down shots and finding the open teammate here at #EBASuper64. @GeorgiaRedStorm

— ProspectsNation.com (@ProspectsNation) June 6, 2015
---

Brandon Clay is the owner of the JumpOffPlus.com International Report, Peach State Basketball, Inc., and ProspectsNation.com. The JumpOffPlus.com is picked up by more than 200 colleges and universities nationwide. In addition to serving as ProspectsNation.com WNBA Director of Scouting, Clay serves as the Executive Camp Director for the Elite Basketball Academy Camps. He is a McDonald's All-American Game Selection Committee member. Clay serves on the Naismith Trophy Men's / Women's College Player of the Year Academy and is the National Coordinator of Voting for the Boys / Girls All-American Teams. He has been involved in the community since 2001. You can reach Clay at [email protected]