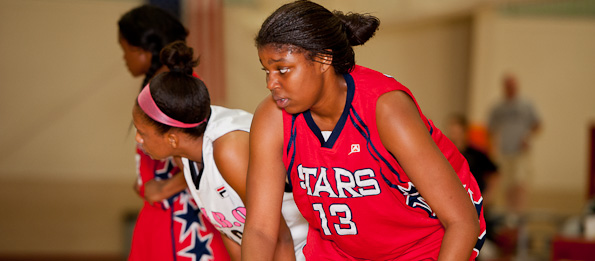 FRANKLIN, Tenn. – For the second year in a row, Peach State Basketball will set the stage for high level competition outside of the state of Georgia.  The A Game facility in Franklin, Tennessee provides the venue for one of the newest up and coming tournaments in the July viewing period.  While last year was a great success, this year proves to be even better with more competition being packed in the gym.  Here is a look ahead at the action that is anticipated.
By: Jonathan Hemingway
Defending Their Titles
Last year the Spiece what do i write my college application essay about Gym Rats program dominated last year's  tournament by taking three of the four brackets for themselves.  This year they return with many of the same names on the roster in hopes of repeating their success.  The New Jersey Lady Sparks took the lone bracket not won by the Gym Rats.  The ladies from the Northeast are back again hoping to do the same again this summer.
New Challengers
This year's field should be even more competitive than last year.  A talented team from Texas, San Antonio's Finest, is a team that could make an instant run at a bracket title this year in Franklin.  In addition, the Philly Freedom Stars and the Missouri Phenom will make an appearance with a talented rosters.  A new team on the scene is Team Arkansas Elite.  They literary analysis essay great expectations could be a favorite for an upset special in bracket play.   And pay close attention to the West Virginia Thunder 2015 squad.  This is a team this is set to dominate a sophomore age division.
Player Watch
Recent Elon commit, MacKenzie Darrah (Buford, Ga./Buford), has been very good this calendar year.  Look for her to have a solid showing this summer.  Christa Reed (Bay St. Louis, Miss/Bay) is a name that our Elite Basketball Academy staff has become familiar with in the past year.  She can make plays from the wing and she should be an impact player in the Real Deal.  The point guard play in the A Game facility should be some of the best that you will see all summer.  Look for Gabby Bowie (San Antonio, TX/Lady Bird Johnson), Tiara what should i write my economics paper on Murphy (South Bend, Ind/Washington) and Alexis Robinson (Catlettsburg, Ky/Ashland) to put on some great shows.  In addition to the great backcourt play, we anticipate some great frontline battles as well.  Look for Cierra Porter (Missouri/Rock Bridge) and Erica Moore (Indianapolis, Ind/Mt. Vernon) to do battle in the lane.  The table has been set for some great individual and team match-ups at the A Game Facility.
Jonathan Hemingway is the Assistant Director of Scouting for the JumpOffPlus.com. The service is used by more than 150 colleges and universities nationwide. He also serves on the selection committee for the EBA All-American, Fab Five and Super 64 Camps. He has been involved in the community since 2002 as a coach, camp director and evaluator. You can reach him via email at JonathanHemingway@PeachStateBasketball.com and follow him on twitter @JLHemingway