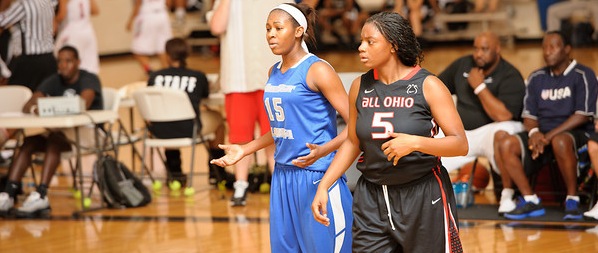 AUGUSTA, Ga. – The center of the world of women's basketball shifts to the eastern seaboard during the last week of July. With over 100 schools in attendance during the course of the Elite 32 Summer Jam Session I, the players who competed at Augusta State University received ultimate exposure and played versus some of the top competition in the nation. On day three of the Elite Summer Jam Session saw championship games being played. Here using essay writing service is a quick overview of the Any Gym is Home Bracket.
By: Jonathan Hemingway
Featured Game
All Ohio Red versus New Jersey Sparks
AnyGymIsHome Bracket
All Ohio Red – Jay Bee Bethea
Road to the Ship:
1st Round 48-34 over Western PA Bruins
2nd Round 54-51 over Louisiana Lady Heat
New Jersey Sparks – Keith Gilchrist
Road to the Ship:
1st Round 47-38 over Team Arkansas Elite
2nd Round 60-41 over E.O.T.O.
All Ohio is a grassroots program that has established themselves as literary analysis essay on 1984 one of the best in the nation. With the quality of players that they have in their program, they are able to field multiple teams who have a number of college prospects. On this night, their Red squad was led by the No. 1 player in the 2014 class as ranked by ESPNHoopGurlz, Kelsey Mitchell. They met the New Jersey Lady Sparks in the championship game, who feature one of the games best forwards in the 2013 class, 6 foot 2 Teanna Muldrow.
Watch the full game here:
Jonathan Hemingway is the Assistant Director of Scouting for the JumpOffPlus.com. The service is used by more than 150 colleges and universities nationwide. He also serves on the selection committee for the EBA All-American, Fab Five and Super 64 Camps. He has been involved in the community since 2002 as a coach, camp director and evaluator. You can reach him via email at JonathanHemingway@PeachStateBasketball.com and follow him on twitter @JLHemingway