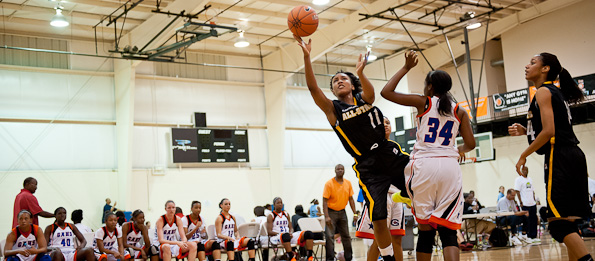 AUGUSTA, Ga. – The center of the women's basketball world shifts to the muggy cities of Augusta, Ga. and North Augusta, SC at the end of the July viewing period. College programs send their entire staffs to watch the best summer basketball teams play for a final time during July. One reason why the Augusta region has become so important is because of the Peach State Basketball Summer Jam Tournaments. Here is a preview of some of the top teams and players who will compete at Augusta St. University during Summer Jam Session I.
By: Jonathan Hemingway
literary analysis essay catcher rye
Follow @JLHemingway
Lift Off
The first session of Summer Jam starts off with summer spectacular matchups in the AnyGymIsHome Division. The 2:20pm game featuring the New Jersey Sparks and Team Arkansas Elite should prove to be one of the most competitive of the day. Other favorites in this bracket include the Arizona Warriors and the Western PA Bruins. Both of these squads are lined with Division One commitments. In the Peach State Bracket, the Spiece Gym Rats Silver look to add another championship to their belt after claiming the crown at the Real Deal in the 'Ville earlier in July. However, watch the first round matchup between the Carolina All Stars 2013 and top rated essay writing websites Ring City Elite Jr. The winner of this game could gain enough momentum all the way to the 3:30 championship game on Saturday.
Ball So Hard
With such great teams in session one, there are some top notch names along with these teams. One player who definitely balls hard is Jade Walker from Ring City. Do not try to stand in her way of a rebound. Courtney Ekmark who is University of Connecticut commit and a Team EBA All American will be at Augusta State leading her Arizona Warriors team. Recent Duquesne commit Erin Waskowiak will also hit the court with her teammate, Erin Mathias, poised to make some noise and turn some heads in the Any Gym is literary criticism essay on hamlet Home bracket. College coaches have been tracking Bria and Briana Day all summer long. They will be packed around once again to watch the 6 foot 3 twin centers for one last time this summer. Be watching for these players and many others to make headlines in Augusta.
Jonathan Hemingway is the Assistant Director of Scouting for the JumpOffPlus.com. The service is used by more than 150 colleges and universities nationwide. He also serves on the selection committee for the EBA All-American, Fab Five and Super 64 Camps. He has been involved in the community since 2002 as a coach, camp director and evaluator. You can reach him via email at JonathanHemingway@PeachStateBasketball.com and follow him on twitter @JLHemingway