In the past 13 years the Carolina Express organization helped over 34 athletes play basketball at the collegiate level. Three more players are committed in the 2016 class and expect a few more commitments before signing day. This shows that the Express actively promote athletes year after year to the next level. However, the Carolina Express keep their priorities in order and focus on development first. Here is a recap of their 2015 season.


Program Director
Cleon Cook, President
Derone McNeil, VP
Mike Hendrick Sr., VP
Program Headquarters
Statesville, NC
Official Twitter
Official Website
www.leaguelineup.com/carolinaexpressshowcase
PeachStateBasketball.com Tournaments Attended:
#PSBPreSeason
#PSBRealDeal
#PSBElite32
#PSBEndoftheRoad
Notable Alumnae
Sara Dudzinski (2015) – Jacksonville College
Kelly Dulkoski (2013) – Kennesaw State
Antaijah Easter (2014) – Western Carolina
Madison Ferguson (2015) – Columbia College
Keri Fulp (2013) – Wake Forest University
Brianna Johnson (2011) – Catawba
Mariah Johnson (2014) – Coker
Cameron Sealey (2008) – Lenoir Rhyne
Alex Young (2008) – Boston University
Alumnae Catch-up

Alex Young completed a successful career at Boston University in 2012, where she became the 19th player in school history to score 1,000 points for the Terriers. She broke the school record for 3-pointers made in a career while playing at BU. In recent years Young served as an assistant coach at the University of Chicago and Gardner Webb. She is now employed by a Sports Marketing and Media company called rEvolution, which is based in Chicago, Ill.
Young's Carolina Express teammate, Cameron Sealey also completed a noteworthy playing career at Lenoir-Rhyne University. She ranks sixth on the all-time scoring list at LRU by scoring 1,493 points while playing for the Lady Bears. Sealey helped coach Todd Starkey's team win a pair of conference titles in 2009 and 2010. This past year Sealey was hired by coach Sharon Baldwin-Tener at Georgia State University as an assistant coach.

Committed 2016 Players
Tatum Boggs – Converse College
Tyler Mercer – UNC-Pembroke
Madison Zaferatos – Brenau University
Uncommitted 2016 Players
Camila Drake
Cheyenne Matson
Caleigh Raby
Amy Rhoney
Melissa Roulier

Program Vision from Cleon Cook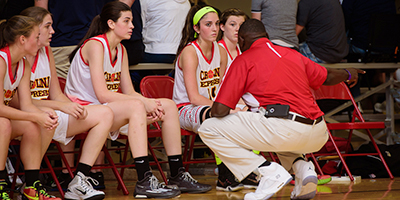 The passion that is within the Carolina Express organization is easily seen on the sideline by coach Cleon Cook. However, the enthusiasm and energy is focused purely on to helping and providing opportunities for young ladies on the basketball court. Coach Cook explains, "The purpose of our organization is help athletes develop their basketball skills, which will open up future opportunities for all of them. We believe that those doors can be opened if these young women develop a positive attitude and self-image."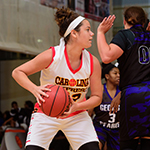 The objective of travel basketball usually centers around winning and scholarships. However, coach Cook explains how to keep things in proper perspective. He says, "We promote the idea that scholarships are earned not given. If we stick to our core beliefs of development, positive attitudes and athletic excellence then that will come as a result. Winning is secondary to all of these things. We focus on development and the wins will come as a by-product."
Season Highlights
#PSBEndoftheRoad Features #PSBFamily Carolina Express. Watch them on @SUVtvhttp://t.co/PJHCRzok7M@MaddyZaferatospic.twitter.com/PBgU0ueYe5

— Jonathan Hemingway (@JLHemingwayPSB) September 27, 2015
Every year presents new challenges for every team to overcome. Coach Cook talked about how the Express pushed through this year's obstacles, "We played so many games where we were undersized or outmatched. However, our discipline and fundamentals often pulled us through."
Cook mentions how the family atmosphere was a key ingredient to this year's success. He says, "We came together quickly as a team. We pushed each other in practice and that intensity overflowed into tourney time. Our kids encouraged one another along the way."
Cook mentioned one moment in time that will stick out in his mind forever. He says, "Cheyenne Matson stood in front of her team with tears in her eyes and said, 'I want to thank each one of you for being a family to me. I love you all!'"

Coach Cook explains, "What Matson said is bigger than anything on the court. We always preach #MoreThanBasketball, because that is what Carolina Express represents."
Individual Standouts

This year's group of players feature three commitments in the 2016 class. Guard Madison Zaferatos was a standout at #TeamPSB and #TeamEBA events in the past years. She recently gave her verbal commitment to coach Kris Stewart at Brenau University. Guard Tatum Boggs gave her verbal commitment to Converse College while Tyler Mercer is headed to UNC-Pembroke next year.
Coach Cook's group has several uncommitted 2016 players that project as college ball players. Post Amy Rhoney of Morganton, N.C., heads that list as a strong interior player with soft touch around the rim.  While 6-2 Melissa Roulier of Charlotte, N.C., earned praise from JumpOffPlus.com evaluators in recent years with her energy on the defensive end. Add in prospects Camila Drake, Cheyenne Matson and Caleigh Raby who all bring solid academics and the Carolina Express have prospects that should draw attention from a bevy of college coaches this high school season.
Future
Coach Cook mentions several players who should carry the tradition of the Express next year and beyond. Keep a close eye on the development of class of 2017 6-2 post Grace Canella of Newton, N.C., going into next season. The high academic prospect has length and skill to affect the game inside and out. Also class of 2017 players such Lacey Annas, Brooke Williams, Kylie Thomas and Alexis Anthony have gained valuable experience in tourneys and are poised for a big year next season.
The pipeline of talent stretches into the 2018 class and beyond with players such as Elizabeth Howard, London Liles, Aasia McNeil and Morgan Lewis. If history is any indication of future success, these players will experience success because of the atmosphere that the Carolina Express provides.
ProspectsNationTV presented by the SUVtv: Carolina Express vs. Blue Star Florida from #PSBEndoftheRoad


Jonathan Hemingway is the Assistant Director of Scouting for the JumpOffPlus.com International Scouting Report, is on the Naismith Trophy Board of Selectors and owns CoachHemi.com, the go-to source for coaches for X's and O's.  He is the floor director of #TeamEBA camps, a site director for #TeamPSB tournaments and can be reached at jonathanhemingway@peachstatebasketball.com.