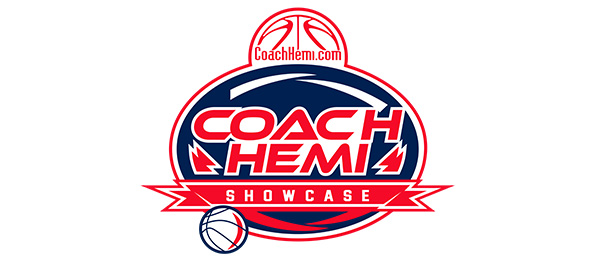 Be Seen at the Coach Hemi Showcase this Fall.
September 16 – Lebanon, TN
October 7 – McDonough, GA
October 13 – Winston Salem, NC
October 14 – Knoxville, TN
Click the ProspectsNation.com Player Cards for evaluations, stories and videos.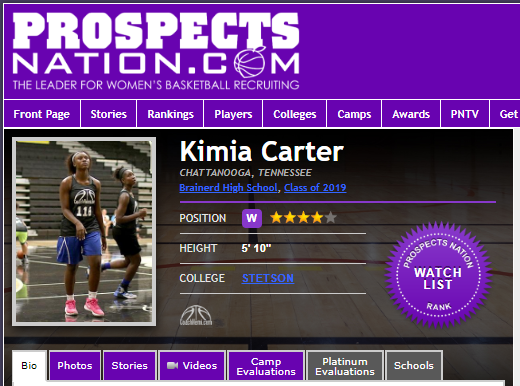 Class of 2019 wing Kimia Carter of Chattanooga, Tennessee, committed to Stetson University last week. The power wing played for Team Elite EYBL this summer on the circuit. Carter earned an offer from the previous staff at Ole Miss and a handful of other schools from across the nation before settling on the Atlantic Sun Conference school.
Coach Hemi's Take
Coach Lynn Bria has great success at recruiting fringe Power 5 Conference prospects in years past. Carter's physical presence makes her a tough match-up for many perimeter defenders. She is a consistent interior scorer off the drive and offensive put-backs. Her outside shot, which was an area of improvement, has turned into a skill that opponents must pay attention to consistently.
Carter's Coach Hemi Player Page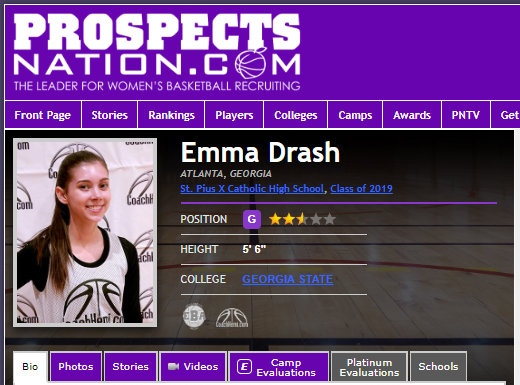 Class of 2019 guard Emma Drash of Atlanta, Georgia, committed to first year coach Gene Hill at Georgia State University. The 5-foot-6 shooting specialist plays for high school state power St. Pius X and coach Kyle Snipes during the school season.
Coach Hemi's Take
Drash cemented her reputation as one of the state's top shooting specialists during the travel ball season. We saw her put up 30 plus points at #PSBPreSeason on seven 3-pointers. Drash next-level shooting ability that will be a nice asset for coach Hill in upcoming seasons.
Drash's Coach Hemi Player Page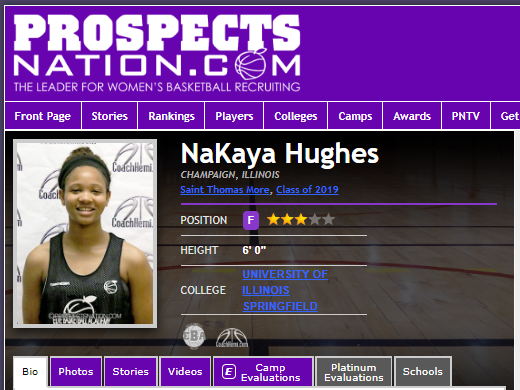 Class of 2019 forward NaKaya Hughes of Champaign, Illinois, committed to in-state Division-II program University of Illinois-Springfield. She played for the Indy Lady Gym Rats on the travel circuit and at Saint Thomas More during the school year.
Coach Hemi's Take
Hughes is a versatile forward who brings a high energy attitude to the court consistently. She is a consistent rebounder and is agile enough to defend on the perimeter. Her mobility on the offensive end allows her to play with her back to the basket or facing up at the top of the key. She projects to be an instant contributor for the Prairie Stars.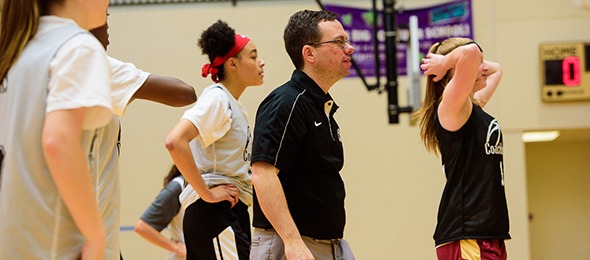 See recaps and Media from previous camps this year:
March 3/4 – Coach Hemi Showcase (Lawrenceville, GA)
March 10 – Coach Hemi 317 (Carmel, IN)
March 11 – Coach Hemi 931 (Crossville, TN)
March 31 – Coach Hemi Final 4 (Columbus, OH)
May 26 – Coach Hemi 919 (Smithfield, NC)

Jonathan Hemingway is the Assistant Director of Scouting for the JumpOffPlus.com International Scouting Report, is on the Naismith Trophy Board of Selectors and owns CoachHemi.com, the go-to source for coaches for X's and O's.  He is the floor director of #TeamEBA camps, a site director for #TeamPSB tournaments and can be reached at [email protected].