The Atlanta Lady Celtics have a track record of educating and developing student-athletes over the past ten years. With a specific objective of teaching life skills to young women in the Greater Atlanta area, coach Daphne Pierce-Smith and her staff have helped several dozen players get to the next level. Read about their success in the 2015 season.

#PSBSpringShowdown Tatyana Davis (GA-17) is a dynamite PG. Read about her RECAP–> http://t.co/xYDZ7z8ybA @tatyana_d4 pic.twitter.com/o08GTSYvgw

— Jonathan Hemingway (@JLHemingwayPSB) March 30, 2015
Program Directors
Daphne Pierce-Smith – Director Karl McCray – President
Program Headquarters
 Snellville, GA / Atlanta, GA
Official Twitter
Official Website
  www.AtlantaLadyCeltics.com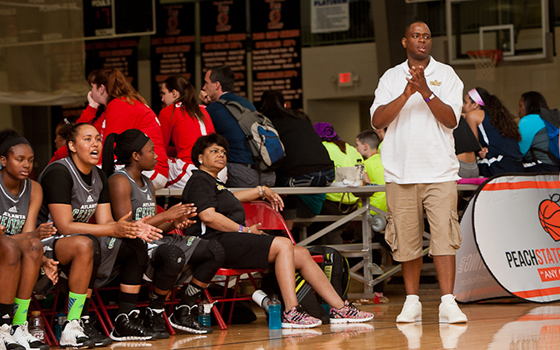 PeachStateBasketball.com Tournaments Attended:
#PSBSpringShowdown #PSBPreSeason #PSBTipOffClassic #PSBSummerKickoff #PSBSummerInvite          
Our Freshman Team with Angel McCoughtry #PSBTipoffClassic pic.twitter.com/Ue7Mrn5q1W — ATL Celtics Girls (@atlladyceltics) April 25, 2015
Notable Alumnae
2010: Chancie Dunn / Clemson University
2010: Alondra Rivers / Alabama A&M
2010: Pilar Smith / Erksine College/Berry College
2011: Teanna Robinson / Mercer University
2011: Anna Claire Knight / GA Southern University
2011: Christina Gamble / Air Force Academy
2011: TaShayla Steede / Georgia Southern University
2012: Lucy Mason / UNCG
2012: Brianna Lawrence / Tennessee State University
2013: Moses Johnson / UT-Chattanooga
2013: Ty Reynolds / Lander University
2013: Klarissa Weaver / UNC Asheville
2013: Shaundricka Mann / Shorter College
2014: Brea Elmore / University of Memphis
2014: Jada Byrd / Xavier University (Cincinnati, OH)
2014: Tori Pharr / University of North Florida
2014: La'Shayla Pittman / Valdosta State University
2014: Avery Scarbrough / Emmanuel College
2015: Arielle Harvey / UNCG
2015: Sydney Bozeman / Furman University
2015: Ashlee Jones / Longwood University
2015: Iceis Walker / Kennesaw State University
Alumnae Catch-up
Atlanta Lady Celtic alumna Lucy Mason, a 2012 graduate of Chamblee Charter School, finished a remarkable junior year at UNC-Greensboro. She became the 24th player in school history to score 1,000 points. However, even more notable was Mason being selected to her first Scholar-Athlete team. She earned a 3.86 GPA while studying Economics and African-American studies. She also landed on the 2015 Winter Academic All-SoCon team last season.
Committed 2016 Players
Ebony Hargrove – University of Massachusetts
Shandrea Leverett – South Florida
Tierra Steede – Charleston Southern
Taylor Tucker – University of Massachusetts
Uncommitted 2016 Players
Sydney Nash – (High Academic Candidate)
Program Vision from Daphne Pierce-Smith

The Atlanta Lady Celtics have a very clear objective that they aim to achieve each year. Coach Pierce-Smith says, "We teach life skills to student-athletes who are interested in pursuing basketball as a means of acquiring a college degree."
While basketball is the vehicle to help carry these young ladies to the next level, the Celtics also help educate on the best methods on how to do so. Pierce-Smith explains, "We develop a sense of community and help them recognize the value of good citizenship. We also help point out the pitfalls of of poor decision making."
While other programs may want to push their players to the biggest school possible, the Lady Celtics have another motto. Pierce Smith quotes, "'Division-Free' is our motto, which is a simple concept of choosing a school that will pay for your education."
Their focus has paid dividends with upwards of 90% of their student-athletes receiving offers to play basketball at the collegiate level yearly.
Highlights from the #PSBSpringShowdown courtesy of @KrisWatkinsPSB
(ATL Lady Celtics Highlights begin at the 1:00 mark)
Season Highlights
The Atlanta Lady Celtics are well on their way of achieving their season goals. Four players have already given their verbal commitment to play at a Division One school. The first to accept an offer was Shandrea Leverett of South Effingham, Ga., to the University of South Florida. The 6-foot-3 post showed agility and shot blocking skills, which should translate well for coach Jose Fernandez in the American Conference.
A pair of class of 2016 Lady Celtics committed to the University of Massachusetts. Six-foot forward Taylor Tucker of Covington, Ga., is a versatile presence who can score inside and out. Whereas 6-1 wing-forward Ebony Hargrove of Eatonton, Ga., showed some of the biggest improvement of any prospect in the state this spring. Both should contribute in the Atlantic-10 Conference in years to come.

#PSBSummerInvite Packed line for game 1. GBL Elite vs Atl Lady Celtics. Miami, Stetson, Fresno St, Indiana + MORE pic.twitter.com/NrCNrhlE9W

— Jonathan Hemingway (@JLHemingwayPSB) July 23, 2015
Tierra Steede of Marietta, Ga., also showed dramatic improvement in the past 12 months. The 6-1 forward expanded her game with ball handling and range on her jumper. She brings a wealth of promise to coach Fred Applin's program at Charleston Southern in the future.
The lone uncommitted prospect from this year's class is Syndey Nash of Madison, Ga. The 5-5 guard was a consistent contributor for the Lady Celtics this year as a ball handler and defender. A high academic achiever has garnered serious interest from college coaches in the past months. Look for her to have a big senior year at Morgan County High School.
Future
The Atlanta Lady Celtics have a budding star in point guard Tatyana Davis of Buckhead, Ga. Davis earned praise from ProspectsNation.com evaluators last year and even garnered a number of offers as a class of 2017 prospect. Watch for Davis to gain even more attention heading into junior year at Morgan County High School.
ProspectsNationTV presented by the SUVtv: Atlanta Lady Celtics vs. Tennessee Xtreme Dru from #PSBSpringShowdown



Jonathan Hemingway is the Assistant Director of Scouting for the JumpOffPlus.com International Scouting Report, is on the Naismith Trophy Board of Selectors and owns CoachHemi.com, the go-to source for coaches for X's and O's.  He is the floor director of #TeamEBA camps, a site director for #TeamPSB tournaments and can be reached at jonathanhemingway@peachstatebasketball.com.