The Tampa Titan organization was created in 2011 as a way to bring exposure and development to basketball players in the Tampa area. Their counter-cultural strategy to travel basketball is already having positive effects for their player's recruitment. Read about their approach to the grassroots basketball and their standout players.
Program Director
Sean Hayes
Program Coaches

2017 – Rob Walker
2018 / 2019 – Sean Hayes
2020 – Matt Berrenbaum
Assistant Coach – Charles Reed
Official Website
Official Twitter
Program Vision from Coach Rob Walker
The visibility of boys grassroots basketball has never been greater than it is today. Shoe companies fund dozens of programs from coast to coast while hundreds of scouting services exist to cover the tournaments and camps. However, much of that attention is geared towards nationally ranked players or those who are bound to become McDonald's All-Americans. The unfortunate effect of that attention is that travel teams sometimes merge or temporary alliances are made to make a team for one weekend. In the wake of past instability, the Tampa Titans emerged as an alternative culture that is designed to develop and promote players in the Tampa area.
When asked what the Titans were about, coach Walker said "We understand that not every kid is meant to play for a shoe sponsored team. That does not mean those kids cannot play college basketball. That is what we are built for, to be a beacon of light for those players and families."
Walker went on to talk about the Titans counter-cultural approach to travel basketball. He says, "We are very methodical in our approach. We are about developing kids first; basketball skills, academics and basketball acumen. The recruitment is the by-product of our program and not vice-versa."
There is also much internal education of college basketball outside the world of Division-I. Walker says, "There is a lot of good basketball being played outside of the so called 'big-names.' We help our kids understand that they can take advantage of those opportunities."
Program Philosophy
The development of players on and off the court is a systematic process according to Walker. He explains, "We budget a practice plan weekly. We try to work with our kids four to six hours a week. Our philosophy is much more than just showing up and playing."
The process of training the players on the court primarily centers around skill development and defense. Walker says, "We have the idea that if we focus on players' skills, we will have better results during the game. We do not focus a lot on running plays, but try to focus on teaching them how to play."
Walker also mentions the importance of picking the right place for exposure. "We only go places where we have a direct relationship with the tournament director. This has helped us get the right match-ups and get great exposure along the way."
Read about the Standouts from the Tampa Titans Workout
(

Click Below

)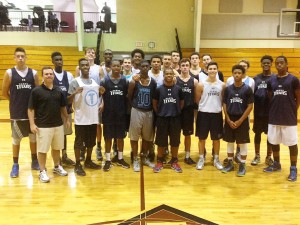 Standout Players
The class of 2017 will be the first cycle of prospects that graduate through the Titan organization. These individuals have earned positive reputations within the basketball community and are already gaining college interest.
Reid Walker of Lithia, Fla., is a player who has made the biggest leap of any player within the program. He turned into a primary scorer for the Titans by averaging nearly 16 points per game on the travel circuit. He also earned adoration from Elite Basketball Academy evaluators with his play at camps this year.
A point guard that has also improved physically in the past year is Nick Stuck of Lithia, Fla. The 6-foot-1 point guard is heady ball handler who can also score the basketball. As coach Walker says, "Nick held his own against many of the top tier players we played against this year. He is an underrated play-maker and is a better athlete than you think."
The best shooter in the program is Drew Bethoney of Valrico, Fla. The 6-3 guard has a release as quick and accurate as anyone in the state of Florida. Walker backs this up, "We kept stats on every single game we played this year. Drew shot 56% from 3-point range. It is an incredible percentage! He is a terrific shooter!"
The player who could turn into the best college prospect on the roster is DJ Jorden of Tampa, Fla. The 6-5 wing forward is a great rebounder and defender. His wing span and athleticism have him only scratching the surface of his true potential. Walker says, "DJ is a great kid. He has no ego and a high ceiling. He continues to get better and we think his best days of playing are still in front of him."
Future
Walker talks about the program is stacked for future success because of the underclassmen talent. He mention class of 2018 play-making guard Isaiah Islam of Newsome High School. He was a standout at the Tampa Titan Workout at the beginning of this month. Throw in another class of point guard, Nick Weir, and the Titans are ready to go with capable ball-handlers.
The class of 2019 is also shaping up to be a talented class. Jadyn Strauder of Strawberry Crest High School is an extremely athletic prospect. Add in Logan Morissey, who's mother was a standout collegiate ball player at Siena, and the bloodlines of the Titans are filled with talent.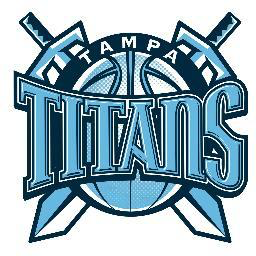 Jonathan Hemingway is a National Evaluator for the OTRHoopsReport. Hemingway serves on the Board of Selectors for the Naismith Trophy. also He is also the publisher of CoachHemi.com. He has been involved in the community since 1996 as a coach, camp director and evaluator. You can reach him via email at [email protected] and follow him on  twitter @JLHemingwayPSB