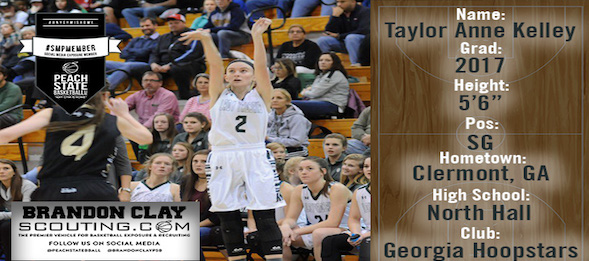 ---
With over 20,000 collective followers on our team's social media outlets, we're in a unique position to assist with both creating awareness of a prospect's skill set and recent on-floor performance. From crisp recruiting updates to updated in-season stats to a potential last-minute change in schedule that needs to be conveyed socially, this package allows the player to control the information available to the public about their game.
Become an #SMPMember: Click the Logo Below

---
Class of 2017 guard Taylor Anne Kelley of Clermont, Ga., has proven that she is a high level shot maker. Director of Domestic Scouting, Jonathan Hemingway, says that "Taylor is a shooting specialist who can change the game for her team when she gets rolling. She did exactly that in her camp game on ProspectsNationTV at camp as she hit multiple jumpers and scored a number of points for her team. She's doing the same for the Georgia Hoopstars so far this club season."
Brandon Clay's takeaway – PSBSpringShowdown (March 2016):
Kelley established herself as a shooting specialist this weekend. She is best suited as a SG, but she can handle in spots. However, when she has time and space she can hit the 3 at a high clip.
Name: Taylor Anne Kelley
Height: 5'6″
HS Grad Year: 2017
Position: SG
School / Hometown: North Hall HS (Clermont, Ga.)
Club Team: Georgia Hoopstars
College Choice: Gardner-Webb
---
Social Media Updates:
BREAKING#SMPMember Exposure

'17 Taylor Anne Kelley will attend Gardner-Webb.

She shined @ngaclassic.

MORE INFO: https://t.co/proZRquKBo pic.twitter.com/eCuzhkoL0W

— Brandon Clay (@BrandonClayPSB) March 29, 2017
#SMPMember Exposure Program@TaylorKelley02 of @LadyTHoops wins @ngaclassic. She's headed to @Piedmont_WBB.

PAGE: https://t.co/proZRqd9JQ https://t.co/STkIBq0w5u

— Brandon Clay (@BrandonClayPSB) March 18, 2017
#SMPMember Exposure Program

Our 11th 2017 grad picked a school.

Taylor Anne Kelley to Piedmont.

JOIN THE PROGRAM: https://t.co/8GnB3G0viZ pic.twitter.com/9zlHXQiZMc

— Brandon Clay (@BrandonClayPSB) February 28, 2017
#SMPMember Exposure Program

Available '17 G Taylor Anne Kelley is a MUST RECRUIT shooting specialist.

LEARN MORE: https://t.co/proZRqd9JQ pic.twitter.com/RZn2MXyJ5p

— Brandon Clay (@BrandonClayPSB) February 7, 2017
Available '17 @TaylorKelley02 dropped 32pts tonight and broke the 1000pt career mark

More here:https://t.co/9bkrNbfmbm https://t.co/x86TWw7EiM

— Kris Watkins (@KrisWatkinsPSB) January 21, 2017
#SMPMember Of The Day:

Available '17 G Taylor Anne Kelley went OFF last night dropping 34 pts in a W.

LEARN MORE: https://t.co/proZRqd9JQ pic.twitter.com/mcNOgjr2Xm

— Brandon Clay (@BrandonClayPSB) January 11, 2017
MUST RECRUIT

34 pts in a W for Available '17 @TaylorKelley02 of @LadyTHoops & @GAHoopStars

LEARN MORE: https://t.co/pcvQK4gkZn #SMPMember https://t.co/n29Ktiz2ai

— #SMPMember Program (@SMPMemberPSB) January 11, 2017
'17 G Taylor Anne Kelley's play on both ends has Agnes Scott & Piedmont calling.

LEARN MORE ABOUT HER: https://t.co/proZRqd9JQ pic.twitter.com/U4DCmPGkMH

— Brandon Clay (@BrandonClayPSB) January 5, 2017
Available '17 G Taylor Anne Kelley (GA) had 24 pts & 8 stls in a North Hall win last night.

HER PAGE: https://t.co/proZRqd9JQ pic.twitter.com/qYSXbEy0vw

— Brandon Clay (@BrandonClayPSB) January 4, 2017
'17 G Taylor Anne Kelley (GA) is back on the floor. She has offers from Brenau & Huntingdon.

HER PAGE: https://t.co/proZRqd9JQ pic.twitter.com/e1lqVp8d8U

— Brandon Clay (@BrandonClayPSB) November 30, 2016
Taylor Anne Kelley: 3.86 GPA

High academic prospect for @LadyTHoops.

HER PAGE: https://t.co/proZRqd9JQ pic.twitter.com/pmK0ADdP15

— Brandon Clay (@BrandonClayPSB) November 11, 2016
'17 Taylor Anne Kelley looks to have a big HS season after a good summer.

READ:https://t.co/pcvQK4gkZn pic.twitter.com/Zwds2Xcciz

— #SMPMember Program (@SMPMemberPSB) October 19, 2016
'17 Taylor Anne Kelley had a big summer. Will rep North Hall HS (GA) this seasonhttps://t.co/SpSw4WpDyv pic.twitter.com/jvqppovAOn

— Rebecca Dyer (@RebeccaDyerPSB) September 2, 2016
#PSBElite32
Looking for a lights out shooter#SMPMember 17 Taylor Anne Kelley is a must seehttps://t.co/9bkrNbfmbm pic.twitter.com/LRmQiXUySs

— Kris Watkins (@KrisWatkinsPSB) July 27, 2016
Taylor Anne Kelley finding her comfort spot on the court! @GAHoopStars pic.twitter.com/pXbnhHYxu0

— PSB Events (@PeachStateBBall) July 10, 2016
Taylor Anne Kelley of @GAHoopStars from the line! pic.twitter.com/fwQP3THCrp

— PSB Events (@PeachStateBBall) July 9, 2016
You have to close out on #SMPMember '17 Taylor Anne Kelley @TaylorKelley02 https://t.co/9bkrNbfmbm https://t.co/X0c5eoTLLw

— Kris Watkins (@KrisWatkinsPSB) July 8, 2016
'17 Taylor Anne Kelley showcased her sharp shooting throughout the Spring.

PAGE:https://t.co/SpSw4WpDyv pic.twitter.com/ZUT1wdtTP8

— Rebecca Dyer (@RebeccaDyerPSB) June 28, 2016
'17 G Taylor Anne Kelley (GA) visited Gardner Webb & has a 3.86 GPA.

HER PAGE: https://t.co/proZRqd9JQ pic.twitter.com/kDuHbYxNgz

— Brandon Clay (@BrandonClayPSB) June 25, 2016
'17 Taylor Anne Kelley impressed at #PSBSpringShowdown in March

PAGE: https://t.co/pX9gMX5ZVA pic.twitter.com/njp30N301j

— ProspectsNation.com (@ProspectsNation) May 13, 2016
'17 SG Taylor Anne Kelley (GA) is a HIGH LEVEL sharp shooter.

HER PAGE: https://t.co/proZRqd9JQ pic.twitter.com/QR5DD7ETCi

— Brandon Clay (@BrandonClayPSB) May 2, 2016
#PSBSpringShowdown: @TaylorKelley02 again displaying her consistent shot from the outside. https://t.co/HC85XrFAdM

— Kris Watkins (@KrisWatkinsPSB) March 26, 2016
Taylor Kelley put on a shooting display in front of @BrandonClayPSB. https://t.co/scE7aJ0ZTx pic.twitter.com/rop5usVb9v

— Jonathan Hemingway (@JLHemingwayPSB) March 26, 2016
Welcome to #EBAAllAmerican Camp | Sept. 27-28 | '17 G Taylor Anne Kelley (GA) | North Hall HS http://t.co/1hO3zMGDlc pic.twitter.com/bupMUREx9p

— #TeamEBA (@TeamEBA) September 11, 2014
#EBAFab5Camp Taylor Anne Kelley @TaylorKelley02 had a big day. Shot it very well during game play! Great example of work from @AP_BBall

— Jonathan Hemingway (@JLHemingwayPSB) August 31, 2014
---

Brandon Clay is the owner of the JumpOffPlus.com International Report, Peach State Basketball, Inc., and ProspectsNation.com. The JumpOffPlus.com is picked up by more than 200 colleges and universities nationwide. In addition to serving as ProspectsNation.com WNBA Director of Scouting, Clay serves as the Executive Camp Director for the Elite Basketball Academy Camps. He is a McDonald's All-American Game Selection Committee member. Clay serves on the Naismith Trophy Men's / Women's College Player of the Year Academy and is the National Coordinator of Voting for the Boys / Girls All-American Teams. He has been involved in the community since 2001. You can reach Clay at [email protected]