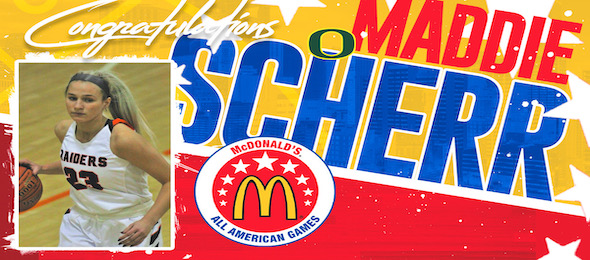 ---
With over 60,000 collective followers on our team's social media outlets, we're in a unique position to assist with both creating awareness of a prospect's skill set and recent on-floor performance. From crisp recruiting updates to updated in-season stats to a potential last-minute change in schedule that needs to be conveyed socially, this package allows the player to control the information available to the public about their game.
Become an #SMPMember: Click the Logo Below

Class of 2020 guard Maddie Scherr of Florence, Ky., caught the attention of the BrandonClayScouting.com evaluation staff before she ever stepped foot in a high school game.
Brandon Clay's takeaway: The Midwest Showdown (May 2017)
Scherr is a elite option at the point position in the making. She's grown to a legitimate 5-9 and filled out as well since last summer. She's bigger physically than her class of 2018 teammates Mykasa Robinson and Seygan Robins already. Scherr showed in Cincinnati that she's capable of playing a play ahead of the game even on Premier's top EYBL team. It appears that she'll be the cornerstone of the team for the next two summers after this loaded 2018 class graduates out.
Jonathan Hemingway's takeaway: EBASuper64 National Showcase (June 2016) Scherr was one of the top 2020 point guards in the building at the Super 64 Showcase. Her size, skill and ability to score allowed her to standout above many of the other prospects. Her ability to shoot sets up the rest of her game. Defenders must honor the range on her jumper, which opens up space for Scherr to attack the lane. The rising freshman is far from a shoot first (shoot only) point guard. She is a willing passer and can get her teammates involved after she has drawn the help defender.
Name: Maddie Scherr
Height: 5'10"
HS Grad Year: 2020
Position: PG/SG
School / Hometown: Ryle HS (Florence, Ky.)
Club Team: Kentucky Premier
College Choice: Oregon
Postseason Awards: 2020 Jordan Brand All-American, McDonald's All-American, Naismith Trophy All-American
---
Social Media Updates: Use #SMPMember and follow @SMPMemberPSB
#SMPMember🍑 Recruiting
Fueled by #BrandonClayScouting🍑

"Growing the game one scholarship at a time."

'20 G @Madd1eScherr (KY) visited Indiana. She has an offer from the Hoosiers

PAGE: https://t.co/h3Xo1RTnA3

JOIN: https://t.co/8GnB3G0viZ

📷 IG: https://t.co/FrgtOjFYMg pic.twitter.com/e4GjiuLIWw

— Brandon Clay (@BrandonClayPSB) September 19, 2018
#SMPMember🍑 Recruiting
Fueled by #BrandonClayScouting🍑

"Growing the game one offer at a time."

Elite 25 ranked '20 Maddie Scherr (KY) is planning multiple Pac-12 visits.

📷 IG https://t.co/FrgtOjFYMg @madd1escherr pic.twitter.com/g3vvO9atnK

— Brandon Clay (@BrandonClayPSB) August 14, 2018
#EBASuper64🍑 Showcase
🗓 June 2-3#EBAAllAmerican🍑 Showcase
🗓 Aug 25-26
📍 Both in ATL

'20 G @madd1escherr put herself on the map at EBA in June '16, has been ballin' ever since.

JOIN US https://t.co/tJAgOJkP5h

HER PAGE: https://t.co/h3Xo1RTnA3 #SMPMember @Ryleladyraiders https://t.co/vqM9MHjIrt

— Brandon Clay (@BrandonClayPSB) April 30, 2018
#SMPMember🍑 College Recruiting

Need Exposure? We're here to help.

'20 G Maddie Scherr (@madd1escherr) of @Ryleladyraiders finished '17-18: 16.5 ppg, 7.8 rpg, 4.5 apg & 3.7 spg.

JOIN SMP TODAY: https://t.co/PrIMH9VAjj

INSTAGRAM https://t.co/xzC9Fj4Qh5

{🎥: @JMacDonaldSport} https://t.co/7U0edbCUfg

— SMP Recruit Exposure (@SMPMemberPSB) April 2, 2018
#SMPMember🍑 College Recruiting
Fueled by @SMPMemberPSB

Need Exposure? We're here to help.

'20 G Maddie Scherr (KY) has multiple offers & Jason Frakes praise.

SMP PAGE: https://t.co/h3Xo1RTnA3

JOIN SMP: https://t.co/8GnB3G0viZ

INSTAGRAM https://t.co/jSr8AvCdZB @madd1escherr pic.twitter.com/bJmx2cY3JN

— Brandon Clay (@BrandonClayPSB) March 13, 2018
#SMPMember🍑 College Recruiting
Powered by @SMPMemberPSB

'20 G Maddie Scherr of @Ryleladyraiders scored her 1,000th HS point.

Her #BrandonClayScouting Page: https://t.co/h3Xo1RTnA3

JOIN SMP TODAY: https://t.co/8GnB3G0viZ pic.twitter.com/eZOkMtnx7c

— Brandon Clay (@BrandonClayPSB) February 13, 2018
#SMPMember🍑 Program News

'20 G Maddie Scherr (@madd1escherr) of @Ryleladyraiders is one of the nation's premier guards.

She now has a Tennessee offer.

Her #BrandonClayScouting Page: https://t.co/h3Xo1RTnA3 @jmac2207 @amylynnescherr @RickScherr @CoachBGordon @SharronaReaves https://t.co/7dyzpmbTJ3

— Brandon Clay (@BrandonClayPSB) December 15, 2017
#SMPMember Recruiting Exposure

'20 G Maddie Scherr (KY) has new interest from both Florida & Oregon.

HER PAGE: https://t.co/h3Xo1RTnA3 pic.twitter.com/aY8GqIEsKM

— Brandon Clay (@BrandonClayPSB) August 15, 2017
'20 Maddie Scherr led the youth wave @THEMWS4 all the way to the front page.@ProspectsNation Article: https://t.co/G7yQclBvoe #SMPMember pic.twitter.com/xao0aM4zy7

— Brandon Clay (@BrandonClayPSB) June 28, 2017
#SMPMember Recruiting

If her @THEMWS4 play is an indicator, '20 G Maddie Scherr's story is just beginning.

My Eval https://t.co/h3Xo1RTnA3 pic.twitter.com/lDbEJGAzKR

— Brandon Clay (@BrandonClayPSB) June 13, 2017
#SMPMember Recruiting

Maddie Scherr is playing like a premier '20 nationally.

PAGE: https://t.co/h3Xo1RTnA3 @madd1escherr @amylynnescherr pic.twitter.com/wlvsTFpSIG

— Brandon Clay (@BrandonClayPSB) May 27, 2017
#SMPMember Recruiting Exposure

'20 Maddie Scherr averaged 3.8 assists per last weekend for Kentucky Premier.

PAGE: https://t.co/h3Xo1RTnA3 pic.twitter.com/Hs2FUkoGrX

— Brandon Clay (@BrandonClayPSB) May 2, 2017
#SMPMember Recruiting Exposure

'20 G Maddie Scherr was named a Northern KY All-Star by Cincinnati Enquirer.

PAGE: https://t.co/h3Xo1RTnA3 pic.twitter.com/YFe7nf4rZ8

— Brandon Clay (@BrandonClayPSB) April 11, 2017
#SMPMember Exposure Program

'20 G Maddie Scherr (KY) visited Indiana & now has a @terimoran offer.

MORE ON SCHERR: https://t.co/h3Xo1RTnA3 pic.twitter.com/qE1tmes1Jv

— Brandon Clay (@BrandonClayPSB) February 16, 2017
#SMPMember of the Day:

'20 G Maddie Scherr (KY) had a big night in a 70-55 W

24 pts, 9 rbs

LEARN MORE ON SCHERR: https://t.co/h3Xo1RTnA3 pic.twitter.com/ZPv1THiBMu

— Brandon Clay (@BrandonClayPSB) January 19, 2017
'20 G Maddie Scherr of Ryle (KY) is a problem on the hardwood. 23 pts, 9 rebs & 9 blks yesterday!

PAGE: https://t.co/h3Xo1RTnA3 pic.twitter.com/AMVla08mXa

— Brandon Clay (@BrandonClayPSB) December 28, 2016
'20 G Maddie Scherr (KY) visited Kentucky this weekend. The Wildcats have offered.#SMPMember Recruiting Central: https://t.co/hgJ4xJ0zIH pic.twitter.com/KGfVILyARt

— Brandon Clay (@BrandonClayPSB) October 10, 2016
'20 Maddie Scherr will rep Ryle HS (Ky). Versatile PG with plenty of skill & scoring ability

EVAL:https://t.co/TDUcx3HX7K pic.twitter.com/9DBuFQjcRW

— Rebecca Dyer (@RebeccaDyerPSB) October 12, 2016
'20 PG Maddie Scherr's ability to shoot sets up the rest of her game.

READ HERE:https://t.co/vfQWwNKLpc pic.twitter.com/BNrbJQ9FUw

— #SMPMember Program (@SMPMemberPSB) October 5, 2016
'20 Maddie Scherr constantly shows improvement & is a player to watch for.

EVAL:https://t.co/h3Xo1RTnA3 pic.twitter.com/KzBfkURWsm

— Brandon Clay (@BrandonClayPSB) September 9, 2016
Newcomer '20 Maddie Scherr (KY) can play! Savvy PG w/ high upside https://t.co/5tCcjzY4IW pic.twitter.com/rJbzzPNN4b

— Rebecca Dyer (@RebeccaDyerPSB) August 30, 2016
'20 G Maddie Scherr of Ryle HS (KY) is visiting Louisville today.

HER PAGE: https://t.co/h3Xo1RTnA3 pic.twitter.com/RmhRxAzWlm

— Brandon Clay (@BrandonClayPSB) August 27, 2016
2020 #SMPMember Maddie Scherr has an #EBAAllAmerican Sept 3-4 invite.

REGISTER: https://t.co/JNkkUpdNDv pic.twitter.com/30QFWxbjE3

— Brandon Clay (@BrandonClayPSB) August 25, 2016
'20 G Maddie Scherr is on fire. Already has Kentucky & Ole Miss offers.

PAGE: https://t.co/h3Xo1RBMbt pic.twitter.com/gDKcjqWCpO

— Brandon Clay (@BrandonClayPSB) August 3, 2016
#PSBElite32 @KentuckyPremier is off to a hot start against @CalStars. Maddie Scherr is filling it up from the perimeter.

— Stephen Peck,II (@StephenPeckPSB) July 26, 2016
Maddie Scherr (@madd1escherr) getting to paint w/ smooth strides. Nice euro followed by a cuff finish for back to back scores.

— ProspectsNation.com (@ProspectsNation) June 5, 2016
#EBASuper64 Stock ⬆️ PM
Maddie Scherr
Shelby Woods
Jasmine Gracie
Alexys Mathanagani
Peyton Cronen
Keirsten Hudson pic.twitter.com/qGBt2Q67Zg

— Jonathan Hemingway (@JLHemingwayPSB) June 4, 2016
#EBASuper64 Camp:

Maddie Scherr is ready to rep Ryle & KY Premier on June 4-5.

JOIN HER: https://t.co/XWZyztwSq6 pic.twitter.com/xp9AWKgX51

— Brandon Clay (@BrandonClayPSB) May 24, 2016
---

Brandon Clay is the owner of the JumpOffPlus.com International Report, Peach State Basketball, Inc., and ProspectsNation.com. The JumpOffPlus.com is picked up by more than 200 colleges and universities nationwide. In addition to serving as ProspectsNation.com WNBA Director of Scouting, Clay serves as the Executive Camp Director for the Elite Basketball Academy Camps. He is a McDonald's All-American Game Selection Committee member. Clay serves on the Naismith Trophy Men's / Women's College Player of the Year Academy and is the National Coordinator of Voting for the Boys / Girls All-American Teams. He has been involved in the community since 2001. You can reach Clay at [email protected]