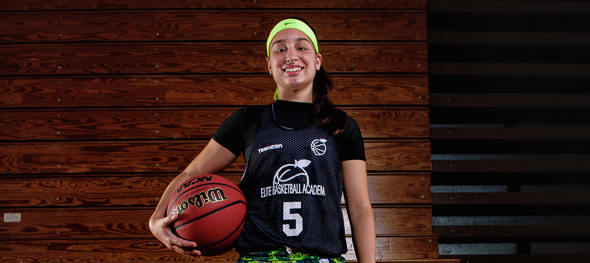 With over 20,000 collective followers on our team's social media outlets, we're in a unique position to assist with both creating awareness of a prospect's skill set and recent on-floor performance. From crisp recruiting updates to updated in-season stats to a potential last-minute change in schedule that needs to be conveyed socially, this package allows the player to control the information available to the public about their game.
Become an #SMPMember: Click the Logo Below

Class of 2019 prospect Mya Giusto of Naples, Fla., has shown herself as one of the premier up-and-coming guards in the Sunshine State. BrandonClayScouting.com Director of Domestic Scouting, Jonathan Hemingway, says that "Giusto has dazzled evaluators and spectators for years with her ball handling and play-making abilities. She has physically matured in the past several months and her game has kept pace. Mya is a good ball handler and a willing table setter from the point guard position."
Brandon Clay's takeaway – EBASuper64 Camp (June 2016): Giusto is a dynamic option in the backcourt making the same plays here that she makes for #PSBFamily member Florida Future. She is capable of making the open shot or getting downhill to get into the lane off of the dribble. Her willingness to pay attention to detail at an early age is impressive.
Vitals:
Name: Mya Giusto
Height: 5'6
HS Grad Year: 2019
Position: PG
School / Hometown: Gulfcoast HS (Naples, Fla.)
Club Team: Florida Future
#BrandonClayScouting: #SMPMember Video Eval – April 2016
Social Media Updates:
#SMPMember🍑 College Recruiting
Fueled by #BrandonClayScouting🍑

HUGE 2019 class so far

20 prospects with college homes including:@MyaGiusto@PaigeShy@savwheeler4@adgreg@denabball100@shelbymac2000

JOIN: https://t.co/8GnB3G0viZ

FOLLOW US ON 📷 IG: https://t.co/FrgtOjFYMg pic.twitter.com/6fFfSYCQcf

— Brandon Clay (@BrandonClayPSB) November 19, 2018
#SMPMember🍑 College Recruiting
Fueled by #BrandonClayScouting🍑

"Growing the game one scholarship at a time."

'19 G Mya Giusto (Tampa commit) used #PSBSummerInvite🍑 with @ETYBA to prep for her HS Sr. season.

JOIN: https://t.co/TUsVZnWZVU

📷 INSTAGRAM https://t.co/EK2rst7uLz pic.twitter.com/br3VApvEFt

— PSB Events (@PeachStateBBall) August 9, 2018
#SMPMember🍑 College Recruiting
Fueled by #BrandonClayScouting🍑

"Growing the game one scholarship at a time."

Tampa '19 commit Mya Giusto was impressive at #PSBRealDeal🍑.

Tempo pusher, floor controller.

JOIN: https://t.co/8GnB3G0viZ

📷 INSTAGRAM https://t.co/FrgtOjFYMg pic.twitter.com/VV8cTxzRWc

— Brandon Clay (@BrandonClayPSB) July 14, 2018
#PSBTipOffClassic NCAA Showcase 🍑
🗓 Apr 20-21
📍 Louisville: MidAmerica Sports Center

After a national level HS season, '19 G Mya Giusto leads Tampa Thunder Team Dupree on Friday.

3:30 pm tip.

JOIN US: https://t.co/Jow0Z53ZU3

INSTAGRAM: https://t.co/jSr8AvCdZB #SMPMember pic.twitter.com/A1ZWEiy2SP

— Brandon Clay (@BrandonClayPSB) April 17, 2018
#SMPMember🍑 Program News
Powered by @SMPMemberPSB

'19 G Mya Giusto (@mya_giusto) of @GCSHARKGBB & @ETYBA continues to shine.

This time, it was at @cgbr27's @HolidayShootout as Gulf Coast won a 🏆

Her #BrandonClayScouting Page: https://t.co/VKAc4MEeVQ @Jeffthegymrat https://t.co/pH18qR7UTD

— Brandon Clay (@BrandonClayPSB) January 7, 2018
#SMPMember🍑 Program News
Powered by https://t.co/vTyxJdYHmA

'19 G @mya_giusto of @GCSHARKGBB got her flow back @SheGotGame7. @CoachHemi & @CHansenBBall watched her.

Excited to see her with #PSBFamily @ETYBA this spring.

Her #BrandonClayScouting Page: https://t.co/VKAc4MEeVQ https://t.co/aDnW6Ju4I2

— Brandon Clay (@BrandonClayPSB) December 20, 2017
#SMPMember🍑 Recruiting

'19 PG Mya Giusto (FL) chose Tampa last week.@ProspectsNation STORY via @ChrisHansenPSB: https://t.co/5nD0RnBtgh pic.twitter.com/kLBUGhQXpS

— Brandon Clay (@BrandonClayPSB) October 26, 2017
#SMPMember🍑 Recruiting Program

THIS JUST IN#CommitmentCentral

'19 G Mya Giusto of @GCSHARKGBB & @ETYBA to Tampa: https://t.co/VKAc4MEeVQ pic.twitter.com/bsTO0lRjbx

— Brandon Clay (@BrandonClayPSB) October 17, 2017
"2019 G @mya_giusto (FL) plays w/a coaches vision. Track her closely w/ @GCSHARKGBB & @ETYBA." – @StephenPeckPSB {🎥: @iam_dcif} https://t.co/8468xyO2tf

— SMP Recruit Exposure (@SMPMemberPSB) October 12, 2017
#SMPMember🍑 Recruiting

Fresh off a Tampa visit, '19 G Mya Giusto (FL) shined at @redssuper64#BrandonClayScouting: https://t.co/VKAc4MEeVQ pic.twitter.com/rgVsJilkoK

— Brandon Clay (@BrandonClayPSB) October 10, 2017
#SMPMember🍑 Recruiting

'19 G Mya Giusto (FL) is one to keep an eye on. Will return to action next month.

HER PAGE: https://t.co/VKAc4MEeVQ pic.twitter.com/8M5a0nH0Vc

— Brandon Clay (@BrandonClayPSB) August 31, 2017
The comeback trail continues for '19 G @mya_giusto of @ETYBA & @GCSHARKGBB. Uber talented floor leader.https://t.co/SjQjLUBgf8 https://t.co/X3r2ehuFTh

— SMP Recruit Exposure (@SMPMemberPSB) July 30, 2017
#SMPMember Recruiting

'19 G @mya_giusto (FL) of @etyba is a leader!@BrandonClayPSB is a fan of her game.

MORE: https://t.co/SjQjLUBgf8 https://t.co/nSzX9OD1rT

— SMP Recruit Exposure (@SMPMemberPSB) July 15, 2017
#SMPMember Recruiting#CDI17

'19 G @Mya_Giusto reppin' #AnyGymIsHome while assisting on @ETYBA's bench!

PAGE: https://t.co/SjQjLUBgf8 https://t.co/A0iEAwucfx

— SMP Recruit Exposure (@SMPMemberPSB) May 13, 2017
'19 Mya Giusto (FL) dropped 11pts/10reb/16ast last night

Read about/watch her here: https://t.co/vqSjmDNgYj pic.twitter.com/I5erLinxYI

— Kris Watkins (@KrisWatkinsPSB) February 18, 2017
'19 G @MyaGiusto is in for @CoachHemi Showcase.

Orlando, FL

Mar. 4-5

REGISTER & JOIN: https://t.co/9za91PAio4 @TampaThunder20 https://t.co/nsOV1mvLwi

— #SMPMember Program (@SMPMemberPSB) January 31, 2017
'19 PG Mya Giusto (FL) averaged 12.8 pts, 8 asts, 2.6 stls & 2.6 rebs in the last 5.

LEARN MORE ON HER: https://t.co/VKAc4MEeVQ pic.twitter.com/AaPcuT1IPC

— Brandon Clay (@BrandonClayPSB) January 5, 2017
'19 G Mya Giusto already has consistent communication from:

Furman
JU
Monmouth
Stetson
Youngstown St.https://t.co/VKAc4MEeVQ pic.twitter.com/BCLiAcUGnH

— Brandon Clay (@BrandonClayPSB) December 13, 2016
'19 Mya Giusto (FL) made impressive plays at #EBASuper64.@BrandonClayPSB EVAL: https://t.co/SjQjLUBgf8 pic.twitter.com/bZnRgv0ggi

— #SMPMember Program (@SMPMemberPSB) November 9, 2016
'19 Mya Giusto is set to have a big season w/ Gulfcoast HS (FL) after repping FL Future this summerhttps://t.co/4asKNDbWvz pic.twitter.com/7svDWDwNIy

— Rebecca Dyer (@RebeccaDyerPSB) November 1, 2016
Mya Giusto on court at #PSBPower48. GA State, GA Southern, Rhode Island watching

EVALhttps://t.co/nNeGjJ4xv5 pic.twitter.com/dj6j2QmSLN

— Jonathan Hemingway (@JLHemingwayPSB) July 26, 2016
#PSBSummerInvite @fl_future holding the convincing lead against Team MVP. Mya Giusto hitting the shooters at the right spots.

— ProspectsNation.com (@ProspectsNation) July 25, 2016
#PSBSummerInvite #SMPMember '19 Mya Giusto @guisto_mya playing well today

Her Pagehttps://t.co/vqSjmDNgYj pic.twitter.com/9gCZIv8xZL

— Kris Watkins (@KrisWatkinsPSB) July 24, 2016
#SMPMember Mya Giusto earned her invitation to #EBAAllAmerican Sept. 3-4.

JOIN HER: https://t.co/HDjwagc7NG pic.twitter.com/c7HnXHWXbh

— ProspectsNation.com (@ProspectsNation) June 21, 2016
'19 Mya Giusto is changing schools. Her @ProspectsNation card is updated

PAGE: https://t.co/VKAc4MEeVQ pic.twitter.com/XyFUGCZz3G

— Brandon Clay (@BrandonClayPSB) June 8, 2016
#EBASuper64 Camp:#SMPMember '19 Mya Giusto is a vet. She'll rep @fl_future June 4-5

JOIN: https://t.co/XWZyztfh1w pic.twitter.com/P6cTQF4fvu

— Brandon Clay (@BrandonClayPSB) May 10, 2016
#PSBTipOffClassic@mya_giusto & @DestanniH3 were winning games and having a little fun. @fl_future @cierra_jordyn6 pic.twitter.com/6V2eQ10FOw

— JD Davis (@JDavisPSB) April 25, 2016
#PSBTipOffClassic#SMPMember '19 @mya_giusto of @fl_future is a player to watch

Her Pagehttps://t.co/vqSjmDNgYj pic.twitter.com/KI5oaTE6sv

— Kris Watkins Ed.D. (@KrisWatkinsPSB) April 23, 2016
'19 Mya Giusto's #PSBTipOffClassic play matched @KrisWatkinsPSB video.

WATCH: https://t.co/VKAc4MmDxg pic.twitter.com/x6tK5VIeXK

— Brandon Clay (@BrandonClayPSB) April 22, 2016
'19 G Mya Giusto will shine w/FL Future at #PSBTipOffClassic Apr. 22-24

PAGE: https://t.co/VKAc4MmDxg pic.twitter.com/WYxT8CGy3a

— Brandon Clay (@BrandonClayPSB) April 9, 2016
Welcome '19 G Mya Giusto (FL). She just signed up for the program.

HER PAGE: https://t.co/VKAc4MEeVQ pic.twitter.com/XmGFrXRDev

— Brandon Clay (@BrandonClayPSB) February 15, 2016
had a great time at #EBAAllAmerican this weekend✊🏼 thanks to b clay and everyone for putting on a great event 🙌🏼 pic.twitter.com/NVtl8jNTVP

— Mya Giusto (@mya_giusto) September 6, 2015
Rise and Grind! @mya_giusto Day # 2 #EBAAllAmerican Camp pic.twitter.com/sdYuvKsXbl

— Ty Freeman (@TyPhotog) September 6, 2015
#EBAAllAmerican '19 @mya_giusto, '19 Zoe MacKay Zacker & '20 Lindsey Freeman working LH in/out.@CoachJohnWild pic.twitter.com/zmVTLy8CcH

— Jonathan Hemingway (@JLHemingwayPSB) September 5, 2015
#EBAAllAmerican: '19 Mya Giusto is a solid PG that can set up her teammates & score in transition @mya_giusto

— ProspectsNation.com (@ProspectsNation) September 5, 2015
No question Mya Giusto can hoop. Check her out w/ @fl_future today at #PSBRealDeal
PLAYER CARD http://t.co/9qleAmJgLl pic.twitter.com/ulMA5RX2WC

— Jonathan Hemingway (@JLHemingwayPSB) July 11, 2015

Brandon Clay is the owner of the JumpOffPlus.com International Report, Peach State Basketball, Inc., and ProspectsNation.com. The JumpOffPlus.com is picked up by more than 200 colleges and universities nationwide. In addition to serving as ProspectsNation.com WNBA Director of Scouting, Clay serves as the Executive Camp Director for the Elite Basketball Academy Camps. He is a McDonald's All-American Game Selection Committee member. Clay serves on the Naismith Trophy Men's / Women's College Player of the Year Academy and is the National Coordinator of Voting for the Boys / Girls All-American Teams. He has been involved in the community since 2001. You can reach Clay at [email protected]