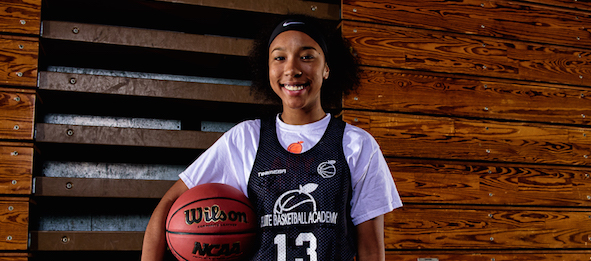 With over 20,000 collective followers on our team's social media outlets, we're in a unique position to assist with both creating awareness of a prospect's skill set and recent on-floor performance. From crisp recruiting updates to updated in-season stats to a potential last-minute change in schedule that needs to be conveyed socially, this package allows the player to control the information available to the public about their game.
Become an #SMPMember: Click the Logo Below

Class of 2018 guard Lexius Jeffcoat of Evans HS (Evans, Ga.), earned an invite to the #EBAAllAmerican Camp on September 5-6 with her play during the club circuit season. She established herself as a guard who our BrandonClayScouting.com staff will keep an eye on over the coming years.
Brandon Clay's Takeaway: EBASuper64 Camp (June 2016) Jeffcoat showed her ability to get to the rim and make a play on day two. She continues to improve on her perimeter shooting and utilized a variety of screens to create an open opportunity. Jeffcoat slashed through the lane multiple times and found an open teammate for the assist as well. Her play is continuing to grow as a result of running with #PSBFamily member Georgia Sting Avery during the 2016 club season.
Brandon Clay's Takeaway: Maya Moore Academy (March 2016) Jeffcoat is a growing prospect on the perimeter. She can play either on or off the ball though I project her as a point guard at the college level. Her build / frame reminds me of Riley Chlupacek (LaGrange sophomore).
Vitals
Name: Lexius Jeffcoat
Height: 5'5″
HS Grad Year: 2018
Position: PG / SG
School / Hometown: Evans HS (Evans, GA)
Club Team: Georgia Sting #PSBFamily
Social Media Updates:
#SMPMember🍑 College Recruiting
Fueled by @SMPMemberPSB

Point Univ. is the latest to reach out to '18 @LexiusJeffcoat of @Will_Avery5's @GAStingHoops.@coachToryWooley & @CoachDenson now have info on multiple SMP members.

JOIN SMP TODAY https://t.co/8GnB3G0viZ @ProspectsNation https://t.co/ElEnEW5Qmq

— Brandon Clay (@BrandonClayPSB) February 14, 2018
#EBAAllAmerican🍑 Featured Player
'18 Lexius Jeffcoat (GA)

Has an offer from Augusta University#SMPMember🍑https://t.co/HYZkHVQnQV pic.twitter.com/JJOuzFtai6

— Jonathan Hemingway (@JLHemingwayPSB) October 27, 2017
#SMPMember🍑 Recruiting Program

After her #PSBEndOfTheRoad play, '18 G Lexius Jeffcoat has an Augusta Univ. offer.https://t.co/4C2zMIP3rK pic.twitter.com/bSgKuoCR6H

— Brandon Clay (@BrandonClayPSB) October 6, 2017
#SMPMember🍑 Recruiting Program

'18 G Lexius Jeffcoat (GA) visits Oglethorpe today.

MORE https://t.co/4C2zMIP3rK @GAStingHoops @Will_Avery5 pic.twitter.com/0VBtejaFMN

— Brandon Clay (@BrandonClayPSB) September 15, 2017
#SMPMember🍑 Recruiting

Available '18 G @LexiusJeffcoat of @GAStingHoops gets it done in class. 25 ACT score.

PAGE: https://t.co/CDFJW9NsWi https://t.co/bjyNdnKcge

— SMP Recruit Exposure (@SMPMemberPSB) August 23, 2017
#SMPMember@LexiusJeffcoat of @Will_Avery5's @GAStingHoops gets a @ParallelsMedia_ #EBAAllAmerican highlight.

INFO https://t.co/UjTK33blgD https://t.co/Tk2nrqBXjX

— Brandon Clay (@BrandonClayPSB) August 15, 2017
#SMPMember Recruiting

'18 G Lexius Jeffcoat of @Will_Avery5's @GAStingHoops will attend #EBAAllAmerican.

JOIN: https://t.co/2zO9ALNuQC pic.twitter.com/n7LGJBZbp7

— Brandon Clay (@BrandonClayPSB) August 14, 2017
Lexius Jeffcoat (@LexiusJeffcoat) battled at #EBASuper64.@BrandonClayPSB EVAL: https://t.co/CDFJW9NsWi pic.twitter.com/OkJAeix4Ou

— #SMPMember Program (@SMPMemberPSB) November 14, 2016
'18 PG Lexius Jeffcoat put on a show at Maya Moore Academy in March.

READ HOW: https://t.co/DmAg6hEsTR pic.twitter.com/WeEQkwgBkk

— ProspectsNation.com (@ProspectsNation) October 23, 2016
'18 Lexius Jeffcoat really added to her game this summer. Keep an eye out during the HS seasonhttps://t.co/AeS1dyaieg pic.twitter.com/SLNwHdWKoB

— Rebecca Dyer (@RebeccaDyerPSB) September 22, 2016
Lexius Jeffcoat had a strong summer w/ @georgiasting. A '18 PG/SG to track

PAGE:https://t.co/4C2zMIP3rK pic.twitter.com/nHiRcwz1r6

— Brandon Clay (@BrandonClayPSB) September 11, 2016
Lexius Jeffcoat had a stellar July w/GA Sting. Sept. 3-4 bid.#SMPMember: https://t.co/4C2zMIxs3a pic.twitter.com/im21uLw4t8

— Brandon Clay (@BrandonClayPSB) August 9, 2016
'18 Lexius Jeffcoat has great slashing ability at the PG position

PAGE:https://t.co/AeS1dyaieg pic.twitter.com/90JINAL8Zc

— Rebecca Dyer (@RebeccaDyerPSB) July 11, 2016
Lexius Jeffcoat 2018 G doing a great job of applying ball pressure & disrupting the opponents offense. @LexiusJeffcoat

— Jonathan Hemingway (@CoachHemi) July 6, 2016
#PSBTipOffClassic#SMPMember: '18 Lexius Jeffcoat is a floor general today

Her page https://t.co/pxUv9n9Z8G pic.twitter.com/LHQJhjhNfe

— Kris Watkins (@KrisWatkinsPSB) July 6, 2016
#SMPMember Lexius Jeffcoat earned her invite to #EBAAllAmerican camp Sept. 3/4

REGISTER: https://t.co/HDjwafUwW8 pic.twitter.com/Xu3p3Oyvex

— ProspectsNation.com (@ProspectsNation) June 17, 2016
'18 Lexius Jeffcoat was impressive at #EBASuper64. Day 1 highlights⬇️

VIDEO:https://t.co/jQjen4L8EH pic.twitter.com/nqJCtn45YG

— Rebecca Dyer (@RebeccaDyerPSB) June 10, 2016
After #PSBMayDay, '18 G Lexius Jeffcoat is in for #EBASuper64 Camp.

JOIN HER: https://t.co/XWZyztfh1w pic.twitter.com/AIB4uTEROV

— Brandon Clay (@BrandonClayPSB) May 12, 2016
'18 PG Lexius Jeffcoat (GA) shined bright at Maya Moore Academy.

HER PAGE: https://t.co/4C2zMIP3rK pic.twitter.com/3yVlqX9GXW

— Brandon Clay (@BrandonClayPSB) April 27, 2016
'18 Lexius Jeffcoat was in for the #ESASeries in March. Plays w/ GA Sting

PAGE:https://t.co/AeS1dyaieg pic.twitter.com/oLTtA7evfV

— Rebecca Dyer (@RebeccaDyerPSB) April 11, 2016
'18 Lexius Jeffcoat dropped 25 pts in a W. She's an #EBATop40 alum.

HER PAGE: https://t.co/4C2zMIP3rK pic.twitter.com/wXH2MKbo2W

— Brandon Clay (@BrandonClayPSB) January 30, 2016
'18 Lexius Jeffcoat (GA) has an invite to rep @GAStingHoops at #EBATop40 on Mar. 5-6. JOIN: https://t.co/E2LhIzBges pic.twitter.com/9uNNJMuPRK

— Brandon Clay (@BrandonClayPSB) January 26, 2016
#EBAAllAmerican: '18 G Lexius Jeffcoat (GA) earned an invite at #PSBElite32.

#SMPMember Page: http://t.co/4C2zMIxs3a pic.twitter.com/VwKYfCVEZD

— Brandon Clay (@BrandonClayPSB) August 14, 2015
#PSBMayDay Lexius Jeffcoat play and game winning shot earns her a #EBASuper64 bid JOIN HER: http://t.co/tcADsRIAXj pic.twitter.com/B6TwoYntV6

— ProspectsNation.com (@ProspectsNation) May 9, 2015

Brandon Clay is the owner of the JumpOffPlus.com International Report, Peach State Basketball, Inc., and ProspectsNation.com. The JumpOffPlus.com is picked up by more than 200 colleges and universities nationwide. In addition to serving as ProspectsNation.com WNBA Director of Scouting, Clay serves as the Executive Camp Director for the Elite Basketball Academy Camps. He is a McDonald's All-American Game Selection Committee member. Clay serves on the Naismith Trophy Men's / Women's College Player of the Year Academy and is the HS Boys / Girls All-American Team Board of Selectors Chairperson. He has been involved in the community since 2001. You can reach Clay at [email protected]